Designs on good engineering
Well engineered housing can be empowering, making people feel safe, secure and at home. And this extends to the wider environment and infrastructure, which surrounds and envelops us all – from the fundamental layout of streets and pavements to the provision of useful local facilities and community services.
It may seem a simple formula. Yet it's surprising how easy it is to get this wrong. In balancing the demands of design and engineering, I would argue more thought needs to be given to the type of structures and urban spaces that we want to create. How will people live in the houses we build, and how will they interact with space to create a home.
Those involved in property development need to be far more robust in answering some fundamentals if we are to deliver better housing. Who is this development for? Who will want to live here? And why will they want to come here?' Indeed, far more needs to be invested in thinking long and hard about what should be built and why.
Effective design in engineering can generate increased value throughout the entire property development process, differentiating the perfunctory from the exceptional. In simple fiscal terms, it can help to deliver more value and return on investment for developers and house builders in a competitive sector reawakening post lockdown. It doesn't have to cost more as 'affordable quality' can be secured through thinking differently or a more creative approach to problem solving.
It can start inside the home with efficient, well thought through spatial arrangements while the health and wellbeing of property owners can be enriched by the internal environment, so flooding spaces with natural sunlight will contribute to well-being, while designing in good air quality and ventilation will also help – energy efficient build minimises the running costs, improves affordability and minimises carbon emissions.
Thinking about how homes can be engineered better to ensure they meet changing needs and more resilient to changing tastes, mores and the ravages of time is also paramount. Similarly, good properties need to incorporate well-engineered elements, which make them more adaptable to warmer winters and wetter summers as we inevitable climate change.
Schemes that get the design/ engineering balance right feature a mix of factors but it's also important to consider creating a 'buzz' about a place. For example, smaller sites can create a better use of space with appropriate garden sizes and sufficient internal amenity space.
Such schemes, which feature an element of what is euphemistically called 'place making' throughout all the development stages, can transcend other developments. Effective place making has to be in engineered from the outset – it's hard to create once a project is complete – and must be considered as part of a wider community consultation process, contributing to the longterm happiness and security of residents.
Developers can undoubtedly facilitate better engineering through improved engagement with the customer and wider communities, but working collaboratively to test new technologies and techniques to improve build quality, while finding different ways of working, that involve a wider range of stakeholders and skills earlier on, also plays a part.
Government, and by implication, local authorities, need to continually press to raise standards as they balance the demands of quality and long term sustainability with speed and expediency of delivery within the design and build process.
It's clear that we all need to think about the long-term legacy for those who will live in the houses we build if we are to deliver superbly engineered homes. Improved engagement with the customer helps, as will better collaboration across the industry's professional sectors and trade bodies, but we must not overlook the great strides that have been achieved in engineering as part of the design and planning process too.
However, in the clamour to build the quantity and quality of new homes that the country desperately needs – 300,000 units per year – it remains as important as ever to continually strive improve, innovate, and think beyond the traditional and conventional.
Perhaps this might involve more development of hitherto 'untouchable' Green Belt land as the opportunities to develop brownfield sites dry up. Construction sustainability also offers engineering opportunity, and those who show leadership in this arena will contribute to securing future viability and margins. We are seeing increasingly high standards of building efficiency and sustainable methods of construction being specified – something that will increase as innovative building engineering solutions continue to come on stream. It's certainly a bold agenda but sitting alongside a more forward-looking vision from local authorities, it's certainly one I believe can deliver change.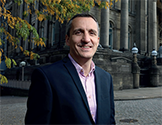 Andrew Fairburn is director of civil and structural engineers RWO. RWO, which operates from offices in Newcastle upon Tyne and Leeds, specialises in a range of work including flood risk assessments, residential, commercial, industrial and leisure structural engineering. Its civil engineering services cover road design, drainage, external works and SuDS (Sustainable Urban Drainage).
For more information, please see:
https://rwo.group/