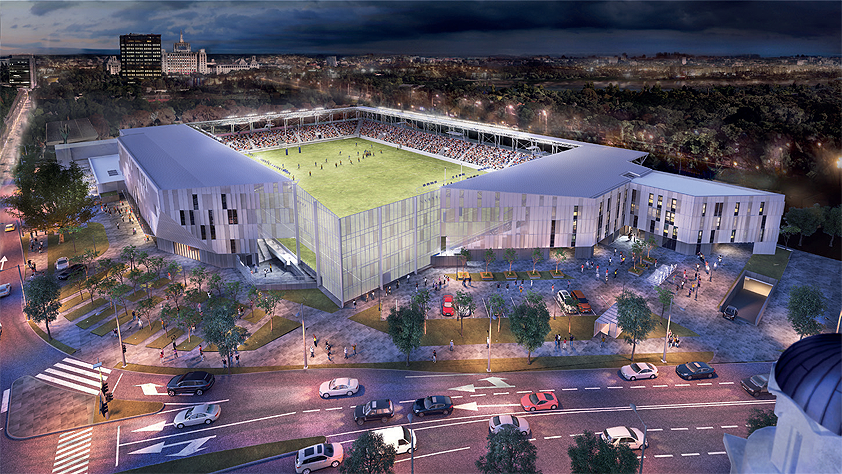 Framework for the future
A multi-award-winning company with experience working on stadiums, industrial health facilities, offices and residential complexes, Dico si Tiganas pioneering designs have made it one of Romania's leading architecture and engineering firm
Established in 1997 by civil engineer Florin Dico and architect Şerban Ţigănaş, Dico și Ţigănaș is more than just a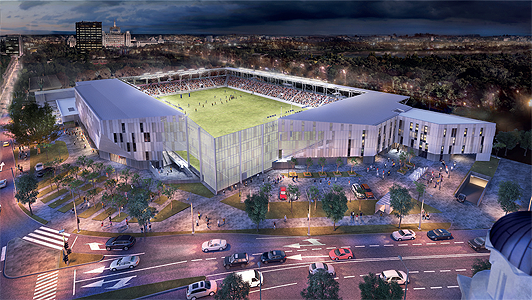 business to its founders. "As an architect, I would not call a design office 'a business'," Şerban asserts. "We are creatives and creators. We find pleasure in working for the sake of working and enjoying the results as designs, not just for the economic consequences. However, you have to pay the salaries of more than 40 people each month, and, as now with the current pandemic, sometimes you must navigate the waves and storms that life puts in your path, so of course it is a business too."
Always relishing a challenge, Dico și Ţigănaș has worked on projects for some of Europe's biggest companies; Interbrew was the firm's first international client, and it has been collaborating with Bosch since 2005. The quality of the company's work often leads to repeat business and long-standing relationships. "We don't aim for a high volume of clients, but instead, a smaller, stronger group of customers for whom buildings are crucially important for their businesses," Şerban states. "Our clients are people who appreciate excellent design and are not just looking for profit on the real estate market
"Over the years, we have discovered that industrial projects, like factories or offices, are some of the most challenging and rewarding. More recently, we have begun to specialise in stadiums and multisport halls, as we discovered what these facilities mean to the local public. Thousands of people brought together to enjoy a game or show gives the architect a special feeling."
Understandably then, designing the Cluj Arena, the municipal stadium in the company's hometown of Cluj-Napoca, is a project that still fills Şerban with pride. "Cluj Arena was a turning point in our odyssey," he declares. "The site was very difficult and the decision to replace the old stadium was controversial. Now though, years after completion, it is probably our most awarded and highly publicised project."
Dico și Ţigănaș' success to the synergy achieved by its multidisciplinary team of urban planners, architects, engineers, and support staff. Technology also plays an important role in bringing the company's designs to life. With a focus on Building Information Modelling (BIM), the firm is able to create digital representations of the physical and functional characteristics of a facility before construction has even started. The architectural, structural and mechanical properties of a building can be stored as digital objects and representations in one single, central data model. As a result, precise information regarding construction and lifecycle costs can be achieved.
"BIM is the way we develop our projects. Computers are precise tools. Tolerances and errors belong to the real world and we reduce them by not allowing them into the virtual project. The virtual is the future real in permanent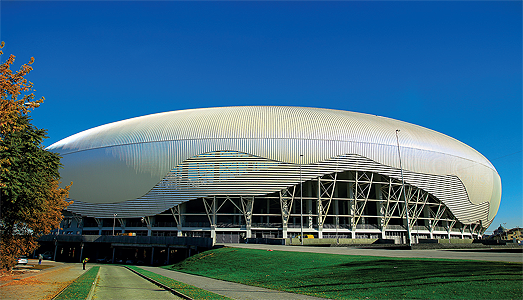 discussion with what it has to become," Şerban says. "We try to work on the same digital platforms with our clients and BIM is a perfect tool for that. We are also producing a lot of VR to allow the client to immerse themselves in their future building."
After a successful 2019 in which Dico și Ţigănaș worked on the National Rugby Stadium in Bucharest and a multifunctional arena in Brasov, 2020 started well before Covid-19 brought project construction to a halt. "The nature of our methodology means it has not been too difficult to work from home, but still, everybody has their own conditions and we obviously miss direct collaboration," Şerban explains. "We don't know what will happen after the lockdown, but we would like to explore different market niches, such as the health sector – not because of what is happening now, but because it is not developed enough in our country. As the pandemic has taught us, hospital and health facilities need to be rethought according to contemporary technology and threats."
When Dico și Ţigănaș was founded, Şerban devised ten core principles to help guide the firm. Among these, the company vows to adapt, to communicate, to innovate and to deliver. Staying true to these simple values has led to Dico și Ţigănaș recently being named as one of the Top 100 Most Powerful Architecture Firms as chosen by IBC Focus.
For Şerban though, the company's work will always be about more than recognition or economic gain. "I think business should be something balancing profit-orientated actions with generosity and creativity," he proclaims. "We face endless challenges to transform the world, and designers are standing in the front line. We are here to engage in change, and we hope to do it in partnership with clients searching for a better future."
Dico si Tiganas
Services: Architecture and engineering