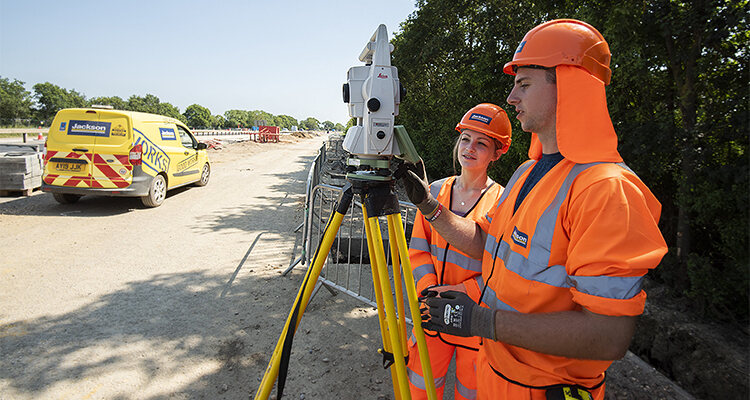 Discover how Jackson Civil Engineering champions diversity and collaborates with communities
With seven offices dispersed across the nation, Jackson Civil Engineering (Jackson) seamlessly weaves its expertise into the fabric of our urban landscapes. Jackson is a no-nonsense contractor that undertakes civil engineering projects across a variety of different sectors including highways, bridges, infrastructure, and flood defence. Brian Crofton, Managing Director at Jackson, describes himself as "the new boy on the board, with 23 years of experience working within the company.
"I joined Jackson in 2001 as a project manager and then worked my way to the top. I held positions as Regional Manager and Contracts Director, and then in 2019, I became Managing Director," he declares.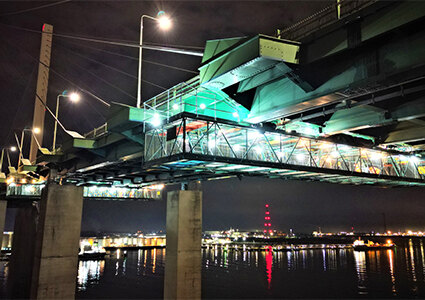 From the year of its creation to the time Brian joined the company, Jackson has had a rich history. Brian walks us through the early days of the company and the changes that occurred during his time there. "The business was started in Ipswich in 1952 by Frank Jackson. It was called Roadworks 1952 Ltd. at the time and focused on doing small housing schemes. But it has grown and diversified into building, plant hire and surfacing through the 1960s and 1970s. The Jackson brand was officially created in 1996 when the company changed its name to Jackson Civil Engineering. That same year, Frank stepped away and the business was taken over by then Managing Director, Peter Andrews.
"Peterhouse Group then bought Jackson Civil Engineering in 1999. We went from being a privately owned family run business, to being owned by a large private equity and that changed the dynamic substantially. It works for some, but it didn't work for us. As a result, the board that was operating for Peterhouse did a management buyout in 2004 and bought Jackson Civil Engineering out of the Peterhouse Group. We're still privately owned by the board, but we also have a key shareholder called One Group Construction."
Of the nine companies owned by One Group Construction, Jackson is responsible for around £120 million of the Group's annual turnover of £180 million. Brian believes the company is so successful due to its versatility. "We haven't tried to pigeon-hole ourselves into one speciality because we want to provide a good service across all our industry sectors and not be excluded from working on others," he notes. Jackson offers a broad range of services, but only across civil engineering. Rather than being a limitation, focusing on civil engineering has enabled the company to work with many important clients. "One of our biggest clients for the last 21 years is the Environment Agency. About 30-to-40 per cent of our turnover is Environment Agency flood and coastal defence work. That encompasses anything from smaller works on the Environment Agency's assets to large flood storage reservoirs, embankments and flood and coastal defence works along the coast and upriver estuaries."
Having worked on such sizeable projects in the past, the company has made a name for itself across the country. However, Brian highlights that this was all made possible thanks to its high calibre staff, supply partners and important company values. "There is a massive shortage of people in the industry at the moment, so our people are our most valuable resource. As a business, we pride ourselves in having a low staff churn rate and that the loyalty of our staff is not underestimated, and we recognise they are one of our strongest assets."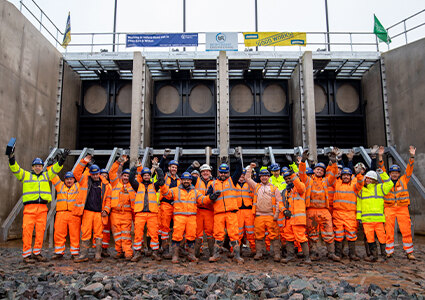 Jackson actively seeks to hire more women to improve diversity within its workforce. "Currently, 23 per cent of our staff is female, which is still an area for improvement, but it's above the construction industry standard. The lack of focus on STEM in the education system is one of the drivers behind those low numbers. The more women we can get into STEM, the better. We're already seeing some results with a lot more female engineers and graduates coming into the construction side of the business," he states.
Brian admires the way the company is run with a family feel which seems to be good for staff retention. While not a family-run business, Jackson has core values it lives by. "We've got five principal values – we call them our five pillars – and social value is one of them." he says. "Our social value is all about how we impact the communities around us. Civil engineering has a bit of a bad reputation because we do roadworks, and the last thing people want is to be stuck in traffic. So, we need to make sure that our business makes a positive impact on the communities around us. It's one of our key performance indicators, and that's why we strive to be social value champions. When we build a bridge for instance, we think about how we can have a positive impact on the community that is affected by our works during construction rather than just being focused on the end product," he declares.
Jackson's commitment to excellence, diversity, collaboration, and social responsibility is what sets it apart in the industry. With a sustained focus on improving gender representation and making a positive impact on communities, the company is headed for continued success as it shapes the future of urban landscapes. Over the next five years, Brian states that the company will keep improving the service it delivers to its clients, supply chain and staff.
"We've only just started to scratch the surface as to what we can deliver as a business and an industry around diversity, social value and carbon neutral construction initiatives. If we as a business focus on ensuring that our staff feel valued and empowered, then along with their support, we will ensure that we continue to grow and develop and provide a safe and stable business where we can deliver amazing projects together and also have a bit a fun along the way," he concludes.
www.jackson-civils.co.uk