Spaces that inspire
From modern apartment complexes to youth centres, Manchester-based firm Domis Construction is bringing to life some of the North West's most ambitious developments
Founded in 2017, it has taken only three years for Domis Construction to become renowned across North of England for its purposeful, solution-based approach to building. From concept to construction, the company's 'boutique' operating model allows it to support every aspect of a project's development journey with trademark reliability and attention-to-detail. The result? Spaces that inspire.
In June 2020, Domis celebrated the 12-month anniversary of the first residents moving into one of its most celebrated projects – Local Blackfriars. A £60 million residential development on
Salford's Trinity Way, the scheme consists of two residential buildings – one of 16 storeys and one of 12 storeys – either side of a central courtyard and adjacent to the restored former Blackfriars Pub. Targeted at the sales market, the project offers 399 one- and two-bedroom apartments, including penthouses, and six townhouses. Facilities onsite include a private cinema, gym, launderette, cycling storage, and underground parking. According to property developer Salboy, on whose behalf construction was carried out, Domis completed the development in 104 weeks, putting the project 22 weeks ahead of schedule.
More recently, Domis found its work drawing praise from retail tycoon and entrepreneur Theo Paphitis. The former Dragon's Den star described the new Domis-constructed HideOut Youth Zone in Gorton, Manchester as 'absolutely fantastic'. Proud to deliver a project that will have such a direct and significant impact on the local community, Domis worked closely with its client, Onside Youth Zones, as well as local businesses, to provide a youth centre for the 21st century, which will provide young people with 'somewhere to go, something to do, and someone to talk to'.
Open seven days a week under normal circumstances – Covid-19 restrictions have been in place since March – the Youth Zone is a safe place where thousands of young people across East Manchester can participate in up to 20 activities each night, as well as meet new friends and find a listening ear. With some neighbourhoods in East Manchester among the most deprived in the country, Domis was pleased that its work will help support young people in the area socially and emotionally, now and in the future.
No1 Old Trafford
In order to pull off the complex projects for which the company has become famous, Domis prioritises the relationships it forges with people and organisations who share the firm's passion and commitment to service excellence and outstanding quality. For Domis, nobody is more important than the company's clients, partners, and workforce, and this is reflected in the way the business provides customers and stakeholders with direct access to decision-makers and offers them the opportunity to influence key judgements. This 'wholly accessible' take on business is something the company believes sets it apart from many of its competitors and allows for a communal approach each and every time it steps onsite.
At present, Domis is hard at work on a major development close to Manchester United's Old Trafford stadium. Designed by Jon Matthews Architects, the 214,000-square foot, 354-unit scheme is being constructed by Domis on the waterfront at Trafford Park. No1 Old Trafford will include 139 one-bed, 211 two-bed, and four three-bed apartments across two towers of 15 and 18 storeys. These towers will be connected by a central reception area, which will be home to a cinema room and business lounge.
In September 2020, a key milestone was reached in construction at No1 Old Trafford as the new residential structures topped out, meaning the project is on track for its scheduled completion date in the spring of 2021. In the same week, property developer Cole Waterhouse announced that over 70 per cent of units had already been sold. The company's CEO, Damian Flood, was also full of praise for Domis.
"Domis has done a superb job adhering to the development programme whilst ensuring Covid-safe working conditions," he said. "We have continued to see a high level of interest, in particular from international investors, but as we rapidly move towards completion next year, we are starting to achieve more direct sales to local owner occupiers, which is excellent news."
High-profile development
Cole Waterhouse previously revealed that 15 per cent of apartments at No1 Old Trafford have been reserved specifically for first-time buyers as part of the Government's Help to Buy scheme. The site's perimeter, home to the popular Skyhooks sculpture, will also benefit from a £1 million public realm improvement package.
As the company continues to be a first-choice construction partner on pioneering new developments like No1 Old Trafford, it becomes more and more clear that a degree of the success Domis has experienced is derived from the firm's experience and capabilities in design management, programming, compliance, safety, and commercial delivery. Each key discipline has a senior management lead with a direct report to the company's Managing Director, Lee McCarren. These dedicated delivery teams for each project have helped to build the firm's reputation as a complete service provider that prides itself on achieving the highest quality of service in the industry. Lee recently added his thoughts on the progress at No1 Old Trafford.
"The development is on schedule, to budget, and more importantly, is being constructed under safe systems of work, ensuring our people are protected throughout the challenges of Covid-19," he said. "It's great to be working on such a high-profile development for Cole Waterhouse and we look forward to providing an exemplary service through to completion".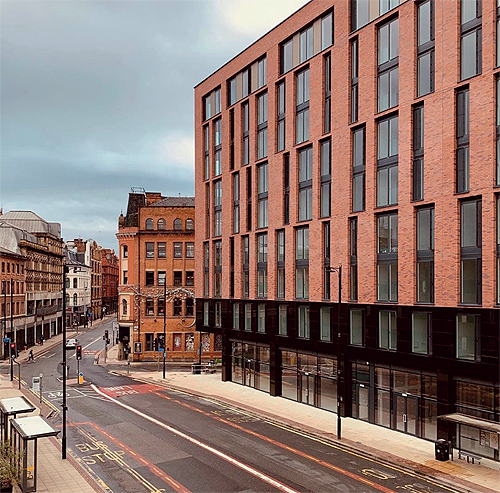 Future schemes
Despite the challenges presented to the sector by this year's Covid-19 pandemic, 2020 has been far from a lost cause for Manchester's construction industry. It could be argued that the region is actually experiencing a construction boom. While many people across the UK have been in quarantine or working from home, buildings have been sprouting up across the North West with companies like Domis making it happen – and it doesn't look as though the work will be drying up anytime soon.
Alongside the completion of No1 Old Trafford, Domis has just completed a £25 million project on Tib Street in the Northern Quarter and a £35 million undertaking at Burlington Square, and is nearing the conclusion of its work at Local Crescent, an upscale development of more than 423 residential units in Salford for development partner Salboy. There are new projects on the horizon too. Domis has started preparing the sites of two residential schemes within Salford's Greengate. Having recently gained planning permission for an 18-storey apartment block containing 115 apartments, Salboy has confirmed that Domis will carry out construction of the Jon Matthews designed complex. Work is expected to begin before the end of 2020 and is projected to be completed within 3 years.
Perhaps the most exciting upcoming development for Domis is the construction of Viadux, a £300 million residential and office scheme for which the company started early-stage works in March. A joint venture between Salboy and Ask Real Estate, Domis will be building the 40-storey residential tower and accompanying 14-storey office site that make up the project. Having already completed minor drainage works, the company can now look towards beginning construction in earnest. Scheduled to be built in phases, the residential block will be constructed first and when completed, will offer 375 apartments.
Domis is hopeful that Viadux can welcome its first new residents by 2025. The long construction programme is due to the complicated nature of the development's design – the contractor will need to negotiate listed arches, as well as working around the Metrolink tram line. Though the project is sure to be a challenge, Domis is confident that it is the ideal candidate to produce the desired results. A skilled, experienced, and resilient organisation with an ever-growing body of impressive work, Domis is certainly one to watch in the years ahead.
Domis Construction Ltd
www.domisconstruction.co.uk
Services: Construction company