The smiling sun is the trademark of Domoferm International, and the organisation aims for its service to echo its sentiments of sympathy, strength, reliability and energy
Door to door service
When it comes to doors, Domoferm's expertise and design led product range is second to none
The smiling sun is the trademark of Domoferm International, and the organisation aims for its service to echo its sentiments of sympathy, strength, reliability and energy. Since it was founded in 1960 Domoferm has grown to be one of the most successful mediumsized businesses in Europe. Today Domoferm is the leading European manufacturer of frames and one of the leading European providers of steel doors and fire doors.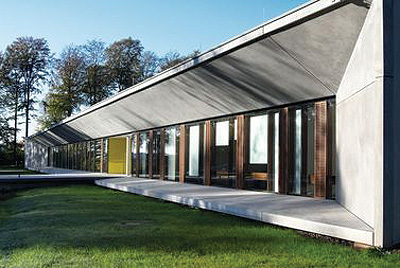 Strengthened by the professionalism of an entire group of companies, Domoferm International is a holding company that owns four manufacturing companies BOS (Emsdetten, Germany), BBE (Brilon, Germany), HSE (Humpolec, Czech Republic) and Domoferm (Gänserndorf, Austria) as well as five  distribution companies in Russia, Poland, Hungary, Croatia and the Netherlands. The entire group employs more than 1000 people with over 300 people working at the headquarters in Gänserndorf, Austria.
The frames and doors produced by Domoferm provide strong benefits, starting with perfect design and going all the through the process to the variety of finishes that are available. With many equipment options on offer, they are ideally suited to any room and their steel construction offers the additional benefit of a long lifecycle.
Domoferm offers highly aesthetically appealing door sets, in accordance with the requirements of modern architecture: Clear lines, high-quality materials and surfaces combined with perfect function, and for safety, there are the options of fire and sound proofing, heat protection and burglar resistance. The door elements are tested for fire protection to ÖNORM, DIN and EN standards, but in terms of design they appear like other doors, and can be equipped with vision panels, attractive lever handles, individual colours or different surface materials.
The company also offers a comprehensive range of steel doorframes because it believes the frame completes the role of a door and gives it the necessary structure to be a fully functional product. Domoferm frames are made to the highest quality standards, with a diversity of variations and options available, including modern, elegant finishes and easy care varieties – they create the frame standard of today.
Another product range available from Domoferm is sliding doors, and these are as varied as the projects in which they are utilised. They can be created as a sliding door, telescopic sliding door or lifting door, and Domoferm is able to assist clients to find the optimal solution to their requirements.
A very versatile choice, Domoferm sliding doors can be used to separate sections associated with fire requirements, as well as create multifunctional rooms. All of the Domoferm sliding doors are tested according to ÖNORM and EN and in terms of design, they as adaptable as its door ranges. Also complementing its range of doors and frames, Domoferm can offer a range of glazing options, including those with fire, sound and radiation protection.
The wide range of products available from Domoferm are supported by its in-depth expertise, which has been acquired over a range of projects, such as the Thürnlhof in Vienna, The Albertina Museum in Vienna and the Nitsch Museum in Mistelbach.
The Thürnlhof project involved the construction of 209 apartments, and for this project, a partner was needed to supply steel frames as well as steel and fire protection doors – the contractor turned to Domoferm. There was a big emphasis on light, and this can be seen in Domoferm's installation of numerous special frames with fanlights and side glazings, which not only provide light-flooded spaces, but allow, for example, that parents can observe their children playing in the play room from the laundry room through large glass surfaces.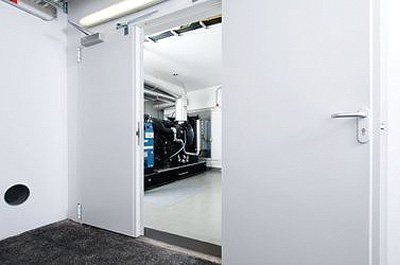 In addition to the single and double leaf doors, special frames were used, and the thick rebated product group UNIVERSAL. This product has already been certified to the new European classification EI230.
Another very prestigious project that features Domoferm products is the Albertina, one of the most famous museums of Vienna. It houses one of the largest and most important graphic arts collections in the world, with exhibits ranging from the Gothic to contemporary art. The name 'Albertina' comes from its founder, Duke Albert of Saxony-Teschen.
Domoferm was challenged to integrate oversized doors with fire protection in the heritage listed building as inconspicuously as possible, without damaging the building integrity. The company utilised a number of Domoferm products that were discretely integrated into the museum, including the BIG UT7xx/UT8xx – a product for oversized openings and therefore ideal for the renovation of historic/artistic buildings. It meets all the necessary equipment options in the commercial sector and meets the highest standards. The BIG is widely used in applications where high functionality is required to exist alongside outstanding design.
It is clear from these examples that architects, planners and builders are keen to work with Domoferm products. As different as the individual planners, their aesthetic ideas and design assumptions, their methods of operation and construction projects may be, they are all united by one common theme – a belief in the high quality and performance of products from Domoferm.
Domoferm
Services: Door and door frame manufacturer