Through the continuous development of equipment and many years of experience, Doubrava provides products and services, which are always one step ahead
Planting the foundations
Through the continuous development of equipment and many years of experience, Doubrava provides products and services, which are always one step ahead
Motor vehicle emissions are one of the leading causes of air pollution in today's environment. Cars, buses and trucks are the main sources – when their engines burn fuels, they produce large amounts of chemicals that are emitted in engine exhaust. Everyday, these emissions are harming our environment. Looking at tackling this issue, Doubrava has recently developed the 'mobile concrete plants'.
Specially designed for small areas, this plant can be dismantled in only a few hours, and set-up again and commissioned on-site in only one day. The mobile plants were designed using a modular system, consisting of container transport-units, which can be erected and docked together. In addition, the electro-water and pneumatic installation is pre-installed by Doubrava and must only be connected on-site. The mobile plants have proved to be extremely successful with an increasing amount of building sites now using the unit. For example, the concrete for Zurich's Letzigrund-stadium was produced in a Doubrava mobile plant.
Fritz Pesendorfer, managing director for the business elaborates: "This is a very important development for Doubrava, especially in the readymixed concrete area. We produce concrete on demand, which means that prior to the development of mobile plants, during peak periods, we could have a number of vehicles on the road at any one time. Furthermore, it is always difficult to calculate exactly how much concrete is needed, as a result excessive concrete had to be dumped."
He adds: "The new mobile plants save us significant transportation costs, as the plant is completely independent and operates on the building site. The concept is to
basically bring the plant to the building site. In addition, as we are reducing the amount of traffic on the roads, we are therefore reducing fuel consumption. Moreover, the unit increases product availability and quality, as the concrete can be produced as and when it is needed. The mobile units not only match the quality of stationary plants but they can also produce up to 160 cubic metres of concrete per hour. An increasing amount of countries are now demanding that building sites have these mobile plants in place, as a result of their aim to reduce environmental impacts."
With its roots lying in conveying technologies, over the years, Doubrava has developed its product range to meet the increasing needs of its customers. Today, the company consists of two divisions – industrial plants and building construction. The industrial plants area offers concrete plants, belt conveyor and transport systems and dry mortar plants. Within the building construction division, Doubrava constructs building projects with high factory prefabrication. Its range of services extends from the planning of a project to the execution and turn-key construction of a building site also in conjunction with ready-mix concrete and dry mortar plants.
Over the years, the business has developed an outstanding knowledge of the industry, which is unrivalled in the marketplace. Furthermore, Doubrava strives to consistentlydevelop its products and services, making the business an expert partner for designing, manufacturing, installing and commissioning turnkey plants.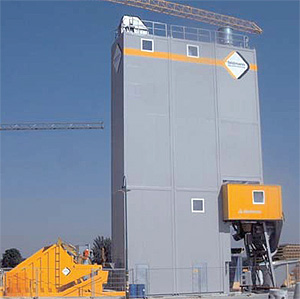 Looking at the current condition of the market, Fritz comments: "The opportunities within the construction industry at the moment are vast. Throughout 2007 we received 80 per cent more orders than we had planned. The main challenge we are now facing is the lack of skilled people within the industry. We are currently looking at new creative ways to solve this labour shortage but we still have a long way to go."
He continues: "In order to attract new people we offer excellent internal training opportunities. We train each of our employees in the different areas of the business. They spend their first years learning internal design and construction, then they move onto project management, and finally they train in sales. As a result of this, the entire workforce is well educated in every aspect of the business and they can turn their hand to any task. Overall, this provides a very successful environment, which enables the company to move forward."
With its headquarters in Austria, Doubrava has developed a global network of sites. Today, the company operates in regions including the UK, Ireland, China, India and Eastern Europe. The business is now looking to increase its presence in these markets, as Fritz explains: "The main areas of growth for us are in Eastern Europe, China and India because of the rapid development of infrastructure in these countries. The demands of these markets go far beyond our imagination, therefore we are continually working with partners in these areas to understand their needs and requirements.
"One of the main challenges for us going forward is venturing into new markets. When we operate in a country we use local suppliers to source major parts of our plants. As a result, every time we enter a new country we have to find the right high quality suppliers and ensure that they meet all our requirements. This is a challenging task for us, but we place great emphasis on it, as we understand the importance of using local sources. Consequently, this leads to us being accepted in the area and significantly improves our presence and reduces transport costs," he adds.
Although the company is looking to expand geographically, Doubrava is sticking to its roots where its product range is concerned. Fritz explains: "We intend to continue building on our main strengths, which include ready-mixed concrete plants, dry mortar plants and conveying systems. This is what we are good at and we have a highly skilled and committed workforce to help improve these areas even further."
He concludes: "Our main vision over the next few years is to take the quality of our products and servicesand offer it to new markets. We want to export the strengths we have developed in our existing markets into new areas and become market leader in these countries as well."