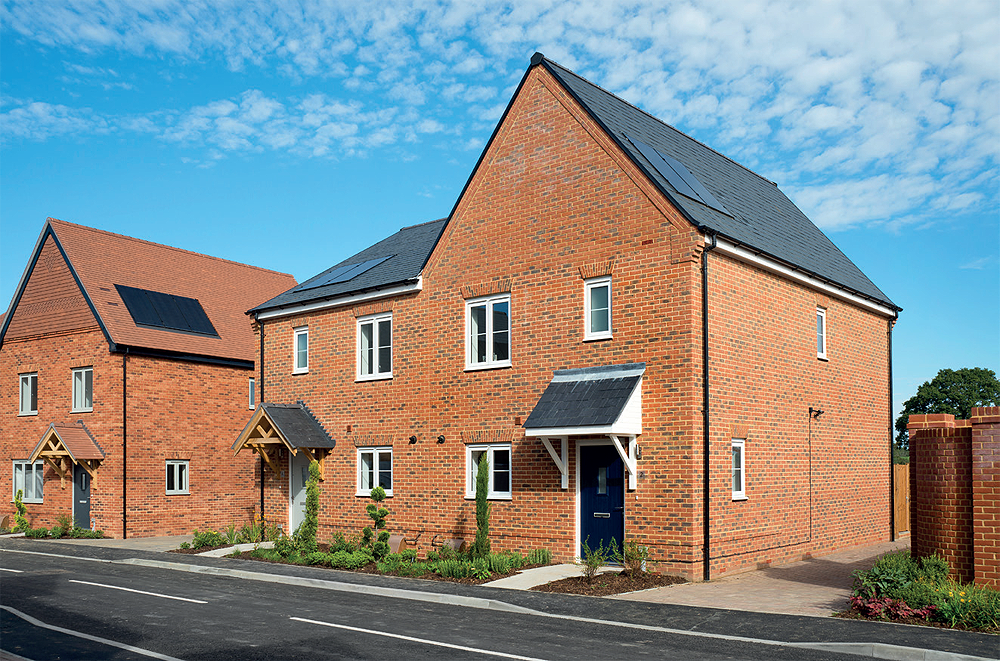 Better together
Working in close partnership with local authorities and housing associations, Drew Smith is delivering a mixture of private and affordable homes, revitalising communities across the south of England
The Southern office of Vistry Partnerships which forms a part of the wider Vistry Group, alongside Bovis Homes and Linden Homes, Drew Smith is a well-recognised and highly respected specialist in the delivery of residential property. Close to Winchester in Hampshire, the firm operates under a partnerships model, working with partners to bring forward the development of its core business, mixed tenure housing.
"Drew Smith is very different to a standard house builder. Working with the relevant parties, we are dedicated to delivering additional affordable housing at each of our sites, meaning that wherever possible, at least 50 per cent of a Drew Smith site is usually affordable," explains New Business Director Leanne Smith. "It means we are the largest provider of affordable housing in the private sector and we strive to deliver more affordable housing in collaboration with our partners than any other construction business in the country."
The quality for which the company has become renowned during its first 25 years as a private company means that the Drew Smith name and brand has maintained its identity through two recent acquisitions. Consequently, though the company is now part of the larger Vistry Group, Drew Smith has retained the freedom, flexibility and feel of a small business, but shares in the benefits and backing of its parent firm. This 'best of both worlds' experience is reflected in the company's plans for the next 12 months as it looks to blend a 50/50 balance of contracting and open market sales sites.
Over the last two and a half years, Drew Smith has secured several sites across the south of England that it will be bringing forward as new home sales outlets in the coming months. One project that the company is already working on is Pembers Hill Park in Fair Oak, Hampshire, where the firm is in the process of delivering 244 homes in joint venture with the local authority.
"By the end of 2020, 18 people had moved into Pembers Hill Park. The House Builder Federation (HBF) surveys we have received in 2020 suggest that 100 per cent of our residents would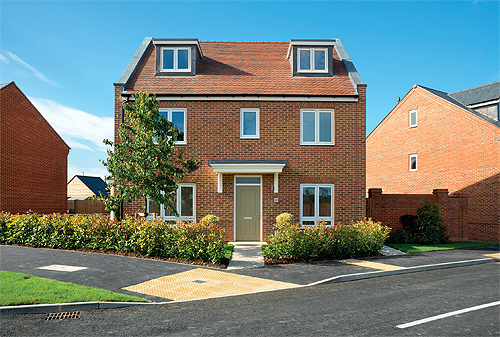 recommend us to a friend looking to buy a property," reveals Simon Mason, Drew Smith's Head of Sales and Development. "When you compare those scores across the wider industry, it puts us in the top two or three of the 192 businesses surveyed. It proves that Pembers Hill Park is an outstanding development and goes to show what Drew Smith is capable of achieving."
As a member of the Homes England Delivery Partner Panel (DPP3), Drew Smith is also able to bid on a variety of land opportunities presented for regeneration by the government agency. The business has secured three of these sites; namely the Havant Colt Industrial Site in Havant, Brewery Place in Blandford St Mary, Dorset, and what was previously St James' Hospital in Portsmouth.
"The opportunities presented to DPP3 members are generally brownfield sites where development has stalled usually due to site complexities such as contamination or a difficulty securing planning permission," Simon says. "Homes England has an allocated budget which is utilised to remediate these sites moving them to a position where they can be released for the development of much needed homes by a company like ourselves.
"Combining our experience as a contractor and a housebuilder means we are able to put both of those skillsets to use on all of our projects. Lots of the people in our team have been with Drew Smith for 15 or 20 years and they bring with them a lot of capabilities from when we were contracting on hospitals, military sites and performing other commercial jobs. The Blandford site we have acquired is an old brewery with a river next door, which presents its own intricacies, and St James' in Portsmouth is an old hospital These sites aren't standard greenfield projects but require a bit more work and thought, which makes us an ideal partner for Homes England."
Ethos and values
Another of Drew Smith's new Homes England contracts is the Colts Brook development in Havant, Hampshire. After securing the site, the company worked closely with its housing association partner Vivid Homes and concluded that the best outcome for the local area would be to make Colts Brook 100 per cent affordable. As a result, Drew Smith is set to deliver 94 affordable homes in a town with a long waiting list for affordable housing.
"I come from an affordable housing background and the fact that Drew Smith recognises the benefit of delivering additional affordable housing is really important to me from an ethos and values perspective," Leanne asserts. "Our housing association partners and local authorities embrace our partnership model, and we enjoy supporting them in improving the amount of affordable housing in areas around the UK. These organisations can use their Homes England funding for the acquisition of the homes we develop and so it's mutually beneficial for all parties. It works well for everyone involved."
In 2020, Southampton City Council committed to the delivery of 1000 new homes in the area by 2025 and Drew Smith has been working closely with the local authority to help make these aspirations a reality. A family business at its core, Drew Smith has always recognised its social responsibility as a builder of not just homes but communities.
"As part of Vistry, we have a specific Social Value Representative at a group level and all Vistry businesses make a commitment to build sustainable communities," Leanne reports. "We use a social value calculator before taking on any new developments, which helps us to analyse what our work will bring to the community in the form of infrastructure, local engagement and work opportunities – we always use a local supply chain.
"Education is a big part of creating communities too. There is a recognition within the Industry that the representation of young workers is diminishing and that the industry is facing a significant skills shortage. We need to be encouraging young people, and especially women, into what is a very exciting and expanding sector. Wherever possible Vistry Partnerships will run a Skills Academy onsite, people with no experience in construction can attend the academy and train for their CSCS card which demonstrates a level of construction competency and Health and Safety awareness. It's all part of recognising the importance of social value, improving employment opportunities and building communities people want to live in."
Vital role
At the end of 2020, as Drew Smith prepared for the New Year, the company took time to look back over the most challenging year of its history, but a year that has also made the business stronger. Following a five-week shutdown of its services in the spring, the company's Pembers Hill site was one of the first in the industry to reopen, operating in line with new bespoke Covid-Secure measures, derived and in conjunction with the Construction Leadership Safe Operating Procedures.
"It's a challenge, particularly when you would previously have had multiple trades working inside on the final fix of a property. Thankfully there has been a real spirit and determination from everyone in the business," Leanne remarks. "The industry has ridden out the storm together. I think we all realise that we have a vital role to play in the long-term economic wellbeing of our country."
Over the coming months, Drew Smith will continue to acquire land at sites that suit its partnerships model, keeping housing associations and local authorities at the heart of its operation. As the 50/50 blend between contracting and open market sales sites evolves, the focus is very much on finding new development sites, growing the Drew Smith new home sales business and maintaining our relationships with key partners.
"We are really confident in our recent progress and we can't see that progress being curtailed anytime soon. Vistry Group is committed to investing capital in the partnerships element of the business and so our land acquisition opportunities will remain strong. It's certainly been a difficult time for us in the construction industry, but the mood is buoyant at Drew Smith and we are really positive about the future."
Drew Smith Homes
www.drewsmithhomes.co.uk
Services: Residential developer