Dubai Contracting Company
Established in 1962, Dubai Contracting Company (DCC) is today a leading middle-eastern construction company
Enviable reputation
Established in 1962, Dubai Contracting Company (DCC) is today a leading middle-eastern construction company
It prides itself on embodying a spirit of commitment and trust that is unique to a construction organisation, and it has established an enviable reputation through three generations of leadership in the same family.
Today DCC specialises in building residential, commercial and mixeduse buildings and hospitality and leisure complexes, and is focused on projects that are designed and built to the highest quality standards available in the industry.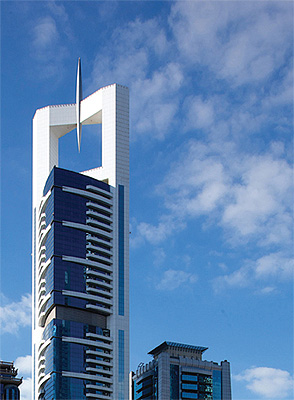 The collective portfolio of DCC projects has grown rapidly in the past few years and includes some of the finest landmarks in the Gulf region. These include the 21 storey AD-1 Tower in Abu Dhabi, the Trunk of Palm Hotel, Jumeirah, Dubai, and the mixed-use 63 storey Rolex Tower, in Dubai.
Furthermore, its impressive order book for the future contains several new and prestigious projects, such as the Brightstart beach resort and the Kingdom of Sheba mixed use residential and leisure luxury resort that is situated on the Crescent of the Palm in Jumeirah, Dubai.
In addition to the growth in the portfolio of its buildings, it has also enjoyed a significant expansion in the geographical base of its operations both within the UAE and further afield in Jordan and Saudi Arabia.
The company has also developed the scope of its services beyond standard contracting to include complete turnkey solutions. For example, in 2012, it signed a turnkey contract for Saraya's W Amman hotel and tower project in Amman – Jordan. The project is located in the Al-Abdali development area in downtown, which is considered to be Jordan's new financial and commercial district. The hotel consists of 36 floors with commercial and retail amenities. The W hotel is a five-star luxury hotel operator that is part of Starwood Hotels & Resorts worldwide. The civil works commenced during the first half of 2013 with an expected completion date towards the fourth quarter of 2015.
However, although the work undertaken by DCC has grown significantly, it still retains the original dedication to quality that has been the hallmark of the company since the first day. By applying industry-leading standards to its projects, DCC ensures that both the company and the client are proud of the final product. Attention to detail permeates throughout the entire organisation, and strict adherence to proven international standards and procedures have allowed DCC to build a reputation as one of the best contractors in the Middle East. Such adherence to quality also means DCC is able to deliver projects on time, and on budget. DCC's continuous dedication to quality is inextricably linked to its commitment to integrity, honesty and transparency. This steadfastness has played a key role in driving its process, and is intrinsically part of every DCC activity.
It is also applied to and expected from all of DCC's stakeholders, including its partner companies suppliers and subcontractors. Indeed, by never compromising on these principles, the organisation has been able to surround itself with a loyal group of companies, creating a team of organisations able to tackle the most complex projects.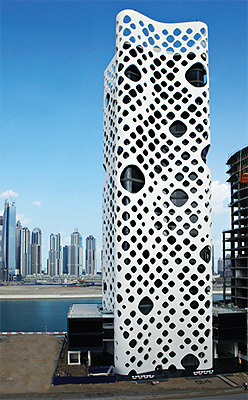 These partners are very carefully chosen for their expertise and dedication to quality, and they include Al Bonian, OPTC, ITWORKS and Studitalia. To assure that its clients have preferred access to these services, DCC has strengthened its ties to these companies by making them official associates.
DCC's approach to its projects is also another aspect that sets it apart from the competition. Visitors to a DCC site won't find the usual mayhem of a construction site – the company prides itself on maintaining a prevailing air of organised workflow, cleanliness and order. This had become a visible manifestation of DCC's disciplined attitude to the construction process and it is enabled by a toolbox of construction resources that always contains the latest and best in technology and expertise.
In addition, it constantly hones this edge by perfecting its competitive, cost-effective construction processes. Clients reap the benefits in buildings that are built on time and on budget, and reflect the overall attitude – they are testaments to quality, in steel, concrete and glass.
It would not be possible for DCC to maintain its position as a quality leader without the right team of staff on the ground and back at headquarters. Recruiting the right people is of paramount importance, as is the constant upgrade of the skills of its people to assure that their expertise is first class. The company advertises vacancies on its comprehensive website, and its requirements for the right qualifications are stringent and highlight its focus on a quality end product.
DCC also recognises that continuous employee improvement is only one part of being a responsible company, and that means it directs attention to being a contributing member of the community as well. This programme includes environmental preservation principles, and DCC also regularly provides extensive support to education courses and charitable entities in its operating environment.
The company has spent the past five decades building a company that truly reflects its founder's ambitions. As Abdallah H. Yabroudi, CEO states on www.dcc-group.com: "Our vision has been clear and consistent from day one. DCC built its reputation on quality. In pursuit of that goal we have worked with discipline and dedication to continually raise the bar on our quality standards. Today we have reached the highest level of professionalism in the construction industry and have been rewarded by our clients' trust and ongoing satisfaction."