By opening the first phase of Dubai Parks and Resorts on October 31st 2016, the region's largest integrated entertainment destination, LEGOLAND® Dubai and Riverland™ Dubai are now open for the general public to enjoy
A wild ride
By opening the first phase of Dubai Parks and Resorts on October 31st 2016, the region's largest integrated entertainment destination, LEGOLAND® Dubai and Riverland™ Dubai are now open for the general public to enjoy
Holding the crown as the largest multi-themed leisure and entertainment destination in the Middle East, Dubai's new £3 billion mega theme park destination is comprised of three separate theme parks, one waterpark, a retail and dining destination and a Polynesian themed family hotel. As the owner of Dubai Parks and Resorts, DXB Entertainments PJSC, a Dubai headquartered leisure and entertainment company that was originally listed on the DFM as Dubai Parks and Resorts PJSC, aims to become the leading provider of leisure and entertainment offerings and services for its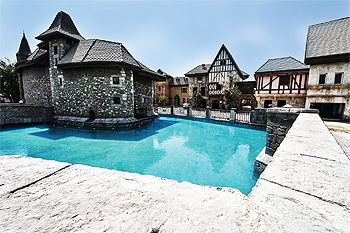 customers by spreading fun and excitement through the region via unforgettable family experiences.
At the forefront of the booming leisure and entertainment industry in the Middle East, DXB Entertainments seeks to redefine the sector with its integrated portfolio of engaging family attractions and hospitality services. Spearheading the growth in Dubai's entertainment industry, DXB Entertainments is introducing world-class standards when it comes to safety and entertainment, sourcing the best global talent while also providing the local workforce with skills that will further enable them to excel as the boom continues. Further complementing these standards, the company is bringing smart integrated technology, digital customer service solutions and state-of-the-art connectivity to its destinations in the region. On top of this, DXB Entertainments has significantly invested in cutting edge ride and virtual reality technology within Dubai Parks and Resorts to provide guests with an immersive, ultra-modern experience.
Once completed, the three theme parks and waterpark within Dubai Parks and Resorts will be MOTIONGATE™ Dubai, a Hollywood movie inspired theme park concept; LEGOLAND® Dubai, the first LEGOLAND theme park to be established in the Middle East, and Bollywood Parks™ Dubai, a groundbreaking, first-of-its-kind family theme park that merges showcase rides and attractions that are based on an authentic Bollywood experience. Moreover, Dubai Parks and Resorts will also house the LEGOLAND® Water Park, the first water park in the region to cater to families with children ages from 2to 12.
The entire destination is connected by Riverland™ Dubai – a uniquely themed retail and dining destination at the heart of Dubai Parks and Resorts, and guests can stay at the Lapita™ Hotel, a Polynesian themed family hotel part of the Marriott Autograph Collection.
"When we began this project three years ago there was nothing but desert in this location, so the lifecycle of such a project is very short for the size of it. When I look at what we have accomplished it is incredible in the time frame we had," begins Matthew Priddy, Chief Technical Officer at DXB Entertainments, the owner of Dubai Parks and Resorts. "Building a theme park or even an attraction is akin to building a hospital or a new refinery, you have highly integrated facilities and rides that include a tremendous amount of technology; this includes control systems, projection systems, audio systems, hydraulic systems, animatronic figures and pneumatics, all of which are computer controlled on highly integrated programs. The role of the facility is to be the mother, supplying these services by inputting the data of the rides and shows and ensuring all electronic equipment and systems are in place to control these operations. However, the key challenge we face is co-ordination, whether this is between contractors and architects; to overcome this the first thing we did was focus on formation issues so there would be no extensions of times or requests for contractors from architects and so on. This is a common occurrence in this line of business so the focus for us as project managers is managing the contract well, while co-ordinating with contractors and sub-contractors in support of our schedule of sequence and so on. You can't buy co-ordination, so we are here to ensure it occurs."
The first LEGO-themed amusement park in the Middle East, LEGOLAND® Dubai opened to the general public on October 31st 2016. Designed for families with children between the ages of 2 – 12, the amusement park boasts more than 40 interactive rides, shows, attractions, building experiences and a vast amount of Lego model structures. "LEGOLAND is quite possibly the biggest exhibit of its kind that exists," says Matthew. "However, the main element of LEGOLAND® Dubai is Mini Land, where we have architectural icons from around the world that have been made at scale completely out of LEGO bricks. Typically, these exhibits would be in an open-air environment where you walk through these buildings, but our LEGO mini land is under a 90 metre diameter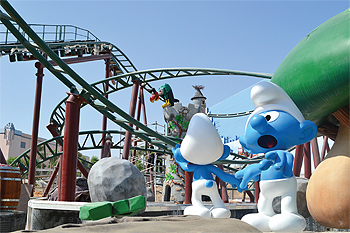 dome due to the dust of the desert here. It has been a huge hit since it opened; I remember the first day that children ran into LEGOLAND® Dubai, when one child stopped and shouted 'Oh my God!' That is the response we are looking for."
He continues: "To develop LEGOLAND® Dubai we came up with a staggering three-part strategy to ensure that we brought a compelling guest experience to people the moment they get to the tollbooth and park their car. It is really about the design, which draws people to the theme park, then the compelling experience that results in people wanting to come back with friends or family; we then want them to stay longer when they are here to get the most out of their experience, and to do that it is not just about delivering great rides and looking at films, but the attention to detail to reflect the brand. Our operations did a heck of a job in accomplishing that; they were outstanding. We of course expected the same level of quality during the creation of the Bollywood experience; it is ultimately a matter of focusing time on each system to provide a great guest experience to everyone.
"Making this huge accomplishment possible is our vast amount of partners; we have up to 50 contractors, which includes big international contractors, local contractors, design partners, local architects and engineering recorders and consultants. All of these guys deserve credit."
Next to open its doors was Bollywood Parks™ Dubai; opening in November 17th, 2016, the theme park offers an authentic Bollywood experience where guests will experience a vibrant celebration of Mumbai's famous film industry. Attractions include live performances, themed restaurants and cinematic rides that are spread across five zones: Bollywood Boulevard, Mumbai Chowk, Rustic Ravine, Royal Plaza and Bollywood Film Studios. The theme park is also home to the stunning 85-seater Rajmahal Theatre that is host to Broadway-style, Bollywood-themed musicals several times a week.
"Bollywood Parks™ Dubai is based on the Bollywood film industry, which means colour, texture, Mumbai, dance and a little drama. To deliver the best possible experience, we have developed several attractions with a light system that is paired with high-end visual media in different format configurations," says Matthew. "There are a few groundbreaking developments that haven't been done before and we look forward to seeing them for the first time. Also, within the theme park is the Rajmahal Theatre, which is a beautiful mix between a mosque and the Taj Mahal; the building has more interior finish and stage machinery than any Broadway theatre you would find in the West End.
"Each Broadway show is approximately two hours long and includes 150 people; every stage machinery trick you can imagine is used, such as performers flying over the audience and around the stage, people interacting in the air, pits, turn cables and LED scenery that is changeable between scenes. The experience is colorful and rich, the acting and costumes are terrific, as is the music and dancing; it is wonderful."
Following hot on the heels of LEGOLAND® Dubai and Bollywood Parks™ Dubai with the opening of its gates in December 2016 is MOTIONGATE™ Dubai, the largest Hollywood movie inspired theme park concept in the Middle East. Made up of three of the most successful motion picture studios in Hollywood, DreamWorks Animation, Sony Pictures Studios and Lionsgate, the theme park will have five roller coasters, 3,170 seats for all rides and attractions in the park, 1000 seats at the MOTIONGATE theatre and 15 live entertainment offerings. One such rollercoaster, The Hunger Games-inspired Capitol Bullet Train, will reach heights of 32 metres.
Themed areas within the 45,000 square metre indoor DreamWorks space include the Madagascar area, which has brightly painted carousels in place and two rollercoasters; one of which includes flywheel technology that will increase speed in mere seconds up to 95 kilometers per hour. Also within DreamWorks land is Kung Fu Panda land and Shrek; the latter of which has the longest ride of the park, lasting more than seven minutes. In How to Train Your Dragon land, there are some of the most anticipated rollercoasters as well as a suspended ride to please thrill seekers. Boasting 12 rides and multimedia content completed by DreamWorks animators themselves, DreamWorks land is truly a mini theme park within a theme park.
"MOTIONGATE™ is much like traditional Hollywood movie theme parks you see around the world, with the difference being we are the first theme park to have Lionsgate land. The main attractions are based on major films such as The Hunger Games, Cloudy with a Chance of Meatballs, the Green Hornet, the Smurfs, Hotel Transylvania and Elderworld. All of these attractions have traditional background set ups with a programmable vehicle and effects; for example, Ghostbusters is a shooting game so the concept is a training ground for new ghostbusters to shoot ghosts and put them in a container to gain scores. There is also a Zombieland attraction that is based on the film starring Woody Harrelson; this attraction involves entering a building and going from room to room where you see zombies coming in on live CCTV; it is like theatre. When it comes to DreamWorks, How to Train Your Dragon is the most complex ride to create technically, and that comes from someone with 26 years in the business, but it will be immensely rewarding once it is completed," highlights Matthew.
Connecting the entire destination is Riverland™ Dubai, a uniquely themed free to enter retail and dining destination, which, after its opening on October 31st 2016, now takes customers on a journey back through time through its four zones: a neon-lit Boardwalk inspired by 1950's American, an Indian gate that provides guests with the opportunity to savor the sights, sounds and aromas of Asia; a Medieval French Village and a setting that is inspired by 19th Century Europe in the Peninsula. Discussing the details that went into creating the Medieval French Village, Matthew notes: "This area is a walk through times from Medieval to a few hundred years ago in the style of French architecture. To gain authenticity to this area, we went to a small village in the South of France and looked at the textures and colours, from there our people did a fabulous job in directing and designing the area for our skilled plaster craftsmen to create."
For those seeking to extend their stay, Dubai Parks and Resorts has developed the Lapita Hotel Dubai, a Polynesian-themed family resort that is part of Marriott's Autograph Collection. Conveniently located for families seeking easy access to theme parks, guests of Lapita Hotel Dubai also benefit from a complimentary Q-Fast pass. Opening December 2016, the Polynesian-themed resort hotel offers a unique gateway into endless fun and enjoyment in a location that has an intriguing tribal theme throughout. With its incredible attention to detail, high quality décor and focus on delivering much more than an experience to guests, the Lapita Hotel Dubai delivers an unforgettable experience.
Features of the hotel include a Spa and Health Club, a range of exceptional quality restaurants, and a rooftop bar; small children and older children alike can also be entertained with a number of themed activities in the Luna and Nova Kids and Teens club. In more detail, dining options at the hotel include ARI, a pool restaurant and bar, PALAMA, a lobby lounge; HIKINA, a restaurant offering Asian cuisine, KALEA, an all-day dining restaurant and LANI, the rooftop lounge.
However, for those seeking further options, Famous Daves, a steakhouse committed to great BBQ food, is 0.1 miles away, as is Tortilla, a restaurant serving California-style burritos and tacos. Also within the same close proximity is Galitos, which creates traditional chicken dishes, Katsuya, a Japanese diner and Jamba Juice, which offers great tasting smoothies and freshly squeeze juices. For guests seeking further dining experiences, 800 Degrees Pizza, the Irish Village, Starbucks and Shake Shack are all nearby, alongside dining experiences such as Olive Garden, Shrimpy, Super Chix, Al Mashowa Emirati Sea Food and Fuzziwig's Candy Factory.
"It is all about extending the length of the stay and delivering an enjoyable experience," highlights Matthew. "For example, LEGOLAND® Dubai opens around 10am so families can go spend time in this theme park, the children will get tired out and go back to the hotel for some food and a rest. Bollywood Parks™ begins a little later in the day, so families could go experience the park, have dinner in a nice restaurant and then go watch a Bollywood show."
Aware of the diverse requirements of customers within the theme park, Dubai Parks and Resorts announced its impressive line-up of high profile partnerships in November 2016. Corporate partners include renowned brands Dubai First, Etisalat, Mastercard, Pepsi and McDonald's; these organisations will hold exclusive partnerships for the next five years. Supporting the vision of Dubai Parks and Resorts to grow the family leisure industry and transform the landscape of the leisure and entertainment industry in the Middle East, these organisations will all play an integral role in the smooth running of the theme park.
For example, Dubai Parks and Resorts and Dubai First have announced the launch of a co-branded Mastercard credit card that will offer card members rewards, benefits and services during their stay at the destination. The cards will be available in World and Platinum variants, with the Dubai First – Dubai Parks Amazing Card offering exclusive savings on admission tickets, food and drinks and merchandise; members will also benefit from valet parking and Q-fast at the park to further ensure a superior experience. Mastercard, meanwhile, is the official payment solution partner for Dubai Parks and Resorts, with the partnership offering benefits to all customers spending on Mastercard within the theme park.
Within Dubai Parks and Resorts, PepsiCo is the official beverage partner and is to offer the full range of Pepsi-Cola products; the partnership also gives PepsiCo rights to serve cold drinks throughout the parks and restaurants that are managed by the parks. Also teaming up with Dubai Parks and Resorts is McDonald's UAE, which operates as the official quick service restaurant; the flagship restaurant is located in the Riverland French Village.
With phase one of the Dubai Parks and Resorts project due for completion, DXB Entertainments, the owner of the destination, will now be focusing on the development of phase two, which involves the development and opening of Six Flags Dubai, the destinations' fourth theme park and the region's first Six Flags theme park. With this new theme park due to open in2019, DXB Entertainments will be managing its time between this project and enhancing its existing theme parks, as Matthew concludes: "From a marketing standpoint, history tells us that a new attraction results in a boost in interest and a rise in attendance. There is still a lot of property here to fill and we are ready to evolve."
DXB Entertainments/ Dubai Parks and Resorts
Services: Owns the Dubai Parks and Resorts destination