Duchy Homes is an award-winning residential developer that focuses on luxury homes in the north of England
Quality at the core
Duchy Homes is an award-winning residential developer that focuses on luxury homes in the north of England
Aware that buying a home is one of the most important decisions that people ever make, Duchy Homes focuses on quality in all areas of home building to ensure the move into one of its homes runs as smoothly as possible. With quality taking precedence, Duchy Homes puts choosing the right location, style and construction processes at the heart of its operations. However, to add extra peace of mind, Duchy Homes offers a ten-year NHBC warranty on all of its homes as well as operating a two-year policy with a dedicated customer service team on hand.
Since its foundation in 2011, the company has grown significantly through cautious investment and a focus on building small developments and creating luxury homes. "We started with a blank canvas and a sparse office without mobile phones or computers, we were a standing start SME with good, supportive investors and a lot of experience. We set about finding land in the right places and have grown our business year-onyear by setting ourselves sensible, achievable targets," begins Jim Cropper, Group Managing Director of Duchy Homes.
Another key reason behind the company's growth is the funding it has received by its senior debt providers, predominantly RBS together with Barclays, as Jim notes: "This was especially true of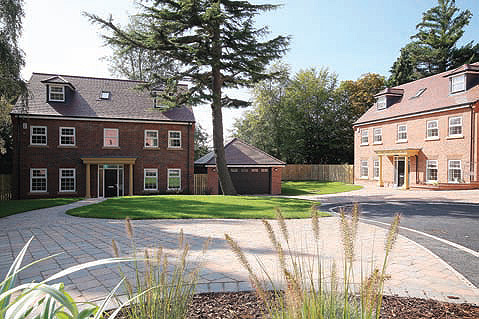 RBS five years ago when SME housebuilders were not the flavour of the month, it was very supportive of us and continues to be so. I think the reason we changed the outlook of RBS was our risk profile, management experience and general offering, which was likely to be quite different to what was around at the time. We were offering four-to-five five bedroom quality detached houses, not mainstream two-to-three bed homes or small four beds. Furthermore, if you put sensible land acquisition together with relatively small numbers in a market place that we hope will sustain demand even if there is a down turn and have the right product that people will want, you have a good offering for the bank."
Today the company has three established offices in Leeds, Manchester and Gateshead and has recently opened a new base in the Midlands, which opened in May 2017. Building on the success of its other locations, the company's plan is to satisfy demand for a small luxury housebuilder in the region. "This is a people-based business and an ex-colleague of mine became available who is based in the West Midlands so my investors have considered the person and the location and said 'OK, let's do it.' We have gone from a standing start SME with one division to four divisions in the space of five years," says Jim. "Our success stems from a measured approach; we don't have any aspirations other than opening new divisions and don't wish to go beyond the core business of 20-25 houses a year in the first instance. That way we can keep the quality, ensure customers are satisfied and keep our overheads at a sensible level."
Duchy Homes' current developments are in Watermill Gardens, Penistone, South Yorkshire, Tower Gardens, Scawthorpe, South Yorkshire and Chesters Meadow, Humshaugh Northumberland. Starting in the next few weeks are The Ings, Wetherby, West Yorkshire, High Gables, Ranskill, Nottinghamshire, Tranby Lane, Swanland, East Yorkshire; and Bunbury, Cheshire.
Discussing the length of time in building these developments, Jim states: "It takes a minimum of six months to get planning permission, however in terms of time on site, if it is a fiveunit site you will be in-and-out in approximately 12 months; if it is a 15-unit site add another six months on top of that. The very best we have done from finding the site, getting planning permission to build and finishing it has probably been 18 months to two years. The normal length of time is two to 2.5 years."
Having gained a strong foothold in the market thanks to a wellearned reputation for high quality developments and services, the award-winning Duchy Homes was honoured to be named in the London Stock Exchange Group's 1000 Companies to Inspire Britain report. "We had no knowledge of this and it was a very pleasant surprise for us," says Jim. Looking ahead, in the short-term, the company sees potential challenges ahead with regards to Brexit and the recent election, which is causing people to slow down in their decision to move house. However, over the coming years, Duchy Homes is focused on its offices in North East, North West and the Midlands reaching their targets of £10 million to £12 million turnover. "Now that Yorkshire has reached its original goal of £10 million turnover, established its reputation for health and safety and quality, it will now seek to double its turnover. We anticipate the remaining offices will reach their target turnovers over the next three years; once this has been reached we will consider prospects for future growth," Jim concludes.
Duchy Homes
Services: A residential developer, specialising in new build luxury homes