Despite having its roots in the nineteenth century, Dura Vermeer's approach to Holland's construction market remains as fresh and as innovative as ever
Forging new paths
Despite having its roots in the nineteenth century, Dura Vermeer's approach to Holland's construction market remains as fresh and as innovative as ever
Having been around in the Dutch construction industry for over 160 years, Dura Vermeer has developed a deeply ingrained sense of how to evolve and remain successful in a market that can often bear the brunt of an economic crisis. The year 1855 marks the beginning, when Job Dura established himself as a self-employed building contractor near the city of Rotterdam steadily transforming into a specialist residential construction company. In 1998, keen to widen its footprint in a market that was growing rapidly full of large contractors, it joined forces with Vermeer, an infrastructure focused business that started out in 1961. Swiftly completing a successful merger, the family-owned company now occupies a top ten position amongst the leading and most diversified construction firms operating in the Netherlands with around 2500 employees and a one billion euro turnover.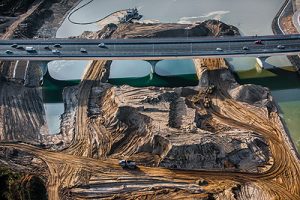 "Our core strength is that we offer a complete package from design to construction and maintenance. All expertise and necessary competencies are held in-house," begins Managing Director, Hein Versteegen. "In deploying this we have become very good at thinking outside of the box, looking for smart, innovative solutions for all our clients. When considering a project during the tendering phase we always look closely at the aims and objectives and work out how we can propose the best balance between quality delivery and best value for the client. In analysing a project at this stage you have to put together a jigsaw puzzle of client demands and then present a picture that they like."
None more so has this approach to project delivery been demonstrated as in the recent Nijmegen phase of the Netherlands' 'Room for the River' flood defence scheme on the river Waal. The ultimate aim for the project was to dig a secondary channel on the river to lower the water level and increase the river's capacity, therefore reducing the flood risk. This was accompanied by the relocation of an existing dyke 350 metres further inland, three new bridges and a new quay. Due to the construction of the secondary channel the existing area transformed into an island in the centre of the river that is set to host a mix of new living, recreational, cultural and natural spaces.
"One of the key specifications for this project was the traffic management issues in that the client, the government and authorities of Nijmegen, wanted minimal impact on the city's traffic," explains Hein. "We developed a completely different approach to how we could complete these temporary works and therefore proposed a single bypass for the highway. None of our competitors offered anything similar and this allowed us to initially win the contract. Despite it being a relatively large secondary project, the single bypass meant we could save costs by eliminating the need to have multiple solutions for different phases of the work. This also allowed us to work freely throughout the process, rather than in segments."
In addition to this, presenting a strong design that met the client's specification for a striking part of the city that made a statement was also key to winning the contract. Hein points out that whilst other competitors offered lower cost solutions, Dura Vermeer's balance between delivering a project on budget and on time, and that also met the client's demands for aesthetics of the structures and landscaping was important. "Having a great architectural team and a strong position in BIM engineering with our sister company, Advin, on board really helped this," he continues. "Not only were we able to offer an appealing design but the architect did so whilst also developing a clever, workable design in terms of construction. This meant that we could deliver what we had promised, all whilst offering a cost effective programme."
Highlighting the excellence of Dura Vermeer's work in Nijmegen, the Verlengde Waalbrug extended bridge won the 2015 Concrete Award in the bridges and viaducts category. Equally as significant, the Room for the Waal project as a whole was recognised for its collaborative success by winning the Dutch Bouwpluim in 2015.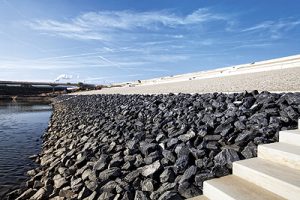 Whilst market conditions can be been seen picking up in the Netherlands, with more large and interesting projects coming to market, Hein does note that it is still tough and companies are having to offer smart solutions in order to win contracts. "The Nijmegen project has put us on the map," he expresses. "I think we shocked some of our competition when we were awarded it." Applying its multidisciplinary approach to projects such as this and offering an innovative solution is what defines Dura Vermeer, with Hein continuing: "We don't necessarily look for huge contracts with the view to playing in the top league. We want to become successful and profitable in the league just below where we can take on complex projects with smart solutions."
Demonstrating this perfectly, the company's future ambitions aren't solely focused on growth, instead it focuses on taking on projects that provide good margins and allow it to be sustainable in the long term. Over the course of 2016, the firm has its sights set on some of the other 'Room for the River' projects that are due to come on to the market, as well as looking closely at other projects where it feels it can make a difference.
"Being a company that is already over 160 years old sustainability means staying around for another 50 years and this is what drives us," Hein concludes. "We have always been able to adapt and move forward with the market developments and advances, and this will be the same as the world moves into an age of smart technology." Over its long history, Dura Vermeer has developed an unrivalled attention to operating in the Dutch construction industry and its work on the Waal has only served to illustrate this on a high profile stage. Continuing to operate in such a smart and client driven way looks to stand it in good stead for continued success despite a challenging and competitive industry.
Dura Vermeer
Services: Specialists in building, civil engineering and infrastructure projects