ECAP represents its members in Brussels, as well as offering advice, information and access to vital technical resources
A united voice
ECAP represents its members in Brussels, as well as offering advice, information and access to vital technical resources
The European Consortium of Anchors Producers (ECAP) is a non-profit consortium, 100 per cent self-financed by its members. Companies that join ECAP are European small and medium-sized enterprises (SMEs), which produce mechanical, chemical and plastic anchors, screws, powder actuated tools (PATs) and related nails and fixing cartridges.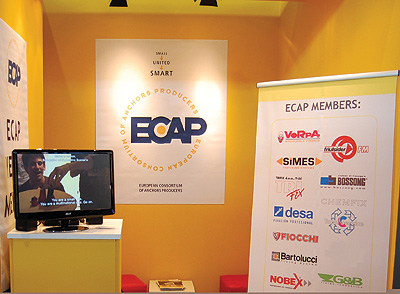 As secretary general Barbara Sorgato explained, these European SMEs created ECAP to represent their voice in Europe. They needed to join forces and work together to get a common advantage in the European standardisation process, to grow in the technical development of their products and to share costs of high tech services.
"ECAP was founded 12 years ago because these smaller manufacturers realised they couldn't influence the norms on their products because the national associations were being dominated by organised multinational companies, who were very good lobbyists. As a result the normative system was bent to the needs of multinationals, but the Government couldn't do anything because officially it was listening to national associations. The SMEs felt there was no way out but to create this consortium, to give them their own platform in Europe."
ECAP's main role is to disseminate vital industry knowledge to its members, because as Barbara explained, many firms just aren't getting the right information: "It is very difficult to fill the gap between what is decided in Brussels and what the firms actually know, especially if their member states don't do a lot to inform them," she said.
"So for example, at the moment one of our main activities is highlighting all the implications of the recent change from the Construction Product Directive to the Construction Product Regulations. The biggest difference between the two is that the Regulations are now laws, and all European member states must comply with them. This change has created such a huge amount of unsolved problems and implementation issues that dealing with it is one of our main activities – aspects of it affect the norms and the guidelines on anchor systems."
Alongside the educational side, ECAP also works to influence the European Commission, with Barbara visiting Brussels once a week to lobby on behalf of her members, as well as working closely with technical institutions. "The main institution we work with is the civil and environmental engineering department of the Polytechnic of Milan, however, we do also have contacts with a network of institutions all over Europe," she said.
She continued with some details of how these relationships have been established to benefit members: "With the Polytechnic of Milan we have a lab that carries out tests on members' products and that's a very important facet as they can't just theorise a norm, they have to get it certified.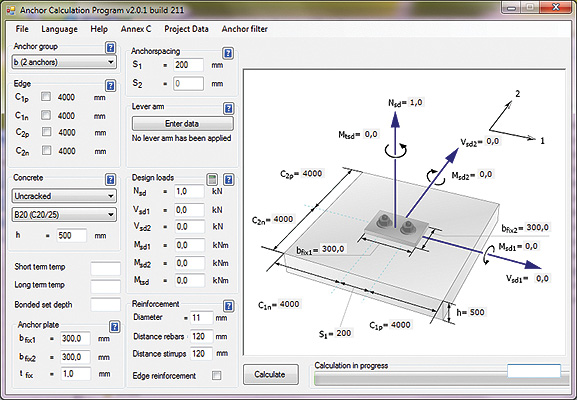 "Before ECAP existed only multinationals' products were tested, but now we help all the products of our members to be tested in order to create a standard that covers the whole SME market."
Indeed, ECAP deals with the following issues related to the standardisation process: drafting of EOTA guidelines on mechanical, bonded and plastic anchors, drafting of the CEN Eurocode (anchors) and drafting of CEN standards on wood connectors, powder actuated tools and fixing cartridges.
"Our approach also means that these institutions get more experienced with working with SMEs, and offers support for SMEs who might not otherwise have access to this sort of service," added Barbara. "These labs are used to dealing with multinationals who have five technicians and a travel budget, but what if a small firm doesn't have the technicians or background to face a doctor or engineer at that level? In that instance we can offer the services of our project manager to assist them in the whole process of CE marking, choosing the right lab, advising on costs and so forth. As they get more experienced they don't need us any more, and we are proud be able to help them advance through this process."
ECAP has made great strides since its foundation in 2001 and is now regarded as best practice – it is the only consortium in Europe made directly from European SMEs. "Usually you find umbrella organisations or multinational organisations lobbying in Brussels, but our members have transcended the national dimensions and created their own European dimension, which is great," said Barbara.
Indeed, the members of ECAP do have an almost unique mindset, as Barbara went on to explain: "Our members are all competitors that had to overcome that aspect of their relationship to come together and create a consensus. In fact, I think that our consortium is kept together by something that is now regarded as old-fashioned – ethics – and that is not easy to maintain in our marketing oriented world. Our overall concept is that we are doing something good, having a united European voice, and our ethical code is like a glue that holds the firms together."
She also explained that this approach sometimes results in the organisation thinking out of the box: "Three years ago we did some research on how to raise awareness about the influence of lobbying institutions and how they affect standards, and it was very interesting, we even got a Nobel Prize winner to speak about it. So our work isn't all about anchors – we could even be called idealists!"
Such is ECAP's success that Barbara is being approached from manufacturers from other industries for advice. "I often have to tell them that isn't our area, and they might have to consider forming their own version of ECAP. However, I also do anticipate that in the future ECAP will extend its offering to other industries, which will be a challenge as we can't use what we have already got, so will have to work with new institutions and lobby in different industry sectors. Nevertheless, I do see that is the way forward, perhaps in five or so years."
ECAP
Non-profit business consortium