ECC Timber Engineering is gearing itself up for a very exciting year ahead, as managing director, Mike Herbert, reveals
Projecting growth
ECC Timber Engineering is gearing itself up for a very exciting year ahead, as managing director, Mike Herbert, reveals
The key to success for ECC Timber Engineering is strong customer relationships. Since it was established the business has recognised the need to work in harmony with its clients throughout the whole project. With this in mind, one of ECC's most important differentiating factors is its ability to offer expert advice and support on design and 'buildability' before a project has even begun. This allows a more value engineered concept development. By developing this bond with its clients right from the start, the company has become a trusted and respectable player within the UK construction industry.
ECC Timber Engineering Limited is a medium sized specialist-contracting organisation dealing in most aspects of structural timberwork and associated interfacing products to provide a comprehensive and complete package. The company was first established as a partnership in 1988 as the subcontracting arm to an already successful structural engineering firm, which specialised in structural timber design.
In 1994 the partners of ECC decided to expand the trading activities of the business and as a consequence the ECC partnership became a limited liability company named ECC Timber Engineering Limited.
Since then, the company has developed a comprehensive range of products and services aimed at providing architects, engineers, contractors, builders and individuals with a one-stop specialised service. This can encompass one or a combination of disciplines and products. Today, ECC's range of services and products is extremely diverse and includes timber design and engineering work, structural surveys, design, supply and site installation of roofs of trussed rafter or traditional construction, timber framed buildings, geodesic, lamella and gridshell structures, external timber claddings, site installation and project management services.
In addition to its core business, ECC has diversified its activities by setting up a project management company, which undertakes restoration and new build projects. Furthermore, the acquisition of one of the co-owners' consulting engineering practice has given ECC the capability of providing structural design and engineering services at internal in-house facilities, as well as external structural engineering consultants.
Continuing on its expansion strategy, ECC is now looking to acquire another business to build on its expertise even further. Mike Herbert, managing director for ECC explains: "It is a very exciting time for us at the moment because our company is in a stage ofcontrolled expansion. We are currently looking to buy-out a very well respected timber engineering business, who themselves are at the cutting edge of the timber engineering industry. We have been working in partnership with this organisation for the last few years on a number of state-of-the-art projects insofar as they have been doing a significant amount of our specialist design, detailing and manufacturing on our major projects. By acquiring this business we feel that it will be the final piece in the jigsaw for ECC and the continued success of that company.
"This manufacturing company has built up an enviable reputation within the industry for its innovative designs and high quality design and fabrication ethos. Rather than setting up a new manufacturing base, we feel that this facility would be a very valuable addition to our current business. As a result, we will be able to fulfil our company mission statement and expand further into the more specialist and high profile projects area within a niche market. This is very important to us, as we are currently involved in some major and high profile projects and especially with the 2012 Olympics coming up.
"We have some very experienced people here at ECC, who will enable us to integrate our skills with their skills, and consequently we will be able to continue to deliver full design, supply and installation packages but with the manufacturing fully supported under our control," Mike adds.
By offering a one-stop-shop service, ECC has successfully completed a number of high profile projects – each of which has helped the business to develop its solutions to meet the exact requirements of its customers. Furthermore, the business continues to extend its service support to clients by incorporating all aspects of interfaces with their products, including installation challenges with specialist access scaffolding and equipment and associated plant and hoisting where applicable.
Today, the company has an extremely busy order book, which includes local authorities, public bodies and many well known national contracting organisations. Amongst many others, ECC's customers include Birmingham City Council, Railtrack Plc, Wates Construction Limited, Skanska Limited, Costain Limited, Kier Regional Limited, Morrison Construction Limited, Thermabuild Construction Limited, Marriott Construction Limited and Allenbuild Limited.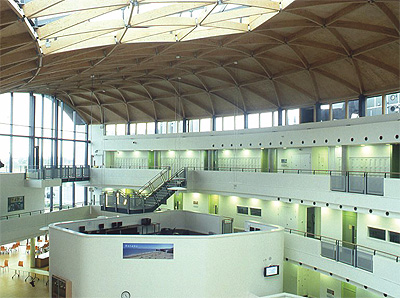 "As there is so much happening within ECC at the moment, every day is different," Mike comments. Highlighting just a few projects the company has been involved in, he continues: "We are presently involved in cost planning and design development for proposed projects, such as a state-of-the-art wave shaped roof for a new Marks and Spencer 'ecofriendly' superstore, which will look like sand dunes when it is completed, and other works include; cladding to the façade of a Sainsbury's multi storey car park with a timber relief mural – this is a unique project; structural timber repair works on the JCB Academy in Uttoxeter; and in addition, we are in negotiations with a national contractor for a new build schools programme for Barnet Council in London. Furthermore, on-going exciting projects include a new lecture theatre for the Bradford Royal Infirmary and a new primary school for Nottinghamshire County Council."
The company's project list doesn't stop there. ECC has also been involved in the refurbishment and re-glazing of the two existing 180 metre long and 70 metre wide vaulted barrel roofs at Liverpool Lime Street Station. For this contract, the business provided hardwood timber supports for the new glazing and also re-constructed the arched fascia panels to the east and west façades. In addition, ECC has completed projects on the Birmingham Museum and Art Gallery, Birmingham Town Hall, Birmingham Victoria Law Courts, Springfields Retail Development in Lincolnshire, Manchester Oxford Road Station, the Rampton Hospital High Security Unit in Retford and Marlowe Academy in Kent – the later being a project for which ECC was awarded the coveted National Wood Award for excellence in structural design.
One of ECC's largest projects to date was the design, supply and installation of eight 12 metre diameter by 12 metre high internal three storey classroom blocks comprising 2000 square metres of curved structural insulated timber framed wall panels, which was over clad with 2000 square metres of exposed slatted birch faced plywood. In addition, the business was also responsible for 2000 square metres of curved structural insulated timber wall framing and exposed oak cladding to the sports hall and performance area. The external three storey buildings were decoratively finished and were completed to offer Class O fire rating. The work was carried out from design development to completion, over a 16-month programme, for a new academy status school in Folkestone in conjunction with Wates Construction as the main contractor.
In addition to project delivery, the organisation is continually looking at new technologies and developments, and ways to improve its products range: "At the moment we are working in partnership with a major supplier within the industry, which has developed a pre-fabricated insulated roofing system called Intelli-Roof aimed principally at the housing market. This product is now being sold to a number of the national house builders, and we feel that this system will eventually take over from more traditional roofing solutions. We are currently looking at carrying out the design work for this business and in addition provide installation and onsite management services. By doing this, we are able to keep abreast of the latest developments in the prefabricated roofing systems area," Mike explains.
He continues: "By working closely with our clients from the outset, we have developed strong relationships with them. Consequently, we do not need to advertise our services – we have built up a great reputation through our engineering skills, constructing to high standards and by producing projects on time and within budget. We continually undertake projects for many of the major national contractors and most of our work is repeat business. Our customers keep coming back to us, so we must be doing something right!"
He concludes: "Currently, we are in the initial stages of a number of projects, therefore at the moment we are working closely with architects and engineers to produce the right designs for these major tasks. I am very confident that there will continue to be a strong demand for our products and services. The construction industry is like any other market – there are peaks and troughs, but I believe if we continue to offer high quality solutions, there will always be opportunities for ECC to grow."