Echterhoff Construction Group
The roots of Echterhoff Construction Group date back to 1860, when the original Echterhoff was company was founded in Osnabrück in Lower Saxony, Germany
Solid foundations
With over 150 years of experience in operating at the heart of Germany's civil and public construction industry, Echterhoff Construction Group is poised to capitalise on the state's proposed one billion euro increase in civil engineering funding over the coming years
The roots of Echterhoff Construction Group date back to 1860, when the original Echterhoff was company was founded in Osnabrück in Lower Saxony, Germany. "The company started in construction for railways during the early days, but over the years it has changed into a company that undertakes more civil and structural engineering as well as sewer and underground construction," explains CEO Thomas Echterhoff. "It is a private business and has always been family run. During the earlier years there were four families involved in running the business, but for the past 15 years the Echterhoff family has solely owned the company. There are presently only two owners of the business, which are my sister and I and we are the fifth generation of the family to be involved in the company."
Today Echterhoff Construction Group is made up of six operating companies comprised of: Bauunternehmung Gebr. Echterhoff, founded in Osnabrück in 1860; Bauunternehmen Echterhoff, founded in Westerkappeln-Velpe in 1968; Bauunternehmen Echterhoff Bau in Dessau, founded in 1992; Echterhoff Projektdevelopment, founded in 1994; Echterhoff Polska Sp. z o.o. in Poznan, founded in 1998; Domoplan, founded in Castrop-Rauxel in 1984, which also boasts a Berlin branch and Fritz Spieker, founded in Oldenburg 1896.
Between its various divisions Echterhoff provides a broad base of bespoke engineering and construction services comprising of sewer and pipeline construction, civil and underground engineering, bridge construction, industrial and turnkey construction, special underground engineering (pipe jacking, sheeting works and sheet piling), housing and residential construction and re-construction and energetic rehabilitation, as well as in steel construction and the repair of construction machines.
Although Echterhoff manages offices within Poland it is primarily focused on operations inside of its native Germany as Thomas elaborates: "We mainly operate within Germany, although we have small branch in Poland which has been open since 1998. Poland is however a very complicated market, every European construction company has already established a presence inside of Poland and in terms of turnover the market is smaller than Lower Saxony so Germany remains the main focus for us."
The German construction market remains buoyant despite the challenges presented by fierce competition and limitations on government spending in recent years. Echterhoff has weathered the impact of the global economic downturn while many larger companies have struggled to survive in the face of decreased construction projects. However while public funds remain restricted across Europe, German authorities recently announced an increase in public spending for infrastructure, which Echterhoff is well placed to facilitate.
"We operate predominantly in Northern Germany but we have already moved as far down as Nuremburg, meaning that we essentially now operate all over Germany – we have to go where public authorities are spending the money," Thomas observes. "Indeed the state will be investing a billion euros more into infrastructure than it had in previous years. On the other hand we know that over the past 15 years the state has only invested ten billon euros into infrastructure per year and since 2012 it has been realised that realistically, at least 12 billion is what is required. It is now widely accepted throughout Germany that each year 17 billion euros of investment is needed to improve and maintain the country's infrastructure, which means that instead of an additional one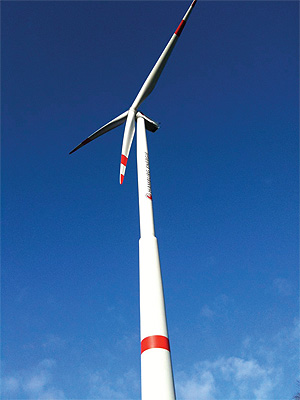 billion euros of investment, seven billion euros extra is what is really needed. We know that this will not happen and that one billion is like one drop on a hot stone, but we hope by the end of 2015 the investment that is being made will get down into business and become new projects. There are a lot of bridges in Germany that need to be reconstructed and we are waiting for all these projects to be tendered."
While it waits for Germany's future investments and tenders to be finalised, Echterhoff will continue to undertake the 'workhorse' projects that keep Germany's infrastructure and transport networks in peak condition. Presently many of the jobs undertaken by the company hark back to its roots in railway construction as it performs brownfield operations for the German rail operator, Deutsche Bahn. Owing to the nature of the rail industry and the implications of building in populated, traffic conscious areas, these projects are relatively unremarkable but require a high level of expertise and efficiency to meet the time critical requirements of the work.
"One project that was challenging and highly notable was the construction of the second largest railway station in Berlin," Thomas comments. "This is called Berlin Südkreuz, which translates as Berlin South Cross. The station had to go into business in time for the 2006 world football championships and we had only 18 months to complete the project so this was a great accomplishment."
Another highly vibrant area for Echterhoff has been its involvement in the installation of innovative onshore wind turbines. The use of proven German hybrid tower technology, using concrete and steel represents arguably the best solution for the continued growth of wind energy through Germany and beyond. The technology grants lower costs of energy and project guarantees and is completely adaptable to various wind turbine sizes and heights. Additionally compared to traditional steel construction, hybrid concrete and steel construction is essentially maintenance-free and has been adopted by ENERCON, Nordex and AREVA.
Although market conditions remain volatile, Echterhoff continues to perform strongly and has seen a steady increase in turnover from 87 million euros in 2008 to 135 million euros in 2013. As the German government prepares to increase public spending the future will be challenging but potentially very lucrative as Thomas concludes: "For the time being the focus in German infrastructure is survival of the fittest. These is a lot of competition when it comes to areas like price, which was previously dominated by larger companies, some of which are no longer in the market. During the next 12 months we need to press on in a very challenging market but over the next five years we anticipate that conditions will improve, which is very exciting."
Echterhoff Construction Group
Services: Bespoke engineering and construction services