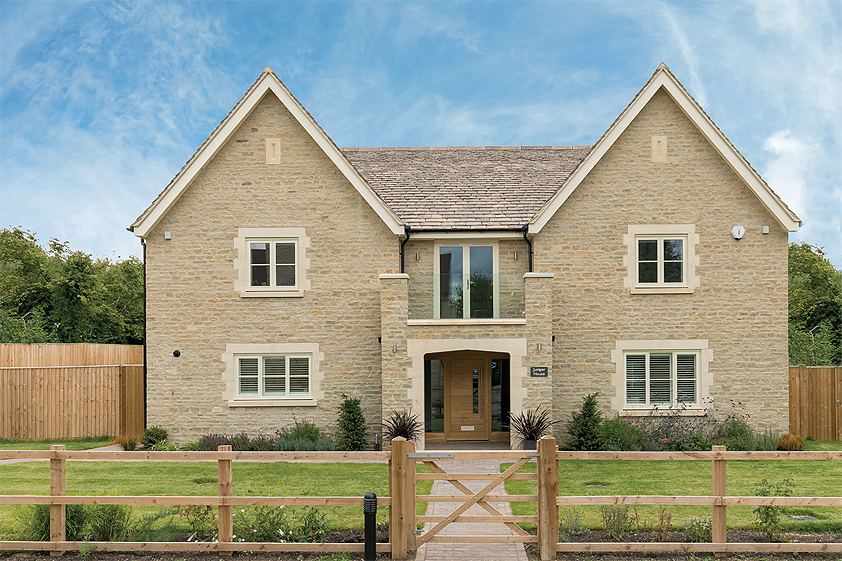 Quality and tradition
Now into its third-generation of family ownership, Ede Homes is a property builder driven by passion, rather than profit
A family business in name and nature, Ede Homes has become renowned as a company that delivers high-quality, desirable homes with a personal, individual touch. Founded in 1959, Bob Ede borrowed £200 from his father to start the property business above an Oxfordshire fish and chip shop. Thirty years later, Bob's son Jonathan led the business into partnership with the Four Pillars Hotel Group, embarking on the construction, management, and eventual sale of six hotels containing a total of over 2000 bedrooms. In 2013, 54 years after his grandfather established the
company, Daniel Ede became the third member of his family to take charge of Ede Homes and remains keen to uphold the firm's hard-won reputation.
"After ten years working in London, I joined the business and it was a bit of a culture shock. The office looked like a throwback to the 80s, and the website didn't even work!" Daniel recalls. "It's been a challenge, but the journey over the last seven years has been fantastic and the staff have been incredibly supportive and welcoming. Equally, my dad, who is now Chairman, has worked with me and gradually handed over the reins and we've done some fantastic projects together.
"I think our mission is best summarised by something my dad keeps saying to me," Daniel adds. "He never wants to drive past one of our sites and not feel proud of what we've built. "We are acutely aware that as a family business with a local reputation that has taken 60 years to build, it can all be lost very quickly."
Diverse portfolio
As well as continuing to craft some of the country's most desirable new residences for sale, over the last seven years Ede Homes has focused on 'build to rent' projects, property development, and an ever-expanding investment portfolio. Whatever the scheme involves, the company is determined to produce 'individual, high-quality' properties that utilise local materials and combine traditional features with contemporary twists.
"We do have an in-house architectural team, but we also ask local architects to come up with designs. We like things that either people haven't seen before, or are at least very different to what mass-produced housing looks like," Daniel explains. "Even if you just look at our website, you can see that the houses we are producing are all individual and specifically designed for the site on which they sit. We take the unique nature of each site into consideration including elements like location, views, local architecture, and local materials.
"We are currently working on six sites, all varying in size, from a handful of units up to 16 units. We normally build around 50 to 60 units a year and they range from apartments for rent, to family homes that sell for over £1 million. We do try to have a mixture of projects on the go. We don't like to exclusively build large family homes because if the economy changes you can't always rent them, which would always be our fall-back position. It is nice to have a balanced portfolio. We are very busy with exciting projects at the moment, some of which are finishing and some of which are still in construction."
Ede Homes' most prominent projects in recent times include a development at Harwell in Oxfordshire, where the firm has been constructing ten large private houses and six affordable properties, all complete with high-specification internal finishes thanks to suppliers like Nobilia kitchens, Minoli tiles and interior design DAPA Interiors. As well as transforming a listed Faringdon school into eight apartments, Ede Homes has also been putting the finishing touches to a major development at Churchill Farm, near Chipping Norton. Working closely with the original land owner, the company has almost finished building ten houses using natural stone and traditional design elements. Nine of the ten properties have already been sold.
"Following the introduction of more home working since the outbreak of Coronavirus, we've had a number of reservations made by London professionals with young families who have realised they can work from home and commute to the city only two or three days a week. This means they can live in a place like the Cotswolds with a study and a large garden and live that Cotswolds lifestyle," Daniel reveals. "For that reason, large houses with studies and gardens seem to be the in thing at the moment."
Most recently, Ede Homes has revisited its roots, purchasing the Victoria Hotel in Oxford. An aging 16-bedroom property, Daniel has entered a planning application that would see the hotel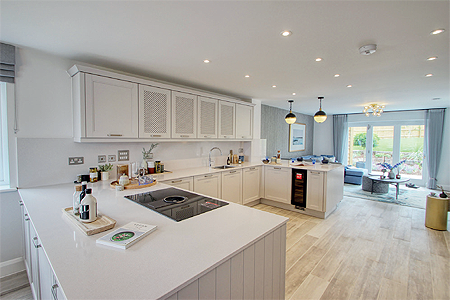 become a high-end, energy efficient, contemporary site with 40 bedrooms.
"We're really happy to get back into the hotel industry, albeit in a smaller, more focused way," Daniel states. "We were struggling to buy land at what we believe to be a fair price and when we saw the Victoria for sale we thought it could be something exciting and different. We are very fortunate to have that flexibility, but also a team that can turn their hand to anything really. As a local family business, we feel we can employ the right people to make the hotel thrive and maybe it will lead to more opportunities in that sector. It's another example of our diverse portfolio."
With a turnover of around £16 million a year and 25 employees on its books, Ede Homes continues to build a steady 50 to 60 units a year. Well-established in the UK and with no bank borrowing to repay, Daniel is pleased to have the business at a balanced size and operating in line with the values of its founder.
"I'm always keen to evolve and grow – when I joined in 2013 the company turned over £5.2 million and by 2016 our turnover had more than trebled – but turnover isn't a focus for me," Daniel declares. "It's more about creating a good product, building something we can be proud of, and making sure that our employees enjoy the journey and our customers enjoy the end product. We're not overly stretched, but I don't want to have to feed the machine. We don't want to lose our identity or culture."
Exceptional growth
Over the next few years, Daniel believes his toughest challenges will include replacing the company's experienced, hard-working staff, as well as continuing to cultivate lasting relationships with Ede Homes' network of subcontractors – some of whom have been working with the firm for over 30 years. "Replacing land at what we deem to be a fair and reasonable price will also be a difficult task," Daniel adds, "but we always like a site with a bit of a challenge, something that's a bit different, and that will be my focus. We have three or four years of work in the bank anyway, so actually we don't have to buy anything in the next year or two if we don't want to. Overall, across the next five years, we will remain focused on delivering high-quality, individual homes and not simply a growth number on a page."
Of course, mapping out the future for Ede Homes is vital, but Daniel is not willing to forget the company's past in the process. Earlier this year, the firm was listed on the Sunday Times Profit Track after experiencing exceptional growth between 2016 and 2018. During the period assessed for the Profit Track, Ede Homes sold a site at Charlbury, Oxfordshire, that had been purchased by Bob Ede over 40 years previously.
"For years and years my grandfather tried to get planning permission for the Charlbury site and he failed every time," Daniel recounts. "Even on his death bed, he turned to my dad and said, 'don't forget about the land at Charlbury'. When I joined, my dad and I finally managed to get permission for 22 houses. If you build on a site without any land costs, it is going to be profitable and that was why we did so well in 2018. I like to think of our place on the Sunday Times Profit Track as a nod to my grandfather and a thank you for everything he did for this business. Both at Charlbury and across the company in general, we've built on his hard work and we've done very well out of it. I'm sure he'd be looking down on us, very proud."
Ede Homes
www.edehomes.co.uk
Services: Specialist home builder