Eesti Ehitus is renowned across Eastern Europe for its international background and modern business practices
Estonian excellence
Eesti Ehitus is renowned across Eastern Europe for its international background and modern business practices
Estonian based Eesti Ehitus is an experienced construction company, with a wealth of industry knowledge. Founded in 1988, the company began life building in Russia, mainly erecting modern townships for the returning officers of the Soviet army returning from Germany. Today, the company is a major player in the modern Estonian construction market.
"We are also active in Ukraine, Lithuania, Latvia, and of course Estonia," says Jaano Vink, CEO. "We are one of the major players in the Estonian construction market and are able to transfer the knowledge we have accumulated here to other regions, where we are also proving to be very successful."
He continues: "We are active in all the main segments of construction, such as buildings and civil engineering works and focus on large infrastructural projects such as roads, ports and environmental facilities, as well as on big office and industrial buildings, and high-profile nonresidential buildings such as sport halls and museums.
"In the buildings sector, we operate only as general contractor and project manager, delegating most of the construction to subcontractors. At the same time, we also deal with infrastructure projects, such as roads, landfills and the like. In addition, we are active in developing residential real estate, although this is only a small part of our business, given issues surrounding the local real estate market."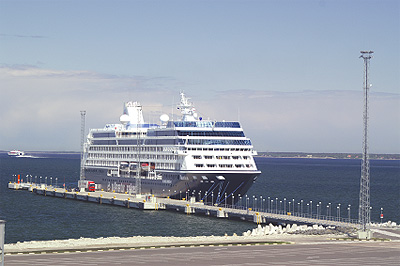 He adds: "Within Estonia we are active in all forms of construction, have vast competency and are regarded as second largest player. When it comes to our involvement in international markets, we are more selective about the services we offer customers, and that depends very much on the circumstances of a particular market. This is because we don't take risks that might harm us or our customers – if we grow too much and offer too many services outside Estonia, then there is an issue of focus, which could see the whole business suffer, and we don't want that to happen."
Eesti Ehitus' mission is to offer its clients the most complete solutions in construction, development and management of buildings and facilities, helping them to increase the value of their assets. Consequently, the company is a construction group that is trusted and respected by the industry and is renowned for offering more than the client might expect.
"We are professional constructors – we apply relevant, well-considered work methods and technologies and follow the accepted quality standards of the industry," explains Jaano. "We provide our clients with complete solutions at optimal total costs and also care about the environment and pursue sustainability. What's more, and this often sets us apart from our competitors, we value our employees, guaranteeing them a modern work environment that encourages creativity and a motivation system that appreciates enterprising spirit."
He continues: "We have innovative and creative engineers and use the possibilities offered by information technology in an optimal way. We provide development opportunities to our employees through constant training and balanced career opportunities. Our approach to construction is similar to those of western organisations, – it works and our customers respect it."
Eesti Ehitus always keeps its promises, and this philosophy has enabled the company to build a large customer base, as well as a good reputation in all its markets. It is open and transparent in its activities, promoting best practice. What's more, as Jaano mentioned, Eesti Ehitus does not take risks that might harm its clients – risks like over diversifying or entering troublesome markets.
However, the company is always ambitious to expand, taking its knowledge and superb working practices to new international markets. In 2004, the Eesti Ehitus Group founded OÜ Eurocon, with the aim of expanding into the vast market of
Ukraine, which was seen as risk by many. However, by managing that risk by carefully choosing which work to take on, Eesti Ehitus has enjoyed success in the country. Indeed, in Ukraine, the company has erected buildings for more than nine years, and is acknowledged for its international background, as well as for transparency.
"Ukraine, like all of our markets, is full of potential," says Jaano. "We are regarded for our capabilities, international background and business practices. The Ukrainian market does have its critics and there are risks, but we are succeeding where others have failed because we have an understanding of the Slavic mentality and know how to do business in Ukraine. With the winds of change now sweeping across the country, the Ukrainian market will soon take off – we will position ourselves to take full advantage of that when it happens."
Praised for its outstanding work, Eesti Ehitus is able to provide total satisfaction to its customers. The company is ambitious to meet the growing demand for its services across Eastern Europe and expand into new markets, full of opportunity. As a result, a forward-thinking growth strategy is in place and a number of acquisitions could be on the horizon in the coming years.
"We are in the unique position where our diversified portfolio means that one segment can compensate for another, should a particular sector suffer difficulties," concludes Jaano.
Over the years, Eesti Ehitus has earned a reputation for quality, service and outstanding workmanship. Given its commitment to meeting customer demands and determination to succeed, continually improving, the company has a good outlook for the future.