Egyptian Steel is displaying tremendous growth within its domestic market and is doing so as a shining example of social and environmental responsibility
Man of steel
Egyptian Steel is displaying tremendous growth within its domestic market and is doing so as a shining example of social and environmental responsibility
Whilst only established six years ago, Egyptian Steel has experienced significant success in penetrating the country's steel industry. Focused on producing safe, high quality products in line with the high local and international standards, the company makes use of the latest state-of-the-art and eco-friendly technology whilst taking a very healthy approach towards environmental sustainability. Under the group sit three subsidiary companies: Industrial Investment Company (IIC) for steel plants management, National Port Said Steel (NPSS) and Egyptian Steel for Building Materials Trading, which operates four primary factories.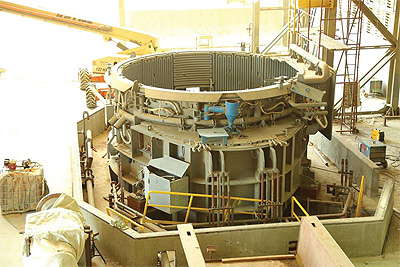 The core of Egyptian Steel's product offering revolves around rebar, wire rods and billet manufacture. At the heart of this is a strong and infinite steel rolling capability, that enables the company to save energy and increase scrap efficiency whilst producing a product that meets international quality standards in mechanical properties. Continued development efforts focus on reducing costs even further by applying the latest effective technologies in energy saving and production capacity. By working with some of the leading innovative companies in the field, the Group looks to maintain this focus through the acquisition of new technologies.
When it comes to its rebar offering, Egyptian Steel's leading facilities are able to transform scrap into rebar within two hours thanks to its endless rolling capacity. Due to a thorough process of chemical analysis, melting and casting, a range of steel rebar products is available under a variety of international standards and in numerous diameters. Supporting the production process is a rigorous quality assurance programme, which makes use of cutting edge chemical and mechanical property analysis techniques.
Demonstrating this commitment to continuous improvement within the manufacturing process, in December 2015 Egyptian Steel completed the successful installation of a new rebar production line at its Alexandria plant. Running in parallel to the existing wire rod line, the new installation is designed to produce products in various sizes. A DRB (direct rolling and bundling) system was chosen for this particular application, enabling the cutting of high tensile final commercial rebar length directly before the bundling process in order to reduce the process costs. In terms of figures this translated into a five per cent increase in annual production and a ten per cent reduction in electrical consumption, critically without compromising the high quality of the finished product. One of the advantages of bringing these two lines together in one plant is the decreased transportation cost for customers who can now be supplied both products in the same site shipment.
Over the coming years Egyptian Steel anticipates the opening of two new state-of-the-art plants to continue this growth. The first of these, the Beni Suef plant, is currently under construction and will be opened in June 2016. With an annual production capacity of 830,000 tonnes, thanks to innovative Danieli technology, which depends on 100 per cent recycled scrap, reduces emissions by 30 per cent and saves around 60 per cent of required energy. Not only does this make Egyptian Steel the sole provider of green steel in the region with the first of this kind of plant in the Middle East and Africa, but it is also the largest in the world. Only two other similar plants exist, in Arizona and Greece, both of which have a capacity of 250,000 tonnes a year. A second plant in Ain Al Sokhna is also being developed to the same standards and is due to become operational in 2017.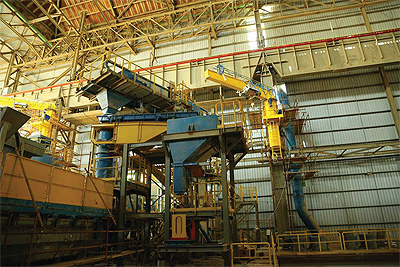 Beyond its operations, Egyptian Steel is highly active in corporate social responsibility and it demonstrates an exemplary approach to this. In December 2015 the Group's CEO, Ahmed Abou Hashima, was recognised as a Quality Knight for Humanitarian Purposes by the International Organisation for Standardisation (ISO). Upon awarding the recognition, the organisation highlighted Ahmed's pioneering role in serving the community and achieving sustainable development. In particular it praised the company's initiative to revamp the neediest villages of Upper Egypt, which was launched in 2014 and has so far helped seven villages.
A month earlier the CEO was also awarded the Euro-Arab Environment Organisation's Shield for Excellence for Egyptian Steel's compliance with environmental standards thanks to its use of eco-friendly technology across its plants. In fact over the last year Ahmed has repeatedly been recognised not only for his CSR activities, but also his leadership and innovation that has seen him take Egyptian Steel to the forefront of the market's steel industry in a matter of years. He was named Best CEO in the Steel Industry in European CEO magazine, was appointed as a Goodwill Ambassador by the Multipurpose Inter-parliamentary Union, awarded Young Arab Entrepreneur of the year by Murex D'or Honors and the Responsible Leadership Award from BNC Publishing's Entrepreneur Middle East awards. Amidst this the company was also awarded Rising Star of the Year at the 2015 Platts Global Metals Awards and was listed one of the Middle East's most powerful 60 companies by Construction Business News magazine.
It is a set of credentials that sheds light on the remarkable growth shown by Egyptian Steel to become one of the leading steel manufacturers in the country in such a short period of time. The company currently targets a market share of 20 per cent in Egypt with a strengthened ability to export quality products around the world. In a visionary message published on the Group's website, Ahmed highlight's Egyptian Steel's commitment to the continued development of both its own production capabilities, and also the economic strength of the national economy. His ultimate vision is expand even further by setting up similar steel plants in East African market where competitive gas prices, attractive investment laws and skilled labour can provide good opportunities. Further still the company currently has a cement plant license pending as it looks to become a one-stop-shop for all building materials.
Looking forward under this light, there is no doubt that rapid and solid growth is the defining feature of Egyptian Steels future, but it is that this is underlined by a relentless mission to do so in a sustainable and responsible way that is particularly commendable and that will stand the company in good stead as it becomes a major player in the global construction industry.
Egyptian Steel Group
Services: One of Egypt's leading steel manufacturers