Elasto Plastic Concrete (EPC) develops safe-to-use, durable, high performance reinforcement for concrete and shotcrete
Concrete success
Elasto Plastic Concrete (EPC) develops safe-to-use, durable, high performance reinforcement for concrete and shotcrete
The relationship between steel and concrete has long been regarded as a major stepping stone in modern construction. Concrete is strong in compression but weak in tension and brittle in nature. To compensate for this steel is added to provide crack control in such scenarios. While this system has been successful for many years there are a number of associated drawbacks.
Steel is expensive to purchase, transport and store. The placement of steel consumes significant time, adds labour costs and often requires placement in difficult and dangerous locations. Most serious of all, steel is highly subject to corrosion. This commonly leads to concrete cancer, which is extremely expensive to repair and can lead ultimately to the early demolition of the structure.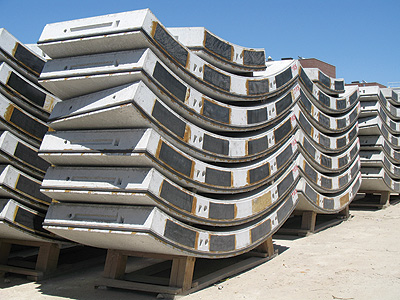 Designers and engineers could see that there must be a better solution to these problems and started looking for alternatives to traditional steel reinforcement. Several options were explored, and by the 1970s steel fibre reinforcement had started to be explored as a viable alternative.Steel fibre however still suffered a multitude of problems associated with steel based technology and research continued until the first viable macro synthetic fibres were developed in the early 1990s.
Elasto Plastic Concrete (EPC) was founded at this time, and is a pioneer in the development of structural synthetic fibre technology. EPC's BarChip fibre range is the highest performing and lowest cost per joule fibre in the market. One of the first widespread adoptions of macro synthetic fibres occurred when EPC introduced its EPC BarChip structural synthetic fibre to the Australian mining industry. EPC's BarChip eliminated the problems associated with steel fibre reinforcement and delivered significant benefits, including:
Price reduction
Corrosion free, long-term durability
Post crack load capacity equivalent to SL82 mesh at regular dose rates
Improved concrete ductility
Significantly improves shrinkage and temperature crack control
Eliminated bending, cutting and placement of steel mesh, increasing efficiency and productivity
Safer and lighter to handle than steel
Delivered to site ready mixed from the concrete plant
Reduced carbon footprint
Garry Martin, tunnelling and precast manager gave some more details about how EPC operates: "The company works closely with a Japanese polymer manufacturing specialist, Hagihara Industries," he began. "Together the two companies combine their expert knowledge of materials and concrete engineering to come up with a wide array of structural synthetic fibre products that provide increasingly effective solutions to concrete reinforcing. But we are more than just a fibre supply company. When you work with EPC you can expect expert advice in shotcrete and concrete, reinforcement technologies and design and engineering."
Since the introduction of EPC's BarChip fibres onto the market in the late 1990s continual improvements have been made to the material properties of the polymers and the mechanism by which the fibres bond with the cement matrix. "EPC's BarChip fibres take into account the type of concrete or shotcrete in which they will be functioning, as this determines the type and blend of polymer that will be used for the fibre," added Garry. "The level of stiffness of the fibre and how easily it can be finished, or if it will pass through a shotcrete hose and nozzle without blocking up the pump lines, will all be considered."
Not content to just focus on the properties of the fibres themselves, EPC also takes into account the packaging of the fibres. It offers two types of solutions: soluble paper bags, that come in different pre-dosed amounts so that end users can easily add the fibres into the concrete mixing cycle at any point in a 'bag and all' solution; and a big bag, packaged puck system that combines with a dosing system for larger jobs.
"Basically, wherever there is concrete that requires reinforcement, EPC has a fibre to meet the need or is in the process of developing one," Garry highlighted. "And from our base in the mining industry, EPC continues to develop the range of fibres on offer, based upon ever more demanding testing requirements. It has now seen fibres being deployed in many different types of tunnels, including road tunnels, water tunnels, metro tunnels and so on."
All fibres that are used in concrete within the European Union are subjected to rigorous testing and need to comply with the testing performance criteria of a CE marking programme. EPC's BarChip range of fibres are included within the category known as structural synthetic fibres under EN 1889-2 and in order to satisfy the requirements have to satisfy a rigorous examination of the factory environment in which the fibres are manufactured, the management systems and quality controls of the fibres themselves, to measure consistency of fibre length, tensile strength and elastic modulus. "In recent developments, EPC has been able to include actual testing data from different types of concrete and differing dosages of fibres and use these as inputs into Finite Element Analysis (FEA) software. This means we can model the performance of different types of concretes with our fibres extremely accurately, so that we are able to offer clients an optimised fibre dosage and keep costs to an absolute minimum at the earliest stages of design," Garry explained.
EPC has invested significantly in the use of FEA based design, which is a big leap forward in the industry. "The use of such accurate materials models enables us to not only provide the right type of fibre, or to provide our product engineers with insights into future fibre development requirements, but also to actually improve the structures we are reinforcing and optimise concrete strengths and actual physical constructs. We can combine the non-corrosive nature of the product for longer lasting structures, but also within structures themselves that can contain the least cement possible for strength and for minimu
Another benefit of EPC BarChip technology is that it allows clients to reduce their carbon footprint through the use of R50 and R65 structural synthetic fibres. "The R symbology in EPC's BarChip range of fibres indicates the use of a percentage of recycled materials within the fibres," said Garry. "However, this use of recycled materials is just a small percentage of BarChip's green credentials, as all our fibres offer a carbon footprint saving of at least 70 per cent when compared to steel reinforcing."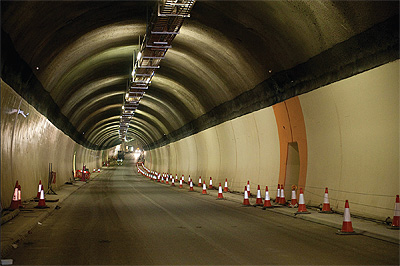 Considering how many clients draw on EPC's experience and utilise its products, it is only natural that EPC's BarChip fibres have been used in major projects around the world. "One of these projects is the Hindhead road tunnel in the UK, where for the first time, a single shell approach was taken to the design of a fibre reinforced road tunnel in this country," said Garry. "That meant that the primary ground support lining was taken into account for structural purposes and thus when combined with the final lining, meant that the total amount of concrete could be significantly less than would otherwise have been needed."
Geoff Sedgman, EPC's international marketing manager added: "More importantly, as high profile projects such as this, the Global Seed Bank and the Ryfast tunnel in Norway use EPC's synthetic fibre, overall product knowledge will increase, leading to enhanced product uptake in the infrastructure, commercial and residential markets."
EPC's focus on fibre development has ensured that EPC currently supplies fibre to every major market sector of the construction industry across more than 30 countries. However, as Geoff highlighted, the organisation believes that anywhere concrete is being used EPC's synthetic fibres should be reinforcing it. "Like the mining industry in the early 2000s, the international tunnelling community is now reaching a tipping point of product knowledge. While hesitant initially, EPC has proved to designers and engineers that synthetic fibre is the best choice for concrete and shotcrete reinforcement. EPC has worked tirelessly with industry and government bodies to have synthetic fibres included into standards and codes. We believe that within the next decade over 90 per cent of tunnelling projects will incorporate synthetic fibre reinforcement," he continued.
One such organisation with which EPC is working closely is the International Tunnelling Association (ITA), as Garry explained: "The ITA is a body that represents the interests of the tunnelling industry on a national representative level. However, it was decided that in order for there to be more participation and innovation in the working group dynamic that the ITAtech working groups would be established and allow companies to directly take part and put forward their products as solutions and not mere generic product offerings. Being seen within the industry as a leader in our field EPC have been invited to join two of these groups. The first is a group looking at the early age strength gains of fibre reinforced sprayed concretes and how fibres can be used to reduce cycle times and allow for quicker and safer continued excavation. The second focuses on fibre reinforced segmental linings.
"The fibre reinforced segmental lining group is of particular interest. It has seen designers, fibre manufacturers and specialists involved in all aspects of segment production and handling working together to offer new, state-of-the-art advice to professional users. By being able to satisfy the strictest testing requirements of the industry in terms of fibre performance comparative to steel cage and steel fibres, EPC has been able to establish EPC's BarChip fibres as offering equivalent, if not superior performance to steel based options. This is particularly in terms of non-corrosion related failures and being able to negate the failure mechanism of embrittlement, which seems to dog the solution provided by steel fibres in high strength concrete mixes over time. The use of our advanced FEA solutions have also shown that minimal dosages of EPC's BarChip fibres are able to perform within concrete segmental linings, in terms of de-moulding, stacking, transportation and jacking (where engineers and segment designers agree most of the demands upon a segment are made) as well as satisfying requirements during service and through to ultimate limit state of design parameters.
"EPC has also invested heavily in setting up actual one-to-one scale testing of full size segmental lining rings in China, which have been used to verify our FEA based materials models with remarkable success. Hence, when the ITAtech working group publishes its findings, at some point in 2014, structural synthetic fibres, such as EPC's BarChip will be clearly positioned as not only a material offering equivalent performance to steel cage, but one that offers significant time and cost savings as well. It also offers the planet savings, thanks to the significantly lower carbon footprint of EPC's BarChip versus steel."
Participating in activities such as this is one approach EPC takes to educate the market to the advantages of synthetic fibre reinforcement industry. "Like any construction product, synthetic fibre needs to be used appropriately, with the correct design based on accurate testing," said Geoff. "The level of knowledge with regards to synthetic fibre not only differs amongst engineers from country to country, but also from sector to sector.
"I would guess that only 20 per cent of engineers fully understand the synthetic fibre reinforcement system, be it through lack of exposure of simple scepticism. It's our goal to make sure 100 per cent fully understand how to design with our fibres."
It looks certain that the synthetic fibre market can expect significant growth over the next decade. "Given the constantly upward curve of acceptance from engineers and designers and the ever growing list of job references and happy owners, contractors and applicators, it would seem that EPC's BarChip structural synthetic fibres are here to stay," concluded Garry. "It would not be surprising if in another ten years engineering students are asking their professors 'why on earth were engineers recommending steel when everyone knows that EPC's BarChip fibres are longer lasting, less expensive and good for the planet'?"
Elasto Plastic Concrete (EPC)
Services: Synthetic fibre concrete reinforcement