Electrical Industries Group
Electrical Industries Group brings a world-class portfolio of industrial solutions to the Caribbean market
Global focus
Electrical Industries Group (EIG), located in Trinidad and Tobago, is a manufacturer and distributor of electrical cables, plastic and lighting solutions for the Caribbean, extra-regional and international markets. As part of this offering, the company also represents major international brands through its distribution division. EIG boasts leading brands of extremely high quality and value, and is well known in the construction industry of numerous markets.
In 1997, the company acquired Electrical Industries Ltd (EIL), a premier electrical cables manufacturer, itself a company with a history in the region dating back to 1969. Agos Lighting, a leading industrial lighting brand, and Century Elson Ltd, one of the Caribbean's biggest plastic manufacturers, later joined in 2009 and 2011, respectively. In terms of distribution, EIG has established strong supplier relationships with well-known international brands such as GE, DAB Pumps and Leviton, amongst others, to provide a fully integrated and wide-reaching package of solutions to its customers.
"We have a really great technical history with very long-standing regional brands that are industry leaders in each of the sectors that we operate in for quality, reliability and for the service that we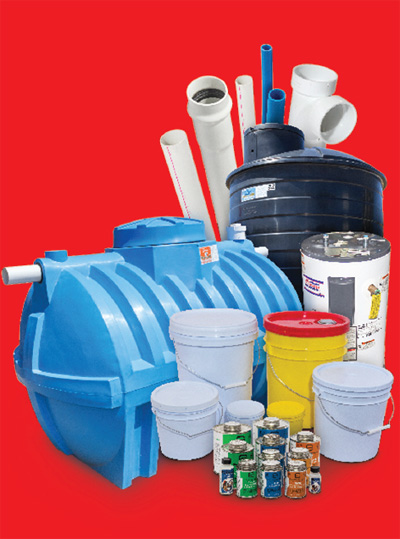 provide," highlights Solomon Rodney, VP Plastics and Distribution. "We have been in the market for over 50 years and this time has allowed us to develop a unique offering that makes us very competitive across our extraregional and local sectors."
EIL, the cable division, focuses solely on producing high quality electrical cables that are made from 99.99 per cent pure copper to ensure high performance, reliability and safety. As a group, EIG holds a number of internationally recognised industry standards and quality certificates and EIL was the first company in Trinidad and Tobago to achieve ISO9000 accreditation (later upgraded to ISO9001). Century Elson, the plastics division, runs three individual plants dedicated to roto-moulding tanks, PVC pipes and injection moulding for producing PVC fittings and industrial packaging solutions (plastic pails, buckets and crates).
In addition to this, EIG's Lighting Division (Agos) is a leader in producing quality light fixtures and is the Caribbean's largest manufacture of fluorescent options. Solomon notes that within this division, the company has recently begun to look at energy saving solutions.
Innovation has defined the way EIG has done business throughout the years. Not only in the products it provides but also in the way it has developed its strategy to meet customer needs and to manufacture high quality products. Solomon highlights that by consolidating high value items, such as electrical cables, with relatively low value products, like plastic pipes, the company is able to offer cost benefits to its customers. Having such a wide range of lines, both its own and of its distribution brands', also adds to being able to offer a fully integrated service to customers.
"We try to support all our project partners with integrated solutions that follow the lifecycle of a project," he continues. "We are a key representative for General Electric in our local market, which contributes to around 60 per cent of our distribution business. This agreement means that we can provide a full range of GE solutions such as low to medium voltage switchgear systems. In fact, we have a local switchgear manufacturing plant set up within our lighting division, from which we can produce customised switchgear solutions for both local and some other regional markets. Ultimately, thanks to our own lines and the extensive range of distribution agreements we have in place we are able to offer everything from consultancy right through to pipes and fittings, cables, lighting, switches and so on, which is beyond what many of our competitors can manage by supplying single lines."
Such a strong portfolio makes for a robust platform upon which EIG is able to react positively to changing market conditions. At present, market conditions are somewhat favourable. Despite reporting a slight dampening in local demand, Solomon points out a recent merger of two major competitors in the Dominican Republic and the opportunities this has opened up for the company as a result. "A lot of customers want a duality of supply as part of their business continuity plans," he says. "Therefore this merger has created new opportunities for us. At the same time, it has forced us to rethink the way we do things and to become more efficient so that we can meet the demands of new markets that are often a bit more price sensitive to what we are accustomed to. It's about tweaking our products so that we don't just offer a low cost solution, but a good quality product at a better price, which is great for all our customers."
Another key opportunity for EIG is the low oil price, which, whilst putting some pressure on the economy, has freed up more cash for regional governments to invest into infrastructural projects that can create new opportunities for the company. However, the market outlook is not without its challenges and the company is aware that ensuring its customers are knowledgeable of its full range and developing its innovation and sustainability will be critical to making the most of any new and current market opportunities.
With this in mind it is no surprise that growth is very much on the cards for EIG's future. "The coming years will be focused on investing more into the business and to grow our export markets whilst at the same time ensuring we continue improving the service we provide to our local markets," Solomon concludes. "This will put us in a really strong position as we look even further into the future at opening up markets in Cuba and Central America."
Electrical Industries Group
Services: Manufacturer and distributor of electrical cables, plastic and lighting solutions for Caribbean market