Encon Insulation is a leading distributor of insulation and associated products in the UK and Ireland
Bringing innovation to insulation
Encon Insulation is a leading distributor of insulation and associated products in the UK and Ireland
Encon Insulation and its associated Group companies are leading national distributors of a fully comprehensive range of thermal, acoustic and fire protection insulation products together with drywall, ceiling and partitioning systems.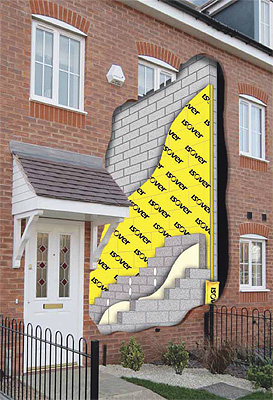 The Encon Group serves all sectors of the construction industry, from builders merchants to major contractors, house builders and specialist subcontractors across the widest spectrum of activities. From 38 separate business units, the Group offers an efficient and reliable service to all its clients, frequently in partnership with global players in insulation manufacturing, to meet exacting standards of modern construction methodology.
"Encon Insulation distributes insulation, drywall systems and fire protection materials through 26 branches in the UK and Ireland," says Encon's business development director Phil Proom.
"The Encon Group includes some other businesses; Nevill Long is a specialist distributor of suspended ceilings, partitioning and lighting systems, and operates from 12 branches across the UK. In addition, a recent acquisition, pfc Corofil, is the UK's leading manufacturer of passive fire protection products. Furthermore, the Group's turnover is in excess of £300 million; we have over 800 employees, 15,000 customers, 180 trucks and over two million square feet of storage."
Since Encon became part of Wolseley UK in 2005 the company has developed through organic growth and acquisition. Nevill Long was the first acquisition in 2006, followed by the addition of four independent distributors based in Dublin that now trade as Encon Insulation Ireland. In March 2008, pfc Corofil joined the Group. Further acquisitions are anticipated that will compliment organic growth of the business.
Encon started trading in September 1981 and grew into a vertically integrated business with manufacturing, distribution and contracting divisions. Venture capital partners joined the business in 1987 to fund the development of a glass wool manufacturing plant in Scotland.
Encon supplies all sectors of the UK construction market and with its wide product range combined with the diverse interests of Wolseley UK, a package of products and services can be tailored to the needs of construction clients.
The market is growing through changes in building regulations for thermal and acoustic insulation – as a specialist Encon can offer multi product solutions for any application. Encon also operates in the industrial and mechanical services markets, supplying insulation to the building services industry, the power, petrochemical, marine and offshore markets.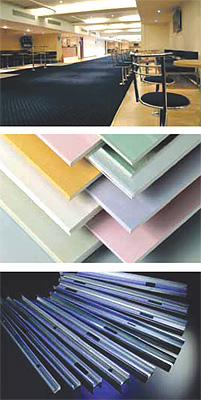 Its wide ranging expertise is one of Encon's biggest strengths as it can offer valuable support to its customers, whatever industry they may be operating in, as Phil outlines: "We have a real understanding of the market and, because we operate across such a wide range of sectors, we appreciate the demands of those industries and can implement to the benefit of other sectors. Our access to a wide range of generic types and brands of products allows us the opportunity to value engineer products and systems for particular applications."
These strengths will prove particularly important as Encon continues to succeed in a difficult and unpredictable construction industry. Phil says: "The main challenge is the same as for all businesses – pressure on margins and costs combined with potential increases in bad debts through business failures. Some sectors of the market, house building for example, is pretty tough at the moment; however we expect it to grow through improvements to insulation standards within the scope of building regulations and the code for sustainable homes."
Despite these difficulties, Phil is optimistic about Encon's future and recognises plenty of opportunities for the innovative company: "We will continue to grow all aspects of the business and intend to position ourselves to take full advantage of a construction market that will pick up in 2009. The industry will be sustained by projects such as the Olympics, for which construction will start in earnest in early 2010 – it is inevitable that the Olympics will have a positive impact on the construction business."
Continuing, he concludes: "We see the market for sustainable building products moving slowly from a niche market into the mainstream but the market has to accept that these products have a higher cost. Encon is well positioned to supply these products and indeed our parent company Wolseley UK has recently opened its own sustainable building centre to promote new products and new technologies."