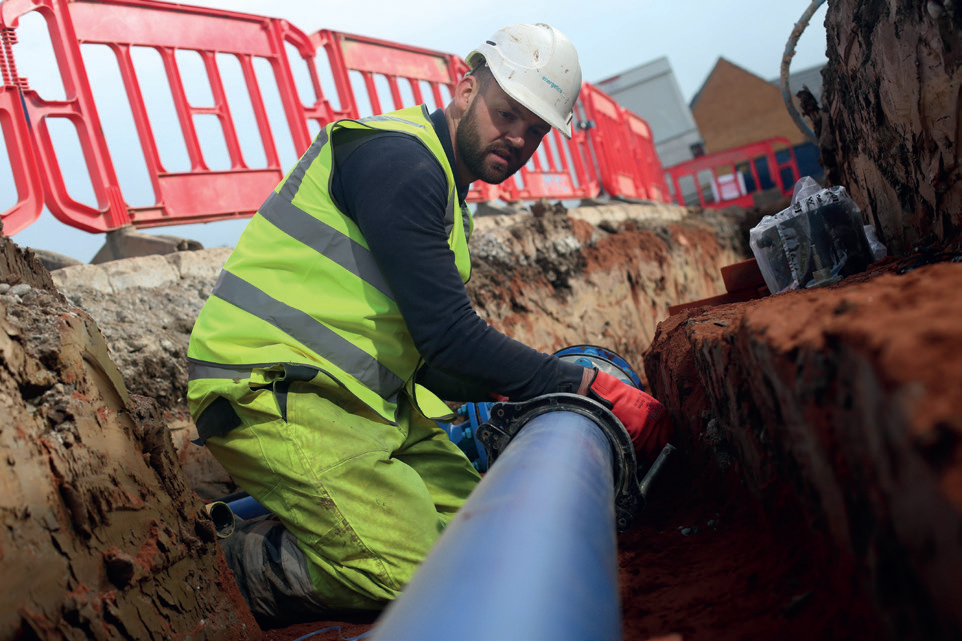 Powering up
With flagship projects including MediaCityUK and M&S Cheshire Oak under its belt, Energetics continues to build on its exemplary reputation in the design and build of multi-utility networks
We are one of the largest Independent Connections Providers (ICPs) in the UK, and we design and build gas, electricity, water and fibre networks in Scotland and the North of England," stated Craig Boath, Managing Director at Energetics, as he began by sharing some details about the company's operations with Construction & Civil Engineering. "Our parent company Last Mile Group,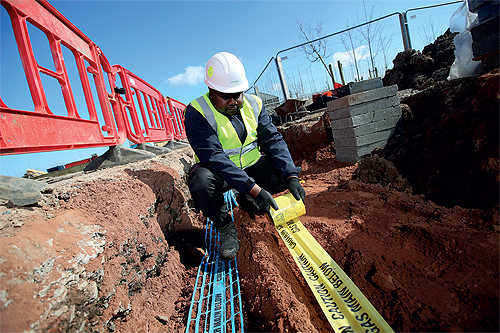 adopts, owns, operates and maintains the gas and electricity networks installed, and we work in the residential, industrial and commercial, and mixed-use sectors. Our clients range from housebuilders, developers, construction firms and landowners, to contractors, consultants, and end users."
From its area of operations covering the North of England, North Wales and Scotland, and thanks to its full accreditations from the National Lloyds Registration Scheme for NERS, GIRS and WIRS, Energetics has established a proven successful track record for quality and reliability, all delivered by its utility engineering and construction teams. "Under NERS we deliver projects up to 33KV and under GIRS we provide new routine and non-routine gas connections with full approval. We also provide water connection under our WIRS accreditation," added Craig.
"We were established in 2006 following the deregulation of the utilities connections sector," he continued. "Our investors, Infracapital, the infrastructure equity investment arm of M&G, are strong and committed shareholders. They support our long-term growth ambitions, and are helping us develop our presence and capitalise on opportunities in the UK utility connections market. Our clients like to know that they are in safe hands, and Energetics provides that security in terms design, cost, financials and delivery."
Communication is key
An established business with many years of knowledge and experience, Energetics understands what its clients are looking for in a utility connections company, and ensures that its own offering goes way over and above the basics. "We offer a financial investment known as an Asset Value to our clients, which reduces their overall contribution for the works required. We can also offer flexible payments terms in line with the client's programme of workings, which will assist them with cash-flow," declared Craig.
"We set ourselves apart from the competition in many different ways. So, for example, we have local depots and direct labour including designers, legals, projects managers and operational teams throughout the business. We have our own in-house Service Level Agreements (SLAs) and Key Performance Indicators (KPIs) which enable us to control and manage the timescales and programme of works. We also have one point of contact for our clients pre- and post-contract award, safeguarding ease of communication."
Craig mentioned the local depots from which the Energetics teams carries out its works – its Head Office is in Hamilton, Lanarkshire and it also has depots/offices in Warrington and Yorkshire. "Throughout Scotland and England we have 214 employees, and we have our own direct labour which includes 90 operational teams who work across 525 sites," Craig added. The number of sites where Energetics is working at any one time can be well over 120 and this requires superlative organisation and planning – both of which are strengths of the business.
"The key to handling such a large workload is all about preparation, organisation and communication, and having the best systems in-house that facilitate managing the workload in the most efficient and effective way," Craig confirmed. "Communication is key within the business, and we prioritise keeping staff informed of progress, business requirements, and any changes within the industry."
Customer collaboration
This flow of information to its staff is another critical differentiator for Energetics – and it led Craig onto highlighting the importance that the right team plays in the organisation's success. "We are proud of the culture we have created, and our team is driven and focused on the success of the business, guaranteeing we offer our clients the best level of service in the utilities industry," he said. "We always try to lead by example, to inspire the team and gain their respect. We demonstrate how important they are by keeping health and safety at the forefront of our business, and making sure that the staff return home safe after a hard day's work.
"We also believe in investing in our staff, training, and developing them to ensure they reach their maximum capability level, and they remain within the business," he continued. "We have a Designer Trainee Programme, which offers a three- to four-year training programme, with set milestones which enables them to learn and develop to a Multi Utility Designer level. We took this approach as there was limited availability within the industry, and to date it has been very successful. We start on our next programme in April 2021. We also have very good benefits in terms of the packages we offer to our staff."
Having emphasised the importance of communication, Craig noted that this also applies to the flow of information to and from clients. Energetics prefers to collaborate very closely with customers, in order that all parties can understand, together, the challenges involved in delivering a project. This approach was exhibited on a recent project in the historic village of Winchburgh, 12 miles west of Edinburgh, Scotland.
The utility scope of the project for Energetics includes the design and installation of a high voltage network incorporating 14 substations, a medium pressure gas distribution main and two gas governors. It will also provide gas and electricity connections to 3424 new homes, three schools and around 20 commercial units.
By investing time and effort and working in partnership with Winchburgh Developments Ltd and Sweco, Energetics was better able to understand the intricacies and challenges of a development of this size and offer significant support to Winchburgh Developments through a long-term project of substantial complexity.
Bright future
This sort partnership approach can also be seen in another of its sites, Bertha Park, a Springfield Properties village. This new mixed-use development consists of 3000 residential houses, two new primary schools and a secondary school as well as medical, retail, leisure and community facilities. On this project, Energetics designed and installed a high voltage network with 15 substations, a medium pressure gas distribution mains including a gas governor, as well as the connection to gas and electricity for each home, school and commercial unit. Working closely and in partnership with Springfield at Bertha Park from the initial design through to the construction stage, Energetics delivered this large scale and demanding project within budget and with a client/customer focus throughout.
Having made it through the challenges of 2020 and adjusted its working practices as needed to deal with the coronavirus pandemic, Craig was thrilled to report that the start of 2021 has been very positive for Energetics and its clients. "All of our staff have returned to work and are delivering on-site, and we have also secured some new contracts, which is encouraging, and our order book for the year is favourable," he said.
Craig also divulged that there are some significant new plans on the agenda for Energetics, which could broaden its horizons. "We are investigating other products that we could deliver as the renewable energy market continues to evolve and develop. From 2025, the Government's plan is for there to be no gas to new homes, and therefore we will have to diversify, and develop in line with our clients' demands to ensure we grow our business. By offering a varied range of products and services to clients, we will secure our future in the marketplace."
There also other further opportunities for Energetics, with the Group having recently acquired a water business, for which Energetics will design and build networks. "We are also investigating EV charging opportunities, district heating and hydrogen networks to name a few, so the future is very bright and exciting for Energetics!" Craig enthused. "We believe we will continue to develop our business and become one of the largest multi utility companies in the UK. We have a very healthy pipeline that continues to grow on a regular basis, and our clients know they are in a safe pair of hands with Energetics, which is evidenced with the repeat business we have and the new clients that come to us."
Having spoken with Craig, we gained a great deal of knowledge and understanding of Energetics, and it is true to say that its name represents not just the energy that it is bringing to people's homes or businesses, but also the passion and enthusiasm it puts into its own operations. With this attitude combined with a reputation for excellence and many mature and established customer relationships, as well as a team that is eager to deliver and succeed, Energetics looks set to continue on its growth journey over the years to come.
Energetics
https://energetics-uk.com
Services: Experts in the design and build of multi-utility networks