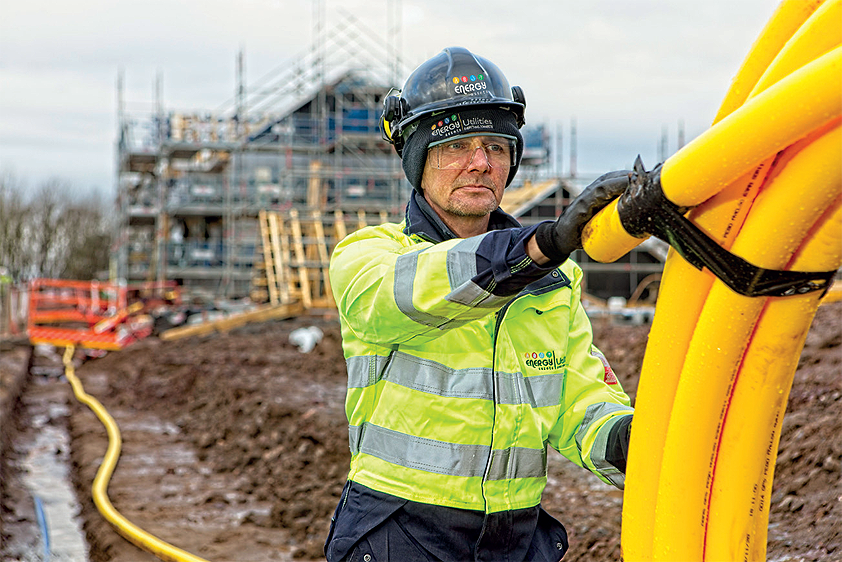 Part of the solution
With smart networks integral to a lower carbon future, Energy Assets aims to be at the forefront of innovation in energy and data services to help the nation deliver a more sustainable economic landscape
The green revolution is quickly becoming an integral part of business conversations and the Energy Assets Group is set to jump in to help shape Britain's journey to net-zero. Over the last 16 years, the company has grown from an owner and operator of gas meter assets, to one of Britain's most dynamic and independent players in multi-utility construction, metering, data services and network ownership.
The construction division – Energy Assets Utilities (EAU) – operates from facilities across the UK and has developed a reputation as one of Britain's most progressive multi-utility network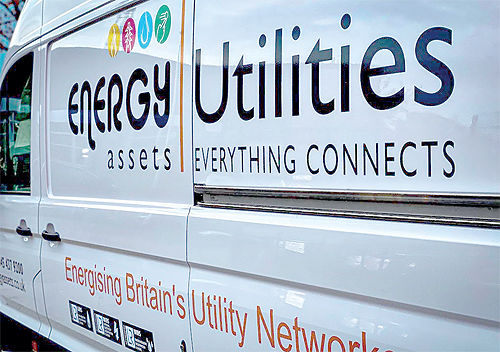 design and installation businesses.
Since its inception in 2007, the company has grown both organically and through strategic acquisition. Today, thanks to its expertise in network design and construction, consultancy and metering, EAU is able to deliver a single source, fully accredited utility design and construction service across gas, electricity, water and fibre-to-home markets. Its project management offer for clients extends to legal and administrative engagement and community liaison.
While speaking with Craig Topley, Energy Assets Group Managing Director (Construction), we learn about how the group has built a vertical business model unique in the energy services sector. For example, in addition to infrastructure and metering, the company is a leading player in data services, including providing an artificial intelligence platform to help private and public organisation transform their understanding of energy efficiency.
"Our project management knowledge creates value at every stage, whether it's providing simple service connections or complex end-to-end network design and installation," Craig highlights.
On the consultancy side, the business conducts detailed site surveys, technical consultation, and network feasibility investigations to identify any potential issues before any ground works begin. Craig shares that this capability enables the business to develop a value-engineered design approach that delivers the optimum return on utility investment.
"On top of that, we design, install, maintain and monitor metering systems of every size and complexity for gas, water and electricity. From simple exchanges to large sale turbine meters, our business takes responsibility for everything," he notes. Craig goes on to tell us about the Energy Assets metering and automated meter-reading (AMR) services, which meet the needs of many thousands of organisations across the length and breadth of Britain. The company has developed its own systems to manage site visits by its nationwide team of engineers, while implementing a proven process for meter installation and verification in step with regulatory standards.
Business excellence
Recently, EAU established a specialist renewable energy connections service to support a rapidly developing sector of the energy market. "As a Group, our expertise in services support a more sustainable future and includes renewable energy connections to the grid, industry-leading energy efficiency tools for buildings, and innovations in local energy network control to balance demand with supply.
"Through our gas and electricity industry accreditations, we are able to design and construct the supporting infrastructure for renewables, ensuring that low-carbon power generation is ready to boost supply to the grid when needed," Craig states. In fact, the company is already the independent connection provider of choice for two of the largest embedded generation developers in the country.
As mentioned previously, the company is a leader in the application of artificial intelligence to enhance energy efficiency in industrial and commercial buildings, including supporting major retailers in their drive to eradicate energy waste. "Our AMR DNA service leverages the power of AI to transform energy efficiency in buildings through analysing historic meter consumption data to identify patterns of energy waste. We are also leading on local power network innovation to address potential supply challenges linked to greater electrification," he tells us. As the world continues to move towards electric vehicles, battery storage and air source heat pumps, there will be a huge increase in demand for electricity, which means that Energy Assets is already thinking outside the box to avoid power outages.
Other ways the company is investing in a sustainable future includes ensuring that its in-house processes meet world-class standards. Energy Assets' companies operate in highly regulated environments, so safety is paramount. "We recently passed a British Standards Institution audit with outstanding results and have been recommended to the latest standard governing occupational health and safety management. As a result, we have become certified to ISO 45001:2018, replacing the existing OHSAS 18001:2007 version," Craig explains, adding that this success helps position Energy Assets as industry leaders and demonstrates business excellence in this essential area of operations.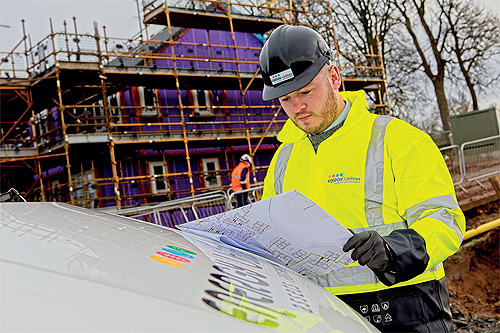 The business is also looking to go beyond its accreditation to ISO 14001, which specifies the requirements for an effective environmental management system, to achieve its ISO 50001 standard in 2021. The accreditation will provide a framework for continuous improvement in energy management. "For our people, we have also launched an internal communications strategy to ensure that everyone in the team has a common focus and shared appreciation of the goals of the business," explains Craig.
Increasing projects
All these elements create a culture that is helping the business secure more and more projects in the energy sector. "We designed and constructed a fast turnaround gas network for Morgan Sindall as part of a £1 billion regeneration scheme in Liverpool, completing the project three months ahead of schedule, despite coronavirus restrictions. This work paved the way for a world-leading health sciences innovation hub in the city," Craig shares.
The company also brought gas, electricity and water to a constrained listed building site in Edinburgh to help CALA Homes convert the former Boroughmuir High School into 104 high-end apartments. Added to that, the company has confirmed the renewal of its long-standing partnership with EAU for the construction of gas networks, serving new housing schemes and regeneration projects. Working on behalf of British Gas, EAU lays an average of 80,000 meters of gas infrastructure mains and connects approximately 4500 new service connections and meters each year. It also covers the largest single geographic area among the three utility construction service providers and has also completed more than 100 fuel gas and electricity schemes for its customers.
Now, the business is embarking on a country-wide push to grow its customer base in housebuilding, regeneration projects, commercial and industrial schemes, and embedded generation grid reinforcements.
Going the extra mile
While Covid-19 was a challenge for everyone in construction, Energy Assets implemented a business continuity plan to maintain essential connection services and deliver safer and smarter 'mains to meter' design and construction projects to its customer base. "This meant that we were able to maintain our 'on-time, on-budget' commitment so that our housebuilder and industrial developer customers could make progress on their own important projects," Craig notes. The business still had the responsibility of safeguarding the energy supply to public services and infrastructure, such as hospitals, to protect the most vulnerable citizens.
"Now, more than ever, we are focused on our plans to build back better. This includes growing and widening our pipeline of design and construction projects for both commercial and residential developments. For example, we are working on infrastructure schemes, such as electric vehicle charging networks and ultra-fast broadband services, both of which will be vital in driving the green revolution on the road to net zero," he exclaims.
Looking further down the line, the company is excited about the opportunities that are opening up across the energy market. "We work with sectors that are fundamental to the future prosperity of our country and with the ever-increasing focus on energy efficiency, the growing demand for housing, and the need for innovation in local network resilience to cope with the greater electrification, we are strongly positioned for future, sustainable growth," he says.
Business success may be partly measured through revenues and balance sheets, however Energy Assets is going the extra mile to embed its values deeper into its corporate culture, where success can be measured through its plans to help shape the UK's energy efficiency landscape. "Our meters will be the measure of sustainability, our networks the delivery vehicles for new and emerging technologies and our people will be the force to make it happen," Craig concludes.
Energy Assets
www.energyassets.co.uk
Services: Utility infrastructure specialists