Enhancing building efficiency
As a world-leading manufacturer of high-tech polymers for key industries such as construction and civil engineering, Covestro has taken a fresh approach to enhancing building efficiency in a pilot project in Bergisch Gladbach, Germany that has created safe, inexpensive and quickly constructed housing
Providing housing quickly, costeffectively and sustainably is a global challenge, particularly in low-income and economically underdeveloped regions, but also in places where housing is scarce or expensive, such as in densely populated areas or cities with a high influx of refugees. Here, Covestro is breaking new ground in its search for creative solutions. Together with industry partners and government authorities, Covestro is developing models of affordable housing and getting proactively involved in specific local projects. One current example is the House of Nations, a multipurpose building in Bergisch Gladbach, Germany, that was designed and built by Logelis, a French manufacturer of prefabricated homes, and Covestro in close collaboration with Bergisch Gladbach town council.
Key issues
This partnership was established with the aim of developing new types of energy-efficient houses with versatile interiors that can be erected quickly and cost effectively. As for energy efficiency, there was a clearly defined target: the houses would have to meet the passive house standard. But how can projects with such ambitious affordability and efficiency targets be realized without neglecting safety aspects? And in this respect, what role does building insulation material play in ensuring strict fire protection standards are met?
Fast construction time
By relying on prefabricated elements, the joint project generated an impressively energyefficient and cost-efficient model house in Bergisch Gladbach that was finished in only four weeks. "With this pilot project, we want to show how we can work with partners to provide housing quickly and inexpensively," said Dr. Markus Steilemann, Covestro's Chief Commercial Officer, at a ceremony to hand over the building to its new occupant, the German Red Cross. "This is an increasing challenge in many cities." The House of Nations, as the multifunctional building is called, is being run by the German Red Cross, which is sponsoring a camp for refugees in Bergisch Gladbach. The building will serve as a meeting place for refugees and a kindergarten for the container village housing the refugees.
The housing challenge
"Communities like Bergisch Gladbach often face the challenge of providing affordable housing as quickly as possible," said the town's mayor Lutz Urbach. "And this is exactly where the model building comes in. In view of the advantages for all stakeholders, I can well imagine that it will be a success in other locations as well." Towns like Bergisch Gladbach are facing a challenge arising from the need to quickly build versatile, affordable housing not just as temporary or even permanent accommodation for refugees but in particular for young families, students and senior citizens too. The biggest challenge on this project was therefore to realize a building that would be visually attractive and meet high technical standards – and could be built at low cost in a very short time.
Structural and energy concept
The demands on the project were tough, and seemingly contradictory: minimal resources and the efficient use of building materials combined with the creation of as much living space as possible. Unlike many existing container villages for refugees in Germany, this building also had to be visually attractive and energy efficient, as compliance with the passive house standard was a key requirement. The main idea for the structural concept was to combine the insulating and load-bearing functions in a single construction plane in order to minimise space requirements without compromising on performance criteria. Right from the start, all the project participants bore in mind the need to adapt this approach to different building types – with the result that the concept they developed is capable of meeting a wide variety of requirements in both one- and two-storey buildings.
One of the main tasks involved checking the individual building components to make sure they conformed to existing European and German technical regulations and approval specifications. Although the technical standards in France (where Logelis manufactures the prefabricated components) and Germany are similar, they differ in some details, e.g. in the statics regulations where it was necessary to adjust a few structural characteristics for the planned model house. Different types of fastening and anchoring devices were included to satisfy the German requirements, for example. But at the same time, this enabled some features of the connectors and fasteners used to be optimised.
Sandwich panels for superior fire protection
The House of Nations is a low, freestanding building categorised as a Class 1 Building in the German state of North Rhine-Westphalia. Consequently, the requirements for structural fire protection were not terribly stringent. However, as the project participants responsible for developing this construction system had already envisioned building two-family homes, they had to take into account North Rhine-Westphalia's building regulations that require fire resistance for the loadbearing external walls to meet the specifications for resistance class F90-AB. Furthermore, a U value of 0.15 W/m2K had to be realized for the external walls in order to fulfil the passive house standard – and all this for a building that had to be as space-saving as possible.
The solution found were sandwich panels with a combined, layered structure made up of an interior facing, a polyisocyanurate (PIR)/ polyurethane (PU) insulating core and an exterior facing. These panels fulfil all the relevant DIN and EN standards and can be installed in any mulliontransom structure. The surface was finished in the Logelis factory with fibre-cement board cladding on both sides, a key fire protection feature to name just one of the critical benefits. Fibre-cement board, a modern, reinforced composite of natural, environmentally neutral raw materials, is in the A1 building materials class and categorised as non-flammable. Hence, its use allows sandwich panels to be produced that are not only nonflammable but also resistant to heat, rot and corrosion.
Slim wall elements with polyurethane insulation
For the existing construction system, the wall elements manufactured in this way were combined with a wood frame construction that was required for static equilibrium reasons. The use of high-performance polyurethane insulating material brought the added benefit of minimal design thickness. The good insulation properties of the polyurethane elements with a lambda value of only 0.025 W/m2K meant that an insulation thickness of 16 cm was sufficient to satisfy the passive house standard. As the fibrecement board used is just 1.2 cm thick, the entire wall is only 18.4 cm thick. A U value of 0.14 W/m2K was achieved for the insulation elements on this project, and the U value of the entire sandwich panel (including the two fibrecement boards) is only 0.15 W/ m2K. The prefabricated sandwich panels installed are 3m high and 1.25 m wide and weigh only about 46 kg/m (even with the fibrecement boards).
Compared to many other insulation materials, the structure of polyurethane makes it much less susceptible to the effects of moisture. This is a big advantage. After all, even if the relevant moisture protection requirements have been met, a building can be unexpectedly exposed to moisture during the construction phase or due to unforeseen events. But the polyurethane insulation used in this project gave everybody a more than adequate safety margin. And another advantage of PU insulation material is its resistance to aging and non-rotting qualities.
Efficient, sustainable building envelope
Reducing the variety of materials used also helps to enhance the efficiency of buildings. In insulating the roof of the House of Nations, for example, the builders benefited from the same technical properties of the polyurethane insulation used in the wall elements and the floor. The combined strengths of the individual components of the sandwich panels were a decisive factor: on the one hand, the PIR/ PU insulation elements with their light weight, high compressive strength and optimal insulation value combined with the slim design they made possible; on the other hand, the fibre-cement boards offering impressive impact and weather resistance, ease of maintenance and a great choice of colours – a big advantage in enhancing the building's visual appeal. "Ultimately, all of these aspects contributed to the realization of a sustainable solution," said Prof. Matthias M. Middel from B+M Ingenieur-undConsultinggesellschaft mbH, an engineering and consultancy company that played a key role in the successful implementation of this pilot project.
Cost-efficient construction
The construction concept implemented in the House of Nations offers the market an efficient solution for creating fast and flexible low-cost housing. The single-story multipurpose building in Bergisch Gladbach has two group rooms, a kitchen and two bathrooms. The total cost of this turnkey building with 80 m2 of floor space was under €1200/m2, which made it more affordable than a building constructed by conventional means. The high degree of prefabrication used for the large sandwich panels was key to the fast, on-schedule construction process, which enabled a highly cost-efficient building to be completed with all the interior finishing work in only four weeks.
Universal suitability
The construction system applied in the German town of Bergisch Gladbach is suitable for use in other countries with a similar need for affordable, quickly built housing. Moreover, this economical construction concept can also be successfully applied in countries with much warmer climates, e.g. Southern Europe, Africa or the Arab world. PIR/PU insulation products can help to significantly improve protection from heat in summer or cold in winter, ensure greater comfort, and thus help reduce energy costs. Heating and cooling systems can be designed on a smaller scale as less heating is required in winter and little cooling is needed in summer. Covestro and Logelis have already collaborated in the implementation of joint projects in Iraq and Asian countries for the construction of inexpensive permanent housing. As in Bergisch Gladbach, the projects were carried out in close cooperation with local authorities and partners in the regions.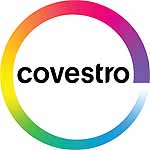 With 2016 sales of EUR 11.9 billion, Covestro is among the world's largest polymer companies. Business activities are focused on the manufacture of hightech polymer materials and the development of innovative solutions for products used in many areas of daily life. The main segments served are the automotive, construction, wood processing and furniture, and electrical and electronics industries. Other sectors include sports and leisure, cosmetics, health and the chemical industry itself. Covestro, formerly Bayer MaterialScience, has 30 production sites around the globe and employs approximately 15,600 people (full-time equivalents) as of the end of 2016.
www.covestro.com