Essex Services Group PLC is the one of the UK's largest mechanical and electrical engineering services providers, with a core focus on large construction and refurbishment projects
Aiming higher
Essex Services Group PLC is the one of the UK's largest mechanical and electrical engineering services providers, with a core focus on large construction and refurbishment projects
A multi-disciplined and progressive MEP business, Essex Services Group (ESG) was founded as an electrical services contractor in 1975 by John Sampson. Initially offering contracting services to
the retail industry, the company expanded into the emerging banking and commercial sectors before integrating a mechanical services division in 2003. This integration, alongside the company's existing contract services department, enabled ESG to become a single source solution for MEP. "During 2012, we expanded further by adding technology solutions to the services we provide, with data centre projects so far completed throughout the UK and mainland Europe," says Mark Sampson, Managing Director of Essex Services Group PLC.
"Furthermore, in 2017 Modular Engineering Ltd, a new division within ESG, was developed; this is a design-and-build manufacturer of pre-fabricated services that is mainly focused on residential utility models and is designed to meet logistical requirements. The division can also assist in a faster construction process as off-site and on-site activities occur in parallel, which reduces on-site material wastage to virtually zero," he adds.
Thanks to the company's ongoing dedicated approach to delivering high quality solutions as well as the retention of core family values of commitment, trust and responsibility, ESG's name has become synonymous with professionally engineered solutions. This solid reputation in the market has resulted in the company working on major projects within the £8 million to £25 million price range, such as the Television Centre, White City, London, various UK sites for Tesco, including the retailer's biggest ever developments – Woolwich Central; the Broadgate Tower, London, and UBS 5 Broadgate, London.
For the latter, UBS required not only the high standards that ESG could deliver, but also a contractor with logistical experience and the capability to provide electrical infrastructure systems, switch room connections and vertical distribution to feed the trading floors within a demanding construction environment. Using its specialist technology solutions team who have worked together for more than 15 years, the company demonstrated its capabilities in delivering BIM compliant projects and a high quality end product.
Another notable project is Vauxhall Sky Gardens, which was successfully handed over in 2017 following an MEP shell & core fit-out of the 35-floor tower block and the smaller block of affordable housing, which was developed as part of a larger regeneration effort in the Nine Elms area. "We operate across a diverse range of industry sectors, such as residential, hotels & student accommodation, retail, commercial fit-out, public & education, and contract services. Our annual turnover for 2016 was in excess of £104 million for MEP contracts," says Mark.
Committed to making the best use of its resources, the company's retail division has played an important role in its history, with projects delivered by a dedicated team who have long term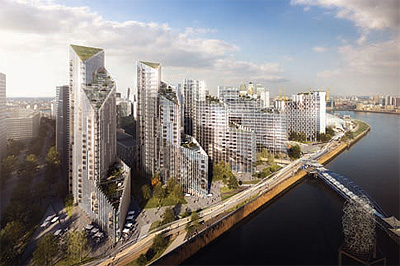 experience in this sector. These strengths have resulted in an enviable portfolio of customers that includes anchor retail client Tesco, Sainsbury's Westfield, ASDA, M&S and Canary Wharf Group PLC. To remain competitive, the company has made the strategic decision to enhance this business segment, as Mark notes: "It is our experience that sets us apart from other service contractors and to enhance our capabilities we have begun to incorporate commercial fit-out and other affiliated projects into this department's offering. To promote the specialist nature of this expanding team and to highlight the fact this division no longer deal solely with our retail projects, we are launching a new brand: ESG Prime."
Achieving eighth place in the Sunday Times HSBC International Track 200, a list that ranks Britain's mid-market private companies with the fastest growing international sales that are measured over the last two years, the future looks full of opportunity for ESG. Moving forward with plans to further grow the business, the company has strengthened its senior management team with the introduction of a new operations director who will enable ESG to further position itself in the commercial and fit-out market sector. "Alongside turning our attentions to our leadership team and ensuring our senior team is committed and aligned with our core values and common goal of being the contractor of choice, we will also be defining our three offerings: ESG, ESG Prime and modular engineering internally and externally to the market; this is a key driver throughout 2017," says Mark.
"Looking further ahead, the ESG 2020 vision is to have a strong, dynamic leadership team, aligned to our core values, which is focused on quality, safety and consistency of delivery. This way of working will drive our bottom line of being profit focused, not turnover focused. Embracing technology and challenging installation methods as well as delivery patterns will allow us to reduce programme and quality risks, which have a huge impact on project delivery, and in turn project profitability," he concludes.
Essex Services Group PLC
Services: Mechanical and electrical service provider