Electricals supplier Europa Components proves that there is still a place for traditional service in today's market
Supplying demand
Electricals supplier Europa Components proves that there is still a place for traditional service in today's market
Europa Components can trace its roots back to 1936 when current managing director, David Sheridan's father started making instruments for the capacitance industry under the name of British Physical Laboratories. Over its history the company has manufactured meters for standard test equipment within the electronics industry, established strong trade partnerships in the Far East and formed supplier relationships with RS Components and Farnells, which still exist today. Now under the leadership of David, the company has an increasing range of electrical control gear systems, and a clear guiding principle to serve the needs of its customers in the best way possible. Europa currently has 3500 catalogue lines, 5500 lines in stock and 10,000 on its system, indicating the strength and availability of its offerings.
"Our customer is the electrician doing industrial or residential work, but our conduit is exclusively with the electrical wholesalers. We have a very good reason for doing this, we believe that the customer gets the best service that way," expresses David. "The relationship between a customer and a wholesaler is already well established, and a customer will always need more than just Europa control gear when they go to the wholesaler. So having one source for the customer is very important and we want to support that." Rather uniquely, despite operating through wholesaler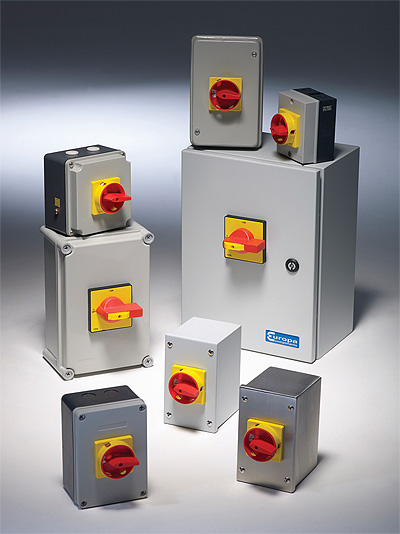 distribution, Europa offers a delivery-to-site service in conjunction. This means that in the event of an emergency Europa can deliver products next day straight to the site, making its customers' lives easier.
The strengths of Europa lay in its original customer focused approach. "We are flexible," explains David. "If a customer asks for something we don't stock, we will try our best to find it, we don't say no. If we can provide it, we will do it and I think this is appreciated in the market." This service extends to its back up as well. Irregular for a distribution company, Europa has a direct technical helpline manned by employed engineers and taking hundreds of calls a month, giving the end user peace of mind when using the service. "What we are finding, and what we are reacting to, is that our customers want complete solutions in one box, but they also want the engineering support behind it should they need assistance," adds David. Its direct to site service, a low minimum order of £20, and soon to have a same day dispatch service for orders up to five in the afternoon, all put Europa in a strong position to serve a demanding and competitive market. "We are a straight forward company to do business with," notes David.
These strengths and the company's ability to react to the market are clearly working. "Europa is experiencing incredible growth," emphasises David. "Over the last five years we have more than doubled the business, and that was done through a heavy recession." Testament to its increasing success, RS, which before catalogued Europa components under its own brand, have now included Europa as its own entity. "They see the brand as being on the up and they want to be associated with it," he says.
Working for the customer and meeting the demands in the market are key parts of the company's business plan. Eighteen months ago Europa launched the new Safe Switch range of isolator, changeover switch and fuse switch units operating up to 1000 amps, in its trend towards providing more complete solutions. Not only is the solution offering quality switchgear in a more efficient larger container, eliminating the need for extension boxes, but it is also satisfying a large demand in the industry. "Because we assemble the units on site, people have been amazed with the availability we offer," explains David. "In the next catalogue we will be indicating that we go up to 6300 amps if necessary. It's really meeting the demand."
Europa is also a well-regarded supplier of fuses, isolators and enclosures in the UK, being at the forefront of the industry in all cases. Since January this year, it has also become the national distributor for German box manufacturer Fibox. David notes: "I think the reason they chose us is because we are already an embedded supplier within the UK with relationships with all the significant wholesalers. The relationship with Fibox is important because it means that we can provide to the customer their complete requirement of control gear."
The future for Europa is very much focused on continuing to deliver quality products to satisfy customer demand. "I consider this to be a very exciting time for the company," says David. "We expect to organically double our business again over the next five years by moving more and more towards complete solutions – a complete box with one part number. There is an incredible opportunity for us to continue our growth by listening to the customers and doing what they want." In terms of products, the company has a work programme for new ideas that covers the next three years. "We're not the sort of people who see a good idea and put it in the catalogue, we do a lot of research into the supplier and do the testing in-house – we're not the fastest, but people know that a Europa-backed product is reliable and good quality."
Summarising the company's attitude David concludes: "The ethics of how we run this business, some people think it is very old fashioned, but I make no apologies for it – our word is our bond, and we stick behind our products and we stick behind our customers to solve problems."
Europa Components
Services: Supplier and distributor of electrical components