Euroview Architectural Glass
Glass half full
Since 1988, Euroview Architectural Glass has been working tirelessly to supply its customers with the highest standard of specialised glass, which is today a staple of commercial applications across the UK
Whilst Euroview Architectural Glass (EAG) has been trading under its present-day name since successfully rebranding in 2017, its activities go back to 1988, when it was established as a local glass shop making sealed units by hand and to customer specifications. The arrival of new directors – Neil Jesse and Perry Hubble – in 1993 set the company on a path to becoming more than just a local business, and in the years that followed, it would become a prominent player within the domestic insulated glass unit (IGU) market.
It was then, in 2016, that the appointment of Steve Larvin as Managing Director resulted in the company again pivoting in a new direction, selling its domestic manufacturing business and turning its focus towards the architectural sector. One year on, EAG was born, and it is today a leading independent supplier of high performance commercial IGU and Fire Glass to the façade and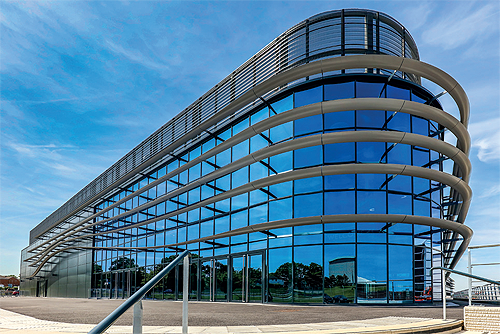 interiors industry in the UK and beyond.
One of Steve's first actions as Managing Director was to bring in a new management team, and this included Daniel Harrendence, who, having previously worked for both Saint-Gobain Glass and Pilkington NSG, is today EAG's Sales and Technical Director. "One of the things we recognised early on was that there was an opportunity to really grow the business by targeting the commercials side of the market and kinds of high profile projects that are associated with it," Daniel explains. "Alongside the rebranding of the company, we invested around £4 million into new machinery, a new furnace, new cutting tables and a new internal computer system, bringing our operation up to 21st century levels of capability. The result is a business that is virtually unrecognisable from what it was as little as five years ago."
Repeat business
EAG prides itself on manufacturing high quality glass products to meet the most complex of specifications, and works tirelessly to supply specialised glass to commercial applications from the likes of Guardian Glass, Saint-Gobain Glass, AGC and Pilkington NSG. "No doubt you hear this a lot, but it is absolutely true to say that our main focus as a company revolves around quality and service," Daniel continues. "It is easy in this industry to get sucked into price wars and becoming the lowest bidder for work, and we have made efforts not to fall into that trap. What we channel our efforts towards is making sure that our customers get the best quality product possible, on-time, and with the right level of technical support. Our ability to deliver the latter has made EAG much more than just a solid unit manufacturer, and more of a full solutions provider."
The company has a broad range of customers across the UK, ranging from national players carrying out large scale commercial projects, to small local businesses conducting quick refurbishment or replacement works. "Among the larger projects that we have been involved in recently include student accommodations and large office blocks, but we do not shy away from anything that is within our capabilities, and that is one of the reasons why our customers enjoy working with us and task us with repeat business," Daniel states. "We are also supported by a large fleet of our own vehicles, allowing us to deliver product into central London and also further afield from our Essex base where required."
EAG is understandably proud of all of its work to date, and this is reflected in the number of case studies available of its efforts in designing and supplying glass for countless buildings, specifications and functions. "One of the first projects that I personally worked on upon joining the company was Stapleton House, a large student accommodation building in London," Daniel reveals. "The joy of that particular project was that we worked closely with the architects from a very early stage to ensure that we had the right glass specification to meet the light transmission and acoustic performance requirements of the client. In the end, we were able to achieve the finish by working with the system company – Sapa (Now Hydro) – and using Saint-Gobain Cool-lite SKN144ii products to supply Sealtite Windows.
"Another stand out example would be EAG's work on The Quadrangle, a contemporary commercial and shopping space in Cheltenham. This was, again, a really complex project that involved an existing building being extended and comprehensively refurbished. We supplied our customer, Aluminium Sashes, with Guardian Glass products, Climaguard A1.0, Sunguard SN70/35, and Sunguard SN29/18, and the end result is a fantastic looking building!"
As Daniel mentioned previously, the company has spent the last several years investing a significant amount of capital into machinery, equipment and solutions in order to get it to a point where it is regularly being awarded projects such as those detailed above. One recent purchase has seen EAG spend approximately £1 million on a state-of-the-art laminating machine in order to serve the growing demand for PVB laminated, heat strengthened glass. "What laminated glass provides is fantastic acoustic performance, which is a huge plus for many of the newer buildings that are being
constructed in busy locations or surrounding transportation hubs," Daniel adds. "There is also a safety element involved, in that laminated glass, when broken does not fall from the frame. There has been a major push to use laminated glass instead of monolithic toughened glass in recent years."
Efficiency & effectiveness
In tandem with its investment in machinery, EAG has also made a concerted effort to make continuous improvements to its factory operations and its health and safety credentials. In the case of the latter, the company has recently been awarded ISO:45001 status, bringing it up to the very highest levels of accreditation.
Looking back on the year that was 2020, Daniel goes on to detail how the company can be especially proud of what it achieved. "We got off to a terrific start to the year, particular in the first quarter where we hit the ground running, breaking previously held records for turnover and profitability," he says. "Then, in March, we had to close our factory down for several weeks as Covid-19 lockdown restrictions hit demand in the short-term, before things began picking up again in late May/early June. Some of the lessons we learnt during, and in the weeks after, that period of time included how we could run our factory operations with a reduced crew, which helped us to identify certain processes and ways of working that could be carried out more efficiently and effectively, and we have carried these findings through into 2021."
Core strengths
On the subject of 2021, Daniel tells us that EAG has big plans for this year, with the company having designs on growing at a continued rate. "The most important way that we do that, in my opinion, is by maintaining those core strengths that have gotten us to the point where we are today," he adds. "Meanwhile, whereas Brexit has been a source of uncertainty for a long period of time – and remains so in part – it may actually work out as being to our benefit. This is not only due to our own locality to the projects that we tend to supply, but also because the majority of our own supply chain is UK-based, which means we won't have to face any issues related to tariffs, and the speed of service that we take great pride in will be unaffected."
Targeted investment
With the majority of its customer base also displaying a strong pipeline of work for the next six-to-nine months at least, EAG's order books are healthy and give it a lot to be positive about. "Longer term," Daniel highlights, "I feel that our main target will be to firmly establish ourselves as being the leading commercial glass unit provider in the UK. As part of our plans to do so, we will continue to look at targeted investment in order to enhance our offering, be that in the form of new machinery or new processes. There is a particular peak target that we would like to eventually realise, but how fast we do so will depend on many different industry conditions and factors. Rest assured, however, that in the meantime we will explore all of the different means and ways of achieving our goals."
Euroview Architectural Glass
www.euroview.glass
Services: Supplier of high performance commercial glass