The EXMET group takes Expamet to new heights in the building industry
Taking it to the extreme
The EXMET group takes Expamet to new heights in the building industry
With over 100 years experience in the building industry, Expamet Building Products is the leading supplier and manufacturer of plasterer's accessories and fixings in the UK today. Founded in 1889 and based in Hartlepool in the north of the UK, Expamet supplies the construction industry through builder's merchants, building contractors and DIY retail outlets. Its extensive range of metal products is forever growing and evolving, whilst the company continues to strive and create innovative products for the building industry. The company remains dedicated to keeping its base in the UK as it has been for the last century, using highly skilled tool makers to maintain its British standard quality and service.
Its most highly acclaimed product is its Hy-Rib construction solution for use as a permanent formwork for concrete stop-ends, slabs, retaining walls and columns. This product was created in the 1960s by Expamet and has proven to be one of its most prominent pieces of successful engineering. More recently the product has been enlisted in a preservation and conservation project taking place in Bath in order to stabilise the Combe Down Mines. Victor Camble, technical development manager of Expamet commented at the time: "It's an excellent opportunity to show exactly what Hy-Rib can do."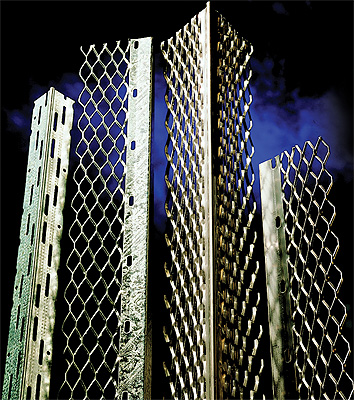 Hy-Rib's superior abilities made it a natural choice for this difficult project. In addition to this, the product's qualities have been recognised further afield in Saudi Arabia where it has been adopted for use in two ongoing developments in the Holy cities of Makkah and Medina – an extension of an order last year of 40,000 sheets. Expamet takes pride in its presence in Europe and the Middle East, and having had a successful existence there for the last 25 years the company has further plans to expand abroad.
The company has also hit the ground running with its recent release of the Power-Tie brand ranging from cavity wall ties and frame cramps, to ladder reinforcement and accessories, Expamet stays true to its ability to serve all building needs and provide a choice of high quality products to the market.
Expamet is now part of the EXMET group, which in the last year has brought together the three well-known brands of Expamet, Metpost and PowerPlace (now re-branded as Power-Tie) – already extremely successful brands in the market. The company is always looking for ways to expand and develop as a group with a clear vision and plan for the future; to keep making acquisitions, whilst improving efficiency and keeping costs under control. Keeping strong relationships with national merchants, buying groups, national retailers and specialist distributors as well as keeping close relationships with existing customers is one of the ways EXMET intends to stay ahead. Whilst always looking for new products and reviewing and modifying product ranges EXMET aims to ensure that existing products retain its strong position in the market. For example, PowerPlace held eight per cent of the market for wall ties, but the company is confident that this will increase to 20 per cent over the next two years.
The group's huge success in such a short space of time can be attributed to extreme ambition and pro-active management. As managing director Nigel Dickinson comments: "I think a lot of our success is our autonomy. We make decisions and act upon them quickly and efficiently. Our customers have the satisfaction of knowing we are a, pro-active, fast responding, forward thinking company."
Few companies can boast three acquisitions in one year as well as a prediction that its turnover will be £50 million by the end of 2009, and £100 million in five years. EXMET's superior know-how of the industry and ability to make things happen seems to be the route to its triumph. Within four days of achieving the procurement of PowerPlace, the company had the machinery up and running, and had contacted the entire customer base. With its attitude of creating a structured strategy and changing with it, EXMET exceeded its 100-day plan of acquiring PowerPlace to its Expamet brand.
With expert understanding and knowledge of the market behind it, its recent products proving so successful, and its constant search to develop product ranges, Expamet can only go from strength to strength. The organisation is very proud of its tradition and history of working in the UK, staying loyal to both its heritage and its customers with superior design and quality for the practical market. Expamet believes that with the right experience and expertise, anything is possible.