EXPAN produces lightweight and ordinary concrete elements
Winning on aggregate
EXPAN produces lightweight and ordinary concrete elements
Established in the 1950s, EXPAN is a leading manufacturer of lightweight concrete wall elements for the Danish and German markets. With seven facilities across Denmark, and one in Germany, the company also produces ordinary concrete wall elements, as well as sandwich façade elements in both lightweight and ordinary concrete. EXPAN's eight sites have about 400 employees engaged in production.
EXPAN's product offering is spilt into two main types: products and auxiliary services. The products side of the business accounts for 60 per cent of sales, whereas auxiliary service account for 40 per cent. EXPAN's product range is supported by integrated services such as advice, design and project management, which are not invoiced separately, as these services form a fundamental part of the product range. Integrated services give EXPAN, which also produces deck elements in lightweight concrete, a key competitive advantage, as customer sophistication levels continue to rise.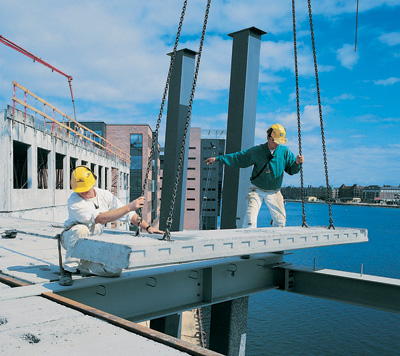 "Based on Danish principles, we manufacture a special kind of lightweight aggregate wall," says the company's managing director, Paul Kirkegaard. "If you compare it with ordinary concrete, it is much lighter, much more flexible and a lot faster to erect, and therefore very competitive. The weight is between 1500kg pr. cubic metre and 2000kg pr. cubic metre. Normally, concrete is about 2400kg. As a result, our products are commonly used on lighter and smaller buildings up to five storeys that need to be built quickly."
Six of EXPAN's eight factories produce lightweight and ordinary concrete wall elements. Production steel forms can be manually adjusted to accommodate the individual characteristics of each specific element. There are two lines of production forms in a standard production hall.
The forms are divided into compartments for individual elements prior to being filled in the concrete mass. The resulting cast forms also consist of a steel grid reinforcement, which ensures the load bearing capacity of the concrete elements. When the concrete mass is filled into the form it rests for six to 12 hours and afterwards the elements have to stand in the open air for at least three days to harden. This production method means that every single element is tailor-made and unique, specially made for the individual building in exactly the required measurement including holes for windows and doors, electrical installations etc.
"We do it all ourselves," adds Paul. "We cover design, development, manufacturing, on-site erection – everything – from start to finish. This is the appeal of our unique approach. What's more, our building methods with room height and length elements are much more rational and effective to use than the methods developed by other building materials and, as a result, we are expecting to improve sales figures in the coming years."
Indeed, supplying primarily into Denmark, Paul expects EXPAN to continue to grow. He explains: "We are currently enjoying a resurgence in the Danish market. Building activity is high and I think it will remain high for the next four or five years, at least. However, it is impossible to speculate beyond that.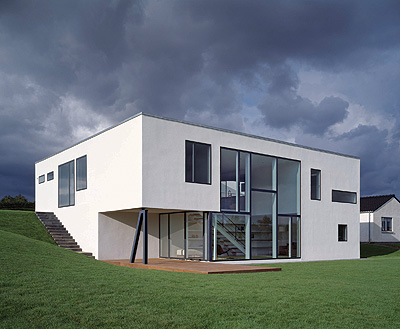 "Over the last five years we have seen the market rise to an exceptionally high level – there has been a lot of activity. I think this is because we Danes have got more
money, the population has grown and there are more single-person households than there ever have been. Living alone is an increasing trend in Denmark – we are leaving our parents younger and living longer. So, the need for more houses is growing and I believe this will continue over the coming years."
With thoughts to the future, he says: "I think our method is where the future lies in Denmark because energy demands are increasing. We have carried out tests that prove having a concrete wall, be that lightweight or not, in the inner wall, gives you a lot of possibilities to save energy because the heat is retained within the wall.
"Our aim is to maintain our strong position in the market. We have wide geographic coverage in Denmark and are the preferred suppliers in most instances. We want to continue to be the preferred suppliers. In addition, what is very important to us is that we are price competitive; for this reason we started our EXPAN lean programme.
"We remain competitive by having the lowest production costs and EXPAN lean plays an important role in that. We are working intensely on keeping costs down and we can see the results already."
EXPAN lean – a process of continual improvement – is a focus right across the business. The system has been developed internally and is continuously fine-tuned to be robust, flexible and efficient. The operation organisation, which includes construction, production and assembly departments, is designed to achieve a high degree of flexibility and profitability. Through EXPAN lean, the company is adding value and raising quality standards, satisfying the customer.
"EXPAN lean started in 2004, so we have been working with it for over two years. We can see that we are more effective in our designs and in our production right now. The reason we started this whole process is that we saw there were some ideas behind the lean philosophy that we could use in our own production. I think we needed to have a push in our organisation and introduced the lean philosophy to do that. Looking back, I think it has been a worthwhile process," Paul concludes, "which will secure that we reach our strategic goals for the coming years."