How drones can benefit your business and make your construction sites safer. By David Hose
Drone technology is revolutionising industrial inspections—especially in the construction industry. PwC projects that wide-spread implementation of drones into the construction and manufacturing sectors will cause an £8.6 billion uplift in GDP. Goldman Sachs forecasts that drones will be most successful in the construction industry, with a total addressable market of $11,164 million. Using drones in construction projects can save your business money: PwC found that infrastructure companies could save up to $45.2 billion through drone usage.
While drones can certainly deliver significant commercial value to your business, they can also make it safer. Here's how using drones to conduct inspections results in safer construction sites:
Drones capture high-precision imagery that allows you to identify issues you previously couldn't see
Drones offer construction companies newfound visibility into their job sites. Companies that regularly survey their sites with drones have access to 360-degree images, orthomosaics, and multi-angle image series captured over time. That data, also known as drone capture, enables construction professionals to make observations that would not be seen from the ground or during a standard site inspection. Drone captures makes it easier to spot mistakes, eliminate defects, and resolve issues as they occur. It can be helpful to think of drones as extra sets of eyes. Regular aerial inspections with drones mean more eyes on-site—and that results in fewer mistakes, fewer violations, and higher quality work.
Drone imagery serves as a project safety record
Drone imagery is captured at regular intervals, which means it creates a comprehensive record of project safety over time. Teams can quickly review images to investigate when and where a safety hazard began. They can also use drone captures to keep track of mitigation efforts.
Drone captures provide safety officers with a visual snapshot of available equipment, workplace safety practices, and any hazards that may exist on site. Are your workers using harnesses? Are they wearing hard hats? Do you have railings installed in the required areas while working at height? Are you maintaining proper entries and exits? These questions can be answered by reviewing drone captures.
Drone imagery can help you minimise rework
Rework is an expensive part of the construction process. Roughly five per cent of most projects' overall contract value is made up of rework activity, and time overruns are even costlier at around seven per cent of total work hours. Rework also extends project timelines, which prolongs any existing safety hazards and exposure to risk.
But rework can be reduced when errors are pinpointed and resolved quickly. By using drone captures to identify errors and report on productivity pitfalls, construction companies can ensure that a project is meeting predefined standards. The result: less rework, less risk, fewer expenses, and safer site. Keep your personnel safe—send a drone for safe inspection at height
According to the Health & Safety Executive (HSE), falls from height accounted for 26 per cent of workplace deaths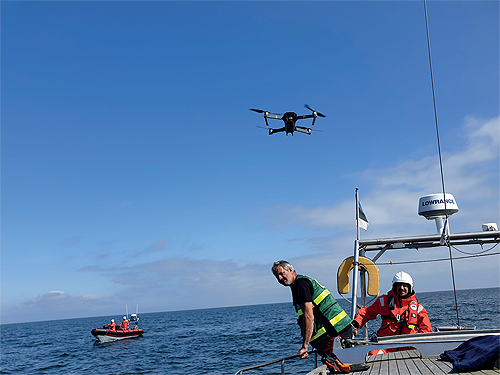 between 2014 and 2019. Workers currently scale hard-to-reach areas of a building site while carrying equipment such as tablets and cameras. Drones can be used to conduct inspections in these locations, meaning that workers no longer need to scale those structures. Send a drone instead and minimise the risk to your workforce.
A record of work helps your company avoid litigation
Construction disputes are costly and time-consuming: according to the Arcadis 2019 Global Construction Disputes Report, disputes cost global construction companies an average of $33 million in 2019 and took approximately 17 months to resolve.
Drone captures can help your company settle disputes quickly and avoid litigation. Drone captures serve as photographic evidence for your case and allow you to revisit site data relevant to the dispute, such as whether materials were delivered on the correct day or in the right quantity, or whether work was completed correctly and on time. The more evidence your company has, the easier it is to resolve disputes, which means less money you'll have to spend on legal fees.
Make airspace safety a top priority
Construction companies can only reap the benefits of drones when their drone operations are safe and compliant. In order to guarantee responsible drone use, construction industry drone operators must first ensure that they are in compliance with all public airspace regulations and corporate policies and that they fly safely near job sites.
Participating in the airspace system requires operators to follow all national airspace regulations and comply with any airspace advisories or temporary flight restrictions. Operators should plan their missions according to real-time, contextual airspace information. They should also monitor each drone flight's conformance to its approved flight plan.
Create company drone use rules
Consider how your company will manage flights over construction sites. You may want to use custom geofences to create drone operation zones and assign them specific geospatial and operational rules.
Once you put those rules in place, you'll need to be able to review, authorise, or auto-reject flight plans based on those rules and other factors such as operator type, flight geography, or time of day. Also, consider how your company will establish different flight permissions for managers, employees, and contractors and generate a consistent record of flight history, data, and compliance.
Drones are the next frontier in construction. Making safety your top priority as you integrate drones into your workflow will allow your company to revolutionise its inspections with greater project visibility, improve site safety, and generate valuable business insights.
David Hose is CEO of AirMap, the leading airspace and dataflow automation company serving the drone economy. AirMap connects airspace authorities, enterprise operators, and industry developers with digital solutions for scaling safe and efficient drone operations in low-altitude airspace. AirMap's UTM and U-space solutions are deployed in the Czech Republic, Japan, Singapore, Switzerland, the United States, and available in over 30 countries. The company serves a global community of over 250,000 pilots and 2500 registered developers.
For more information, please see www.airmap.com