Raise the roof
A provider of canopies since 1982, Fabric Architecture leads the way when it comes to installing tensile fabric structures for customers across the globe. Known for the innovative approach it takes when it comes to finding solutions for clients, the company also offers expertise, knowledge and a range of optimum quality, high value designs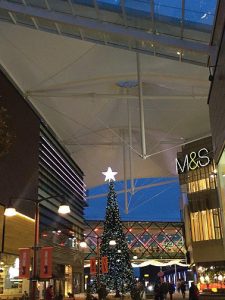 Having completed thousands of projects since its inception, the UK headquartered company, which also has divisions in North America and the Middle East, is able to deliver ground-breaking solutions for large-scale international tensile projects. Dedicated to improving the world of fabric architecture, the company stands firm on its commitment to never compromise when offering value for money and quality. Renowned for creating unique and inspired design solutions, the innovative firm pushes its materials further to find the best, most efficient result for every client.
Benefiting from in-house design, engineering and materials expertise, the company's competent and knowledgeable team strive to exceed expectations by challenging the status quo. By remaining flexible and innovative and focusing on integrated design-thinking, the company is able to deliver an insightful service and tailored, on-time solutions.
With thousands of installations around the world, the company also offers 37 pre-engineered designs in an array of sizes. Within Fabric Architecture's portfolio is the iconic Pagoda, a truly modular canopy that can be extended in infinite directions; viewed as the ultimate definition of 'flexible,' the Pagoda can be used as shelter for any application and has been installed more than 3000 times across the world.
When specifying material to use in its projects, Fabric Architecture always selects appropriate fabrics for the application in which a structure is used. PVC coated polyester has a lifespan of 20 years, offers 100 per cent protection from harmful sunrays, offers light transmission of up to 20 per cent and is waterproof. Meanwhile, Fabric Architecture's silicone glass weave has a lifespan of 30 years, filters UVB and UVC and allows UVA to enable plant growth; it has a light transmission of up to 40 per cent, is waterproof and fully recyclable. The final option available to customers is shade cloth, which has a lifespan of ten years, offers 80 to 90 per cent protection from harmful sunrays, offers light transmission of up to 35 per cent and is showerproof; unlike the other two options, the shade cloth is not recyclable.
From start to finish, Fabric Architecture offers its customers a turnkey service, leaving them with the challenge of choosing a structure out of its stunning and diverse range. Once the decision has been made, the company is proud to run a tight ship that ensures a prompt, efficient service with minimum disruption. This way of working guarantees the structure will be installed within ten weeks of the order being placed and also provides customers with confidence in the ISO 9001 accredited company's integrity.
Proud to deliver the best possible solution to each customer's requirements, Fabric Architecture's efforts have not gone unnoticed in the industry, with the award winning company receiving accolades from the British Design Award to IFAI's International Achievement Award. Being held in such high regard has naturally led to an increase in demand for its superior services, with the company recently working on major projects such as Westfield Shopping Centre, Dubai Leisure Complex, Dublin Gateshead Stadium Roof and the FIFA Fan Zone; the latter of which was constructed in Doha Qatar for the 2014 Brazil World Cup.
Holding crowds of up to 2000 people at a time, the purpose-built FIFA Fan Zone featured a commanding fabric retractable roof system that was designed, engineered and constructed by Fabric Architecture. With outside temperatures reaching up to 45 degrees Celsius, the design had to respond to local climate challenges while also ensuring spectators were comfortable; to find a solution to this challenge, the company created a large-scale retractable roof system with integrated climate control alongside project engineers at Arup and SCX Special Projects. Manufactured off-site, the 112 tonne roof was then lifted onto its four columns in a perfectly synchronised operation through the use of four 250 tonne cranes. Thanks to a successful collaboration and the innovative design philosophies of Fabric Architecture, a new type of construction that could be cooled from 45 degrees Celsius to 26 degrees Celsius was taken from idea to reality.
Having provided innovative shelter solutions to people across the globe, Fabric Architecture has built a strong name for itself in a wide range of markets around the world. With a long list of satisfied clients behind it, the quality focused, customer-centric company will be looking to the future with confidence.
Fabric Architecture
Services: Innovators in tensile fabric structures