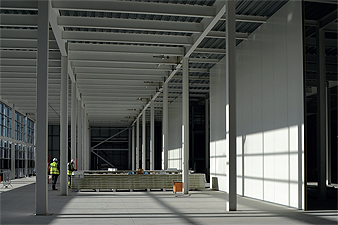 The firewall division of the Gloucester firm was recently contracted to provide the two-storey building with almost 5000m2 of extensive certified fireproof separation walls.
VMIC was established to provide the UK's first strategic vaccine development and advanced manufacturing capability. It has taken a leading role in advising Government teams on vaccines manufacturing in response to Covid-19. Demand for the site accelerated when the pandemic started, construction was backed by UK Government and Prime Minister Boris Johnson visited the site in September. It was around this time that ISD was selected through a tender process as the supplier of the fireproofing elements of the building.
The VMIC facility is due to open in summer 2021, a year ahead of schedule.
Brett Harrington, Manager of ISD Solutions' Firewall Division, said: "This was an exciting opportunity to be involved in a project of such importance. The compressed timelines have added to the challenge but we have sufficient resources in house and quickly mobilised our design and project management teams. Working with our supply chain we were able to support the synchronisation of material ordering and delivery, even while the design phase was ongoing."