For 58 years Ferrobeton has been at the forefront of construction and civil engineering in Europe, with a rich history and an expansive and diverse project portfolio
A concrete foundation
For 58 years Ferrobeton has been at the forefront of construction and civil engineering in Europe, with a rich history and an expansive and diverse project portfolio
The name Ferrobeton first appeared during 1991 when a Dunaújváros based factory split from the BVM Concrete element group to begin a separate venture. The full heritage of the company however, can be traced as far back as 1955 during a tenacious moment in Hungary's history when the government of the time decided to construct a large iron factory to support the nation's industrial sector. In a bid to spur the growth of central Hungary's manufacturing capacity a new town, Dunaújváros began construction during the same time. It was these events that would drive the formation of the predecessor of Ferrobeton as it is recognised today.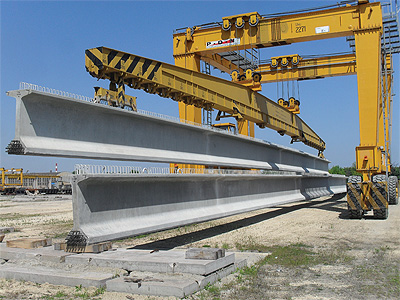 Ferrobeton celebrated 50 years in operation during 2005 and as of 2008 is part of the CRH Group, which employs as many as 76,000 staff worldwide in 3500 locations throughout 35 nations. Ferrobeton itself currently has a core work force of around 430 and works closely with trusted temporary workers during peak capacities and larger projects. It is one of Hungary's largest concrete and reinforced concrete fabrication companies and has completed a far-reaching breadth of projects within the residential, commercial and infrastructure sectors. Solutions are provided in both turnkey design applications and standardised prefabricated products depending on the needs of the client.
Commenting on the diverse nature of the projects that Ferrobeton has executed, CEO Zoltan Vass states: "We build factories, halls, storage and warehouses as well as shopping malls, schools, football stadiums and many other types of construction. Ferrobeton has been involved in projects with companies like Audi, Hankook, Mercedes and Lego in Hungary encompassing over 70,000m3 of concrete."
Infrastructure is a key market for Ferrobeton, where it produces beams and bridge parts for motorways as well as railways. Telecommunication applications have also added to the portfolio of projects undertaken by the company, which has benefitted from its ability to service multiple markets in the face of the global economic downturn. While the slowdown in construction throughout Europe saw its output of concrete elements fall from 140,000m3 to 70,000m3 in the years following 2007, investment in infrastructure by the Hungarian government has enabled Ferrobeton to weather the crisis. Its industry-leading reputation in the field of concrete fabrication marked the company as an obvious choice in renewing the nation's public infrastructure and as such the company today enjoys capital of around 2.5 BN HUF and an annual production, not including ready mixed concrete of around 70,000m3.
From its base in Hungary, Ferrobeton provides services throughout Europe. While eastern regions including Slovakia, the Ukraine, Romania and Hungary represent its traditional customers the company is keen to provide solutions to its clients wherever they are. For example, within its native Hungary it has been involved in the construction of facilities for some of the world's most recognisable brands, the improvement and building of highway bridges across the country and the supply of the prefabricated concrete structure of the prestigious Ferencvárosi soccer stadium in Budapest. Further afield in Romania, Ferrobeton is proud of its Mihai Bravu – Vacaresti overpass bridges and in the Ukraine the prefabricated structures of the Arena Lviv soccer stadium.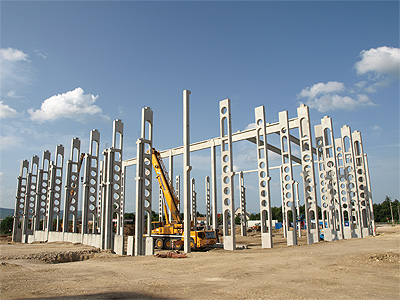 Serbia is becoming an increasingly important market for Ferrobeton and as it develops its strength in the region the company will rely on its proven track record and comprehensive industry experience to help it deliver projects to new customers, as Zoltan explains: "Our work is our marketing. You will hardly find a project with prefabricated structures where we are not involved. We are just at the beginning of our Serbian expansion and last year we created Ferrobeton Serbia with a small sales office. We are currently learning our way in the Serbian market and are looking to build extensive client relationships."
Strong customer focus represents one facet of what gives Ferrobeton its competitive edge; this along with its ability to innovate bespoke solutions in tandem with prefabricated structures, interoperability and high production capacity makes it a leading player in the concrete market. Additionally, the advantageous geographic location of its factories leads to a reduction in freight costs for both ready products and raw materials. "Our strong production capacity allows a reduction of the lead time of projects and that is a significant competitive advantage," says Zoltan. "Of course the support of the CRH Group in terms of finance and expertise allows for a calm operation."
Ferrobeton constantly seeks to modernise its product portfolio to deliver market-leading designs to its clients. A recent example is the application of a 44 metre bridge beam, able to span a six lane motorway without intermediate supports. The benefits of this design are that it is more cost effective all in all, needs no supplementary protection due to intermediate columns and results in a shorter construction time.
Moving forward, Ferrobeton has a solid foundation on which it can build a solid platform for growth. Having restored profitability in the face of the global downturn throughout the construction market, the company will use the lessons and indeed the strengths it has taken from the crisis and seek to extending its holdings within its current markets and beyond.
Ferrobeton