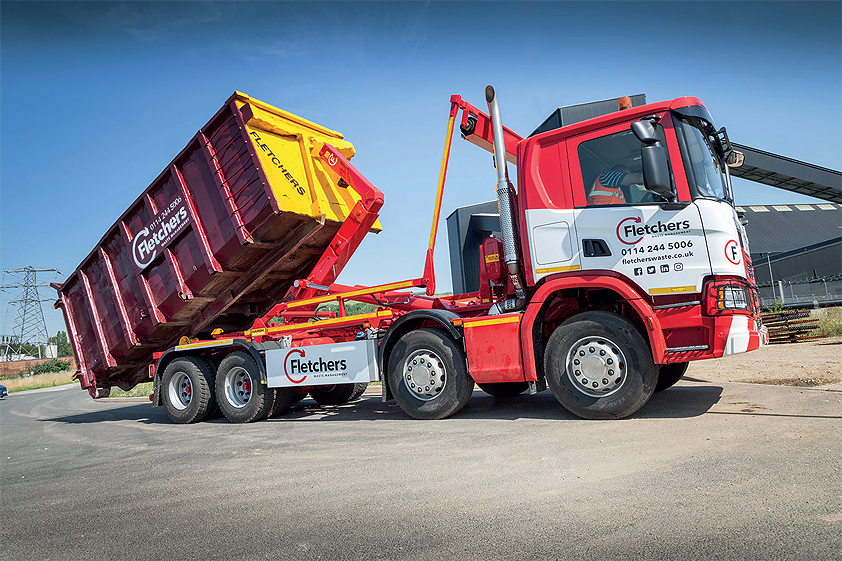 Fletchers Waste Management
Sustainable success
A provider of full-service local and national waste management solutions, Fletchers Waste Management is an experienced, customer-focused organisation enjoying a period of significant growth
The success of Fletchers Waste Management can largely be attributed to three key factors an inside knowledge of the waste sector, a genuine desire to put customers first, and a willingness to invest in an experienced and well-managed supply chain.
Founded in the early 1980s by Richard Fletcher, who was more recently joined in the business by Steven Lythgoe, Fletchers began life as a scrap metal business before growing into a substantial, multi-site organisation focused predominantly on waste. Today, Fletchers is one of the leading waste management and recycling companies in the UK, offering a host of services, including skip hire, waste brokering, commercial, industrial and hazardous waste management, and the collection, processing and recycling of ferrous and non-ferrous materials.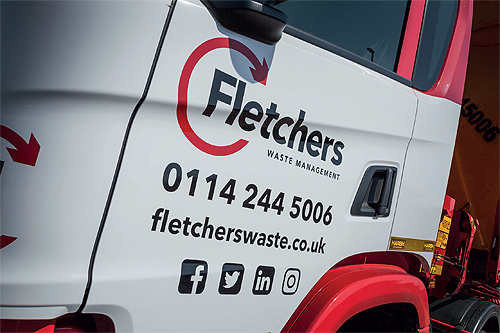 Understanding waste
Over the last few years, a program of diversification has been gathering pace at Fletchers and has seen the company launch new brands, such as Fast Skips, a national domestic skip brokering service, and The Soil Lab, a complete soil sample testing service. With the company growing, Fletchers recorded a major milestone in its history in January 2020 when it was the subject of a management buyout led by Gavin Leverett. Despite the difficulties presented by the Covid-19 pandemic, Gavin and his leadership team are proud of the way the business has performed since the transition.
"As a business with almost four decades in the industry, we know the waste sector from the ground up," says Gavin, now Fletchers' Managing Director. "Alongside our brokering services, we have a waste yard with a picking station and so, unlike some of our waste brokering competitors, we know what it takes to bring waste in, process it, handle it and dispose of it. It means we can empathise with our customers on the brokering side and they can rest assured knowing that we understand what makes a waste business tick.
"2020 has certainly been a challenging year, but in the face of the Coronavirus pandemic we have had the confidence to invest. We have recruited a number of drivers, spent money on new plant and machinery, had four new trucks delivered, and made a key acquisition, which I hope is the first of many."
As Gavin notes, Fletchers recently purchased Retford Waste Limited, a skip hire company based in Nottinghamshire. A long-established business with a good reputation in its market, Retford Waste is ideally located to help Fletchers grow its services across Lincolnshire and South Yorkshire.
"As a local skip and waste management business providing a service in a certain geography, one of the things you are limited by is the trucks and how far they can efficiently travel in a day," Gavin states. "Acquiring Retford Waste gives us more geographic reach across Worksop and Doncaster. It also means that some of our national customers, now have a larger geographic area to tip into, so it not only improves our local relationships, but our national relationships too. At present, we are investing in new trucks, a new website, and a stronger social media presence at Retford to help the business grow."
Customer centricity
Following the success of the Retford project, Gavin reveals that Fletchers is likely to benefit from further investment in the coming years. As well as investing in the company's fleet, Fletchers will look to replace its picking station, add to its workforce, and perhaps even make another acquisition. In short, the company's focus will be on sparking what Gavin terms 'profitable growth'.
"We are not deal junkies, but there are a couple of businesses that I think would be a really good fit for us, but the whole dynamic needs to be right. We are not going to do a deal irrespective of cost and outcome. It is all about making sure the whole thing works for all parties," Gavin explains. "Still, I would certainly like to see Fletchers get bigger and further increase its geographic reach. As a waste processing business, I would like us to have a couple more locations, but the key thing for me is to grow our national coverage for the brokering and domestic side of the market. It is growth, but it is growth for the right reason. At the heart of everything we do, we need to continue to put the customer first because we are nothing if we don't service our customers in the right way."
Customer centricity has always been an important part of the way Fletchers operates and the company prides itself on fast, efficient service, with a guarantee of on-site assistance within 24 hours of contact from a customer. More than just a service provider, Fletchers provides its clients with a complete solution, both locally and nationally, and seeks to do so in a personal way.
"Only the other day, a customer called us at 3pm wanting to hand over a site that still contained two of our skips," Gavin recalls. "As you can imagine, by 3 o'clock all our vehicles for the local area are routed for the next day, but we found a solution that allowed for the removal of the skips and the handover their site because we are experienced and confident in our abilities. I think it shows how dedicated we are to putting the customer right at the heart of our everything we do. We strongly believe that if one of our customers has an issue in waste, we can provide a solution for them."
Focus on sustainability
In order to support its customers effectively, Fletchers has built a strong team of employees that know, understand and believe in the company's values. Considered a key supplier throughout the
pandemic, Fletchers remained open during both UK lockdowns and has even been able to hire new sales and supply chain staff to work with clients and support the company's relationship with its national supply network. Patient, resilient and hardworking throughout 2020, Fletchers' workforce has driven the company to new heights in a year of major upheaval, Gavin says.
"This year, we would not have realized such growth and maintained the core business if it was not for our people. That is everybody – from the staff out there picking waste, to the guys driving trucks, to the people cleaning the offices; they are all an integral part of this team and I am so grateful for everything they have done," Gavin declares.
With 2021 on the horizon, Fletchers is now ready to look to the future. Having achieved £11 million in turnover before the Covid-19 pandemic, the company is hoping to go beyond that in the New Year, as well as increasing its focus on sustainable practices and eco-friendly waste solutions.
"I am very passionate about sustainability and I think the whole industry needs to do more in that area," Gavin remarks. "We recover a huge amount of wood that goes for biomass into the waste to energy sector and that is something I am proud of. We are always looking at new initiatives though and we are currently trying to work with the local council and one of their suppliers to bring in more green waste. I think that, going forward, everyone will see the environment and sustainability much more clearly at the heart of what we do."
Within the next five to ten years, Gavin hints that he wouldn't rule out the business being sold to a larger player or indeed being subject to another management buy-out, but for now, the firm will keep concentrating on doing what it does best. "We are a waste processing business that is looking to grow and support its customers," Gavin asserts. "That idea will always be at the heart of everything we do at Fletchers."
Fletchers Waste Management
www.fletcherswaste.co.uk
Services: Skip hire, soil testing and waste management solutions