Forbo Eurocol, based in the Netherlands, is a leading manufacturer and supplier of technical products for renovation and new construction projects
Seal the deal
Forbo Eurocol, based in the Netherlands, is a leading manufacturer and supplier of technical products for renovation and new construction projects
Specialising in tile and floor covering adhesives, grout materials and leveling compounds with all ancillary products, the business manufactures a complete range of adhesives for the installation of floor and wall coverings. Since its establishment in 1972, Forbo Eurocol BV has been part of the Forbo Group, which through an international network of 24 production and distribution sites as well as six fabrication centres and 40 sales organisations in a total of 36 countries worldwide provides a powerful backing for the business. Forbo is headquartered in Baar in the canton of Zug, Switzerland, and is quoted on the SIX Swiss Stock Exchange. "As part of the group we have developed close relationships with sister companies, particularly Forbo Flooring Systems, with whom we work closely in the UK market.
"Being part of a strong and healthy group brings the benefit that we are well known, not just in the UK, but also in Europe with a product range that offers a solution for every floor. It provides opportunity to invest in new products and innovations," says Rob Eijgelsheim, sales director. Although the range of floor coverings available to the market today is vast, each one is linked by the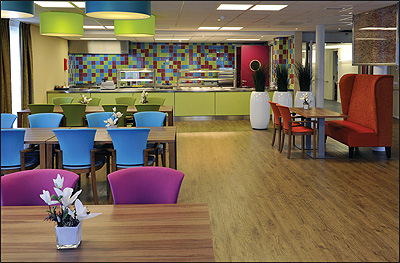 common requirement to utilise levelling compounds and adhesives as necessary. "Providing this combination gives us a powerful hold on the industry," he adds.
For creating sound and even sub-floors, Forbo offers a complete and well-balanced range of primers, damp proof membranes, repair mortars and leveling compounds, suitable for all sub-floor compositions and conditions. It also develops and produces a full range of professional flooring adhesives for the installation of a wide variety of floor coverings, such as linoleum, PVC, cushion vinyl, rubber, carpet, needlefelt and carpet tiles.
As concern for the environment deepens within industry, every business works towards integrating solutions that adhere to such concerns. For Forbo, this is very much an aspect of its operation, as Rob points out: "We are very busy, developing environmentally friendly solutions and recycled products, with more being introduced in the opening months of 2015. Such factors are a daily focus for our business, and product development is an ongoing task. Through our R&D department we are driving forward the quality and capabilities of our portfolio.
"Our team is skilled in inventing and innovating all kinds of products for sub flooring, not only for the floor finish. It is through seeing the overall picture that we are able to achieve better results. One focus at the moment is in products that hold a lower water factor, ultimately requiring significantly less water to make the product useable."
Peaks & troughs
As business grows comfortably, memories of the collapse of the construction industry remain in thought, but maintaining a positive mentality the team continues to concentrate on the market, ensuring that its service is of greater appeal than its competitors, as Rob explains: "Whilst undertaking business with our partners and installers we go to every length to be sure that we help one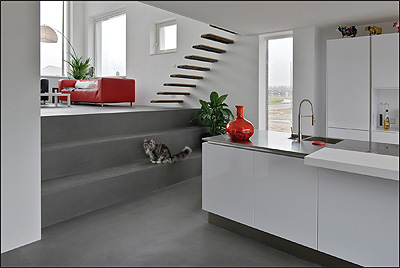 another to get through the peaks and troughs that the industry is subjected to. The rough years are counteracted by innovating products to make sure they are better, or with different specifications than our competitors. It is through this we are able to maintain an advantage in the market."
With new products to be launched in 2015, further expansion of the capabilities will allow its customers to push new boundaries with construction projects. One product, of concrete based design, is essentially a paste, applied in a two-layer system. A simple finishing lacquer is applied and the result is a surface that has grown significantly in popularity in the last few years across much of Western Europe. A second product, an artificially based solution, with very quick drying properties is expected to dramatically change the speed at which installations can be completed. "The ultimate goal for our business is to develop solutions that make a difference to the installers," insists Rob.
Efficient & fast
Present construction is characterised by efficient and fast building systems, and professionals within the industry are frequently confronted with moisture sensitive building materials in bathrooms. An adequate protection of all types of sub floors can prevent damage of tile work and deterioration by moisture penetration. Furthermore, the quality and the preparation of the surface are very important for a durable high quality result, complementing the right choice of adhesive.
"As we begin the New Year, driving forward both existing and new products will play a big part of our strategy. Alongside that we will be pushing our building division into the UK, with a greater range of products suitable for bathroom type environments. At the moment that area of our business is only within Belgium and Holland, but the UK market offers opportunities for expansion. Innovation has been the biggest factor in our success to date and holds the key for opportunities ahead. Addressing the environmental situation with combinations that benefit the installer and our clients is the right method to ensure we remain in front of our competitors," concludes Rob.
Forbo Eurocol
Services: Manufacturer of tile and floor covering adhesives, grouts and levelling compound