Fosroc is a world leader in specialist chemicals for the construction industry and is making significant investment in the development of products in Europe
Constructive solutions
Fosroc is a world leader in specialist chemicals for the construction industry and is making significant investment in the development of products in Europe
Fosroc is one of the world's leading producers of chemicals for the construction industry. The company has 70 years of experience in supplying specialist chemicals to the construction industry and in 1991 Fosroc merged with Expandite, another successful chemical company, itself established in 1934. The company has a wide range of capabilities including; concrete repair, corrosion control, water stops, waterproofing membranes, joint sealants, grouts and anchors, concrete admixtures and highway maintenance. This ISO9001-accredited company is dedicated to delivering innovative products and services to meet the needs of the ever-evolving construction business. "We probably provide the widest range of products for the construction industry," Philippe Rose, vice president of the Europe region, explains: "Our biggest industries in continental Europe are in the cement and concrete industries while in the UK we are prominent in the construction sector in general. We are very strong in water proofing (e.g. Proofex Engage), repair and corrosion control products."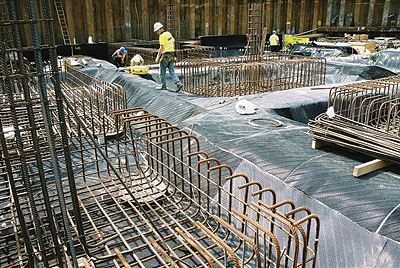 Fosroc is forever looking for new markets and countries in which to launch its superior range of products, Philippe explains the company's aims: "We're looking to expand into Eastern Europe, focusing on the fast growing countries of the Baltic States, Czech Republic, Poland, Romania, Bulgaria and Hungary, as well as the more mature markets. Our strengths are in the fact that we offer solutions as well as specific products. We can enter a work site with a portfolio of products and help construction engineers, architects and designers find the right solution for their problem. In waterproofing for example, we can offer computer-aided design (CAD) packages and therefore a complete design solution for the customer.
"We pride ourselves on the close relationship we hold between our strong employee network and customers. Our sales people will visit a site to meet the customers, architects and designers, gain approval of the products and exact specifications and then customers can go to local distributors to get their unique product. It's a very customer orientated system, making the process as convenient and as accessible as possible for them."
The organisation is involved in projects for the 2012 Olympics in London and is making significant investment in developing new products. Philippe explains Fosroc's developments and the challenges it's facing: "We're investing heavily into the innovation of new products, advanced equipment and new technology. Most of the research is happening centrally in the group but we also have local development centres to fine-tune products to meet local requirements. We are working on a number of projects for the Olympics and these will accelerate over the next two years.
"Owing to the Games, and generally around the London area, we have employed a number of new employees to build a stronger business team. In addition to this, we have launched a new range of Galvashield corrosion solutions products; this is one of our key product areas and I think we are probably the world leader in corrosion protection. This new range of applications is to help protect buildings, either new builds or refurbishment projects – this is a very unique product that can give a 20 year life to the repair of structures. Furthermore, we have a large number of projects in Spain; we are involved in infrastructure, tunnelling, high-speed train and water treatment projects with most of our new projects being in the infrastructure industry.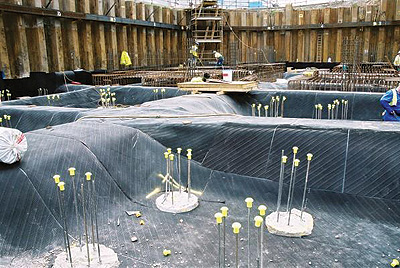 "The industry conditions change from country to country and it is clearly at a turning point at the moment, with a significant slowdown in the housing market, particularly in Spain, and the financial problems occurring across the world," comments Philippe. "But we are still strong in the market due to our broad portfolio of specialist products. As we're not significantly exposed to the housing industry in the UK, we still hold a strong position in the repair and infrastructure sector of the market. It is the same situation in Ireland, France and the rest of Europe, so only our business in Spain is feeling the economic pinch.
"However, as an industry we're facing developing challenges. The first is the oil situation because we have seen such a huge price increase in crude oil over the course of 2008, the effect of which will continue to be felt in downstream products over the next six to nine months. It is imperative we increase prices and optimise our supply chain, to be able to continue to be innovative and offer high-quality products. Secondly, there is the question of whether the market will continue to deteriorate as it has in Spain, though I am convinced governments will step in and make big investments into infrastructure that will help the industry."
Though the market has its challenges, Fosroc's premium market position and unique product base ensures it will still be successful in the future.
Philippe remains positive: "We are in a unique position to develop our business in a range of construction applications. There is room for us to grow in many European countries by applying the same concept of quality that we do in the UK, and by growing and developing our collection of products."