By combining practical solutions, the latest piling plant and highly skilled people, Foundation Piling continues to go from strength-to-strength, achieving turnover in excess of £20 million per year
Reaching new heights
By combining practical solutions, the latest piling plant and highly skilled people, Foundation Piling continues to go from strength-to-strength, achieving turnover in excess of £20 million per year
For Shropshire-based Foundation Piling, 2017 was a good year on all fronts, with market confidence proving remarkably buoyant for the services offered by this leading piling and geotechnical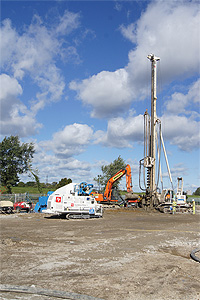 solutions provider. "While it is fair to say that market conditions have been somewhat fluid in recent times and we have found that where there has been something of a drawback on certain types of projects, high value housing developments in the south of England for example, we have been able to offset this with important civils, highways and infrastructure projects," explains Chairman Mark Keaveny.
Originally formed in Birmingham in 1980 as West Midland Piling and Foundations Ltd, the company is now recognised as being a leader in the delivery of innovative designs and techniques for those seeking solutions to complex geotechnical engineering schemes. The result of its efforts has seen Foundation Piling awarded work across a number of vital projects around the country, from Milford Haven to Middlesborough and from the Shetland Islands to the Isle of Wight. Current undertakings involving the company include the 'smart motorway' upgrade of the M6 near Manchester and the construction of the A14 Huntingdon bypass.
When Construction & Civil Engineering last spoke to Mark, at the turn of 2017, the company had recently expanded into a new purpose built facility near Oswestry, Shropshire, consisting of office accommodation, maintenance and fabrication workshops, and storage areas. This was a move designed to facilitate the growth of the business and has since been supported by further investment.
"One of the things we have always made sure to do is invest back into the business, putting around £2 million to £3 million into plant and equipment year-on- year," Mark states. "We now operate a fleet of 13 CFA rigs and nine dual purpose rotary rigs, providing us with considerable CFA capabilities and the ability to work down to a maximum depth of approximately 36 metres. Additionally, we have also invested in tracked combination agitators and pumps."
Unique application
The latter development is somewhat significant as the use of such agitators are able to answer particular challenges faced by main contractors. "One of the big responsibilities these contractors have when operating CFA projects is that they need to provide a specific location for concrete storage within an agitator, as well provide a loading ramp so that a ready-mix truck can back up to, and discharge directly into, the agitator," Mark explains. "In order to facilitate this, a pump line needs to be installed running from the pump to the piling rig, and this can often be susceptible to damage from on-site traffic. This also effectively takes away the main contractor's freedom to operate their site as they wish as they have to focus on looking after that pipeline.
"What we have done to respond to such a problem is adopt a set up that incorporates a pump mounted onto the back of an agitator that is self-propelled on tracks. This allows us to discharge concrete from the pump straight into the agitator, hold it in place until it is needed, and then simply reverse the flow process as required. This system eliminates the need for ramps and reduces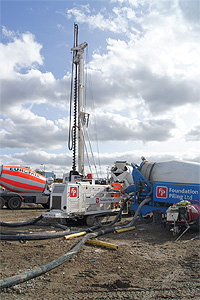 the number of concrete pipelines crossing all over site, allowing the operator to be entirely self-sufficient. To date we are unique in operating this application and it has helped to generate strong interest from main contractors who are keen to put it to use on their projects."
Complex contracts
The aforementioned agitator and pump system is not the only development that is helping to make Foundation Piling an ever-more attractive proposition to work with. The company has always been expert when it comes to low headroom piling and it is now building upon this to work with larger diameters and at greater depths. "We are developing the capacity to produce up to a 2.5 metre diameter pile through depths of 20 to 30 metres in 5.9 metre headroom," Mark says. "This will make us one of only two or three contractors in the UK to possess the ability to produce high torque, large diameter piles in areas of restricted headroom. This has also opened the doors for Foundation Piling to take on increasingly large, complex contracts such as bridge replacement and highway replacement works."
While he is all too aware that the business climate of tomorrow is subject to external factors such as client confidence and political stability, that are outside of the company's control, Mark is quietly optimistic about what the months ahead could bring. "We achieved a turnover of around £20 million across 2017 and we hope to increase this to over £22 million in 2018," he reveals. "In this industry, money doesn't like to stand still and as one market closes you need to be able to transition to another. We have always been nimble as a business as this has allowed us to flourish in all conditions.
"At the same time, it is important that we recognise that the way forward is the way that we have always gone, and that is to continue to invest in good quality new plant and in good quality people. If you put those two things together you have a winning combination."
Foundation Piling Ltd
Services: Independent piling and geotechnical engineering