Having strengthened its fleet in 2018, Foundation Piling continues to win high-value projects across the UK, thanks to the versatility of its proposition and commitment to providing tangible added value to client projects
Digging deeper
Having strengthened its fleet in 2018, Foundation Piling continues to win high-value projects across the UK, thanks to the versatility of its proposition and commitment to providing tangible added value to client projects
Wise investment in developing its fleet has arguably been the principal reason behind Foundation Piling's steady growth in recent years. Exactly a year ago – when one of UK's largest independent specialist piling and geotechnical engineering contractors last appeared in our magazine – the company had just taken delivery of a new Soilmec SR95 rig. Having proven its value over the course of 2018, a second rig was ordered and delivered in January of this year. Each machine is paired with a self-propelled track mounted Soilmec SKR 110 cubic metre per hour pump.
"These machines are a great addition to our fleet," said Mark Keaveny, Chairman of Foundation Piling. "We prefer dual capability machines as offered by Soilmec in their SR range, and with a dig depth of 79 metres in rotary and 34.5 metres in CFA, these rigs place us at the top end of the UK market. In addition to their conventional CFA and rotary capacity, the SR95's can also construct CAP (Cased Auger Piles) to a depth of 32 metres with a maximum diameter of 1200 millimetres, although not currently popular in the UK this system comes into its own where Secant piled walls need to be constructed to tight tolerances.
"With the addition of the two SR95's to our fleet we now have capacity to undertake larger contracts with shorter duration programmes. Current city centre developments require deep basements to maximise return on the high land cost and we expect this trend to continue," Mark explains. "As piles and piled get bigger and deeper we are anxious to ensure we are able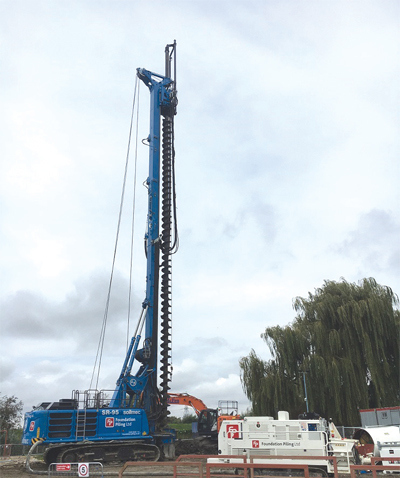 to respond to the requirements of our clients and their designers."
Exciting projects
Together with the new rigs, Foundation Piling has also invested in three new track mounted combination pump and agitator units which are increasingly popular with clients. "CFA piling requires a constant supply of concrete," Mark continues. "Traditionally, this would require skid mounted agitators and static concrete pumps with long pump lines between pumps and rigs, and the consequent possibility of damage to the pump lines by other site operations. Relocation of the equipment as works progress would also lead to unnecessary interruption of the piling works. Combining the agitator and concrete pump on one self-propelled unit allows us to travel the piling rig and concreting equipment as a single compact unit thus reducing Main Contractor attendance and also reducing the risk of damage to high pressure concrete lines by other heavy equipment operating on site. We are well aware of our clients' requirement to continue other operations alongside our own and see the use of these machines as adding value to our own offering, and contributing to completion of works within what is often a demanding programme. The risk of damage to pump lines is reduced by up to 90 per cent, thus reducing down time and risk of injury to site operatives."
Although the majority of Foundation Piling's new machines are suited to larger projects, the company has by no means turned its back on the challenges posed by restricted headroom and restricted access sites. Not long ago, it invested in bringing the first ever Tescar CF3 mini rig to the UK. Used to construct rotary bored piles, the machine has the capacity to construct piles to a maximum depth of 25 metres in headroom as low as 3.6 metres. The company is currently negotiating the purchase of a machine that will be able to dig 27 metres deep, in 5.5 metres headroom, to a maximum diameter of 1000 millimetres.
Throughout the years, Foundation Piling has been engaged in a high number of projects, large and small throughout the UK. Renowned for its reliability and ability to provide excellent added value to any scheme, the company has continued to attract the interest of engineers and contractors. Most recently, Foundation Piling has been involved in the development of one of East London's most exciting projects.
Located on the west bank of the River Lea, the Orchard Wharf Development, when completed, will consist of four structures of 24 storeys, each with one storey below the ground. The buildings will feature 338 one-, two-, three-, and four-bed units with 33 underground parking areas.
Mark reviews Foundation Piling's role in the development: "We are involved in the construction of a deep secant piled wall to the perimeter of the project in an area with very challenging ground conditions. It is right where the River Lea joins the Thames, and our operations have had to be phased in consideration of tidal fluctuations and variations in localised water flows which are considerable."
Even though the Orchard Wharf project is a London development, the company has noticed a movement trend away from the capital and the South East further up to the North and North West of England. "Manchester, for instance, is particularly buoyant at the moment, where we are currently working on three separate schemes, each with a contract value in excess of £1 million, all of which involve the construction of secant piled walls for deep basements," Mark adds. "The Northern Powerhouse is a major driver in the region and it seems that a lot of businesses are willing to relocate from London, because it has become such a difficult place to live and work."
As to Foundation Piling's future, the company's business plan is to grow turnover to £30 million plus in the next five years. "There is a bit of political uncertainty regarding Brexit, but once this is resolved, we can expect a massive amount of work to be released on which we can capitalise," Mark comments. "Our plan is to adhere to our core strength of negotiating contracts where we can offer real value to our clients by coming up with good engineering solutions. We are a margin-driven company and we aim to remain such in the future," he concludes.
Foundation Piling
Services: Piling and geotechnical engineering solutions