As it enters 2020, Foundation Piling does so with great enthusiasm as it continues to serve a range of clients on some of the most exciting construction and infrastructure projects around
Foundation for success
As it enters 2020, Foundation Piling does so with great enthusiasm as it continues to serve a range of clients on some of the most exciting construction and infrastructure projects around
Having traded for the better part of four decades, independent piling and geotechnical engineering contractor Foundation Piling has built its vast accumulated experience and reputation on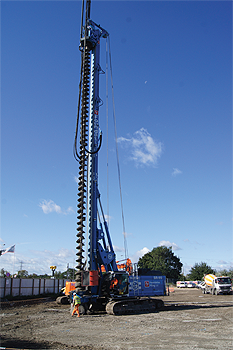 successfully completing some of UK's more difficult and varied construction projects. In that timespan, it has witnessed a fair amount of change in the industry, experiencing boom periods and weathering the more challenging times, meaning that as we enter 2020, it continues to go from strength-to-strength.
"2019 was a very interesting, and indeed at times challenging year for the industry in general, with a number of high profile companies falling by the wayside," begins Foundation Piling's Managing Director, Stephen Edmondson. "For our part, we have negotiated this by making sure that the clients that we work with are those in good financial health, and the result has been our involvement in a number of completed and on-going high profile contracts."
Key strengths
In the final weeks of 2019, for example, the company formally completed work on a large section of a major road contract for Balfour Beatty, Skanska and Costain, opening 12 months ahead of schedule, which saw it installing piled foundations around Cambridgeshire as part of the A14 Cambridge to Huntingdon improvement scheme. Meanwhile, further north, the construction scene in Manchester has seen something of a recent renaissance, which has seen Foundation Piling contracted to provide its basement construction and piling services on projects such as Lendlease's £1.25 billion St. John's development on the site of the Old Granada TV Studios, and for Renaker on its stylish Chester Road housing development scheme.
"In Manchester we have been involved in a number of residential schemes, such as Potato Wharf and Owen Street, while elsewhere we have also had a great deal of success in helping to deliver a number of student accommodation projects, including the Cathedral Street development in Glasgow – to which we are providing rotary piling services – and the Castle Park View regeneration scheme in Bristol," Stephen continues. As well as high profile schemes, Foundation Piling is well known for working with clients to deliver smaller, at best challenging piling projects, on time, on budget in a safe and sustainable manner.
"While these project examples cover a number of different sectors and specialisms, what they all share is the fact that our work on each revolves around providing dedicated contract design and engineering services," Stephen explains. "We get involved in such contracts at the earliest possible stage in order to understand the client's needs and tailor designs to meet these in the most efficient and cost effective way. Our depth of offering as a business has always proven to be a key strength, and our team – which includes seven dedicated chartered engineers – is expertly placed to advise on the best ways to utilise advanced, modern equipment to bring a project to bear in the way a developer or contractor first imagined."
Moving forward into 2020, Foundation Piling is also making some important strides internally to further refine its service offering. One such move sees the company integrating the use of
Building Information Modelling (BIM) software to deliver more accurate virtual 3D designs and visualisations that are formed from digitalised ground and geotechnical information taken from site surveys. Machinery wise, 2019 also saw the company introduce its second Soilmec SR-95 hydraulic drilling rig to its collection, giving it further capability to build CFA piles of up to 1.2 metres in diameter and 34 metres deep.
Positive plans
In addition to its investment in technology and equipment, Foundation Piling also continues to channel funds and resources into the development of its people. "We presently have four people enrolled on our personalised graduate scheme, and we make all the necessary time available to provide our site staff with hands on experience of operating our equipment in order to take their understanding, knowledge and competency to a higher and safer level," Stephen adds. "Our in-house design team allow us to offer cost effective and sustainable piling solutions."
As far as 2020 is concerned, Stephen and the rest of the Foundation Piling team are noticeably enthusiastic about what the next 12 months have to offer. "For reasons that I am sure everyone in the UK is aware of (mainly Brexit for those who do not), a number of major construction and infrastructure projects in the country have been slow to progress in recent times. Now, with a bit more clarity about the future in place, we are hopefully seeing a ramp up in activity country-wide that we can get involved in, for example the HS2 Extension programme, which will no doubt pose a number of geotechnical challenges that we feel that Foundation Piling is more than capable of tackling," he says. "We have been greatly encouraged by the fact that the number of enquiries we received in 2019 was up by 20 per cent compared to the year before. It goes to show that there is work out there to be won, and we look forward to engaging with as many contractors and developers as possible in the months ahead."
Foundation Piling Ltd
Services: Piling and geotechnical engineering solutions