With a solid order book in place Foundation Piling, a leading specialist in innovative piling and geotechnical solutions, sees piles of opportunity for continued success
A strong platform for growth
With a solid order book in place Foundation Piling, a leading specialist in innovative piling and geotechnical solutions, sees piles of opportunity for continued success
Foundation Piling was originally formed in Birmingham in 1980 as West Midland Piling and Foundations Ltd, relocating to Shropshire in 1982. The business has since grown to become a leader in the delivery of innovative designs and techniques for those seeking solutions to complex geotechnical engineering schemes.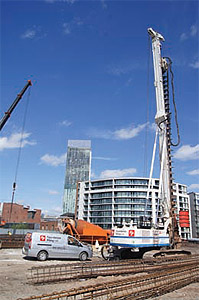 The company has long focused on providing piled foundations for small to medium sized civil engineering and building projects, with a particular emphasis on restricted access sites. "In our early years, the piled underpinning market was in its infancy, and the company quickly developed equipment and techniques to enter into this market. The same innovations complemented our background in civil engineering, where we were able to offer high performance piles in more restricted conditions than our competitors. Over the next decade we formed further independent companies with regional titles, before the company has consolidated its activities in the title of Foundation Piling Ltd," explains Company Chairman, Mark Keaveny.
Today, Foundation Piling is based in four offices across the UK in Bristol, Farnham, West London and Oswestry in Shropshire; the latter being the company's headquarters. "Foundation Piling has recently built and moved into new premises in St Martins Oswestry; the purpose built facility consists of office accommodation, maintenance and fabrication workshops and storage areas, and was set up in order to maintain planned growth," says Mark. "We currently employ approximately 100 staff, ranging from experienced rig operators to plant maintenance to chartered engineers. All operatives are directly employed and, in line with the company's commitment to the Investor in People scheme, we maintain a policy of continued training and personal development; this ensures we have the committed and multi-skilled workforce we need to provide a rapid response to our clients."
These dedicated facilities enable the firm to deliver services to clients based throughout the UK, with recent projects ranging from Shetland in the North to Penzance in the South. Foundation Piling also operates within Ireland and has even completed projects as far afield as Gabon and Kenya. Wherever it is operating, the company takes pride in tackling the engineering challenges it faces, while continuously ensuring the highest standards are delivered when it comes to project innovation and valueadded services.
An innovative company, Foundation Piling is committed to the development of new techniques, which has further strengthened its solid reputation in the piling industry. Key to this focus on technological advancement and a forwardthinking approach to challenges is the experience of the company's founders, which includes a team of expert chartered engineers that relish the challenge of the seemingly unsurmountable. With a drive to deliver solutions where others can't, the company has frequently been called in to take over jobs where other companies have thrown in the towel. "We are proud to say that we have successfully completed every project," says Mark. "Because of our strengths and diverse range of capabilities, we have established a reputation in the piling industry as the specialist's specialist and are frequently called upon by larger Geotechnical companies to assist in resolving problems."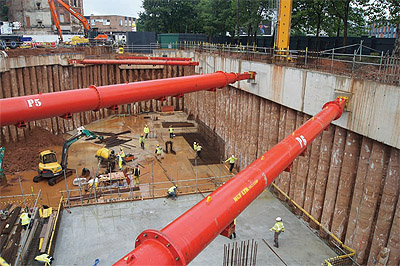 The company's scope of work incorporates the design and construction of piled foundation and retaining wall solutions, including commercial and residential developments, as well as slope stability projects for clients including Highways England and Network Rail. To address the scope of these operations, the company boasts a comprehensive coverage of piling techniques to suit a diverse range of ground conditions and site restrictions. These engineering techniques include CFA and rotary bored piles, auger displacement, screw piles and anchors, mini piling, rock pile drilling, soil nailing and cable percussion (tripod) bored piling.
Discussing recent projects, Mark notes: "We have recently been involved in carrying out preliminary tests for piles to a new wing testing facility for Airbus in Filton. This project was unique to us as it required cyclical loading and unloading of piles in a rapid sequence, mimicking the loads on a wing in flight. We have also recently completed construction of piles for a new dry dock in Hartlepool for Able UK; we believe this will be the largest capacity dry dock in the UK. The facility is designed to decommission oil rigs, with 25,000 tonne units being floated in from the North Sea and tracked over our piles for dismantling."
Foundation Piling's comprehensive package of services is presently employed across many applications within the highways, residential, commercial, industrial, rail, energy and infrastructure sectors. The company's customers include nationwide contractors, many of whom are listed in the UK's top 25 civil engineering contractors, as well as local authorities and domestic builders. The company has also developed strong and long-lasting relationships with major blue chip organisations such as Tesco, Lidl, Network Rail and a range of local councils, which frequently approach Foundation Piling directly before engaging a Principal Contractor.
Having established a commanding presence in the market, Foundation Piling today enjoys a turnover of close to £20 million per year and was recently recognised as one of the Top 100 Companies in Construction, as well as in the London Stock Exchange 'Companies to Inspire Britain'.
Foundation Piling is keen to consolidate its position as one of the largest independent contractors in the UK, and has recently invested in a multipurpose Soilmec SR95 rig, allowing the company to satisfy increasing client demand for large diameter and deeper piles. Coupled with the company's extensive design experience, this often eliminates the requirement for temporary propping in construction of deep basements, offering the client an acceleration to their programme. The new rig complements an existing fleet of fourteen rigs in the 25-100 tonne range, as well as smaller rigs for low headroom and narrow access sites.
As it continues to invest in new machinery, equipment and its personnel, the future looks full of opportunity for Foundation Piling. With a strong order book that expands into the third quarter of 2017, demand shows no signs of slowing down for a company that delivers optimum solutions- no matter how challenging the project.
Foundation Piling
Services: Independent piling and geotechnical engineering