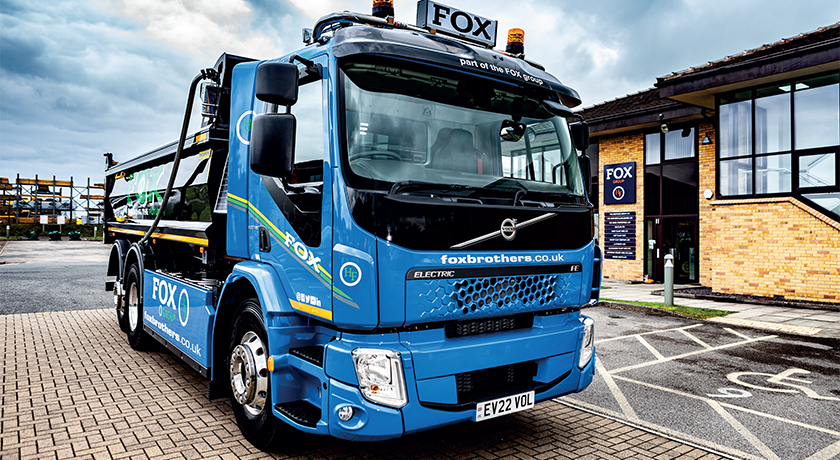 Family-owned excellence
Known for its strong family heritage and exceptional quality of service, Fox Group is enjoying rapid growth throughout the UK
Since 1932, Fox Group has been a proud family owned and operated business, providing unparalleled contracting services to customers across the northwest of England. Now, having experienced a considerable period of growth, the company looks to expand its reach even further.
"The Fox Group was established in 1932, as a family business specialising in plant hire and earthworks," introduces company Director, John Flood. "Our heritage is incredibly strong, Paul Fox is the principal shareholder of the company, and his grandfather was in charge before him. When his grandfather passed away in 2007, Paul took the company over at a young age.
"He was only 23, but he had grown up with the company, and worked closely with his grandfather, so he understood the business, and the family ethos behind it. Once Paul took the reins, he gradually grew the operation. We had strong connections to the North of England, especially Blackpool, and so we began by establishing ourselves in that area," he elaborates.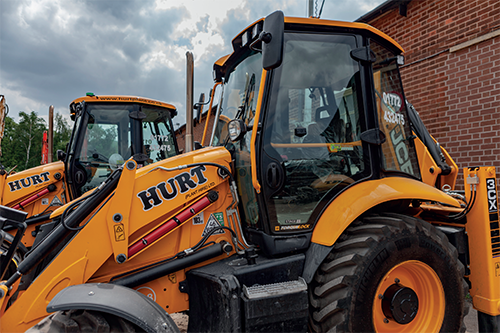 For the last three years, Fox Group has enjoyed rapid growth through a series of strategic acquisitions, as John details: "I met Paul in 2017, and we started working together fully in 2020, at the beginning of the Coronavirus lockdown. Prior to the pandemic, Paul had laid out a strategic growth plan for the company, based on a conversation he'd had with Clive Hurt, a local competitor. The Hurt business offered similar services to Fox, and Clive Hurt was looking to step back.
"We acquired Hurt's in September 2020, because Covid-19 obviously delayed things a bit. The rationale behind the merger was to bring two very strong, local family businesses together. The two companies offered services that complemented one another. The strength of the two parts combined was far greater than each individual company.
"From there, we acquired a quarry and landfill business in March 2021. Later that year, in August, we made another acquisition, this time of a business called JJ O'Grady, which was based close to our offices in Preston, and carried out highway maintenance. This expanded our service offering to include street lighting, civils, and drainage, alongside extended capabilities in services we already offered.
"Again, JJ O'Grady was a long-running family business, that was well-established and well-run. It had a good solid client base, and basically everything we were looking for. It just so happened that the owner wanted to pursue other things, and he rightly felt that we could be trusted with the business he had built. With the experience we brought this acquisition made perfect sense.
"In February 2022, we acquired another local business. Blackledge Plant Hire Ltd carried out haulage and plant hire, and was based near us in Preston. As a family business with an existing customer base, it was similar to our other acquisitions.
"You can see how the acquisition of Hurt's started the growth period for the Fox Group that is still going on. The transport services side of the group dramatically increased throughout this period, and we were able to start offering a range of additional services alongside that.
"Our most recent acquisition was made in April of this year; we brought in a company called Cotswold Roller Hire Ltd (Cotswold), which is based in Evesham, Worcestershire. Cotswold has eight depots nationwide, and alongside it being a well operated family business, it also has a pre-existing national footprint. Fox and Hurt's, Blackledge, and JJ O'Grady's obviously had a strong presence in the northwest of England, a quarry in North Wales, and we added a depot near Carlisle."
With increased capacity and extended capabilities, Fox Group has been able to stand out from the crowd. "We distinguish ourselves by being highly responsive. Because of our scale, we can actually meet customer demands a lot faster than is industry standard. At the end of the day, some customer demands may be immediate. In terms of the type of work that we do, circumstances can change very quickly, and in those instances, we are incredibly responsive and effective," John asserts.
Despite its considerable growth, Fox Group has maintained its family ethos, and kept its teams unified through shared values. As John explains: "We are very hands-on leaders. We haven't got a large, aloof management structure here, it is very much a case of Paul, me, and our Financial Director, Kerry, being highly visible and accessible throughout the company. We are in charge of operations and managing the 20+ depots and offices nationwide, so we are constantly communicating. We have close relationships with all of the depot managers and company directors, and Paul especially is reachable at any of those sites.
"Paul makes sure people know him personally, and in return he has high standards for everyone within the business. From his point of view, if people achieve those high standards, not only will they get rewarded, but there will be greater opportunities laid out for them. Everyone here really believes in providing a high-quality service, and that's what makes it work so well.
"For us, culturally, it's about making sure that we maintain a consistent level of quality. We need to be as good, if not better, than the last job, each and every time. We keep our customers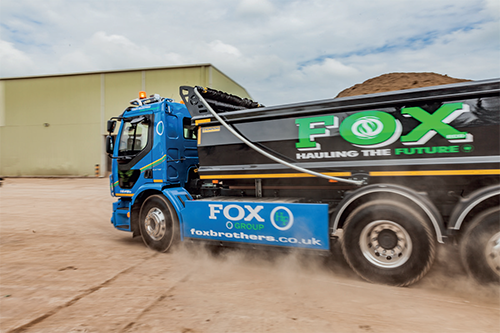 and our people happy by focusing on the job at hand, and making sure everyone has the information and tools they need. We are now in excess of 650 employees, so at the end of the day, we are a large employer, which makes company culture even more important. We want to be an employer of choice, which means treating our people with respect, and rewarding them for a job well done."
Sustainability is also an important value for Fox Group. In order to reduce carbon emissions across its fleet, the company has invested in a number of brand-new electric vehicles, as John discusses: "In order to become a more sustainable operation, we have ordered a number of electric cars, but there was very little on the market in terms of battery powered wagons. So, we started collaborating with Volvo in 2021.
"With their help we were able to purchase two battery-powered electric wagons at the end of last year. They actually arrived in our yard last week [at time of writing] – we planned to be at a number of exhibitions throughout June, and from July the vehicles will become operational. We are fully committed to the EV wagons and to purchase more."
Having gone from strength-to-strength in recent years, Fox Group now looks forward to an exciting road ahead, as John concludes: "For the remainder of 2022, we will continue focusing on growth. Looking at our current national footprint, we would like to build on that in areas where we are less established, and cement our position both in the northwest and across the rest of the country.
"In terms of services, we will be focused on developing our haulage and plant hire divisions, in regard to both operator and self-drive applications. We are an ambitious company, and so we will continue looking for growth and potential acquisitions. There are a number of opportunities for further growth in 2022, and we will be looking at those in order to supplement our existing offering."
Fox Group
www.foxbrothers.co.uk
Services: Haulage, aggregates, recycling and contracting