As it looks to expand further into the UK market, experienced piling and foundations specialist Franki Foundations puts its clients at the forefront of its attention
Solid foundations
As it looks to expand further into the UK market, experienced piling and foundations specialist Franki Foundations puts its clients at the forefront of its attention
In 1909 Belgian engineer Edgard Frankignoul applied for a patent for the execution of the 'Franki pile', a major technical innovation within the field of driven piles technology. In 1911, he founded the company, which is today known as Franki Foundations, in order to exploit that patent. The system was so successful that during the interwar years the company had already become the parent company of 34 subsidiaries or licenses in 75 countries across five continents. The innovation and growth that existed in the company's foundation has defined its continued success throughout its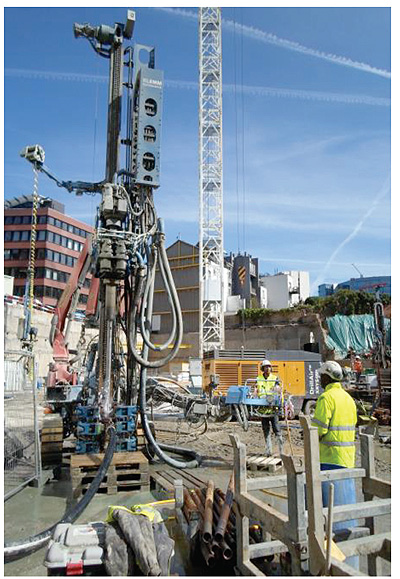 history. Today, as part of major Belgian construction group Besix, it has become the market leader in the foundations industry completing 450 projects a year at home and abroad. Exemplifying its expansion Franki Foundations now exists in the UK, Luxembourg, Holland, Belgium, France, the UAE and Qatar.
The company offers geotechnical solutions in deep foundations and civil engineering, with experience in applications within the residential, commercial, industrial, energy, marine, road and rail infrastructure industries to name a few. Speaking to Construction and Civil Engineering, managing director Wim Claesen says: "Adaptation, diversification, continuous improvement and technical know-how are the keywords in the history of the company, resulting in our slogan: 'Franki has a foundation to suit every structure.'" By working closely with its clients, the company's team of highly experienced engineers can come up with the best solution for any building need. "The total solutions are tailored to site specific challenges," Wim continues. "Incorporating consultancy, design and calculation into the expert execution of diverse methods for pile foundations, retaining walls, soil improvement, injection works, renovation of existing foundations and the co-ordination of related activities."
The strengths of the business lay in its experience and ability to offer the full service of foundation solutions. It normally works as a subcontractor on projects, but has the knowledge and contacts to work as a main contractor or partner. Its in-house design team can develop bespoke design and construct solutions to overcome challenges faced with unique and innovative building projects. Wim also explains that clients can benefit from Franki Foundation's involvement in a project from a financial point of view: "Generally the earlier we are involved in the overall design process the more substantial the savings we can offer. We offer a non-contractual collaborative approach and offer efficiencies to our clients through the strategic partnerships we have built within our supply chain." Alongside these strengths is the company's approach to health and safety, which is bolstered by an excellent reputation.
Testament to Franki Foundation's continued commitment to innovation and expansion are a number of recent examples. In 2013, the company embarked on a joint venture with West Construct to focus on the installation of foundations for wind farms. Labelled, BEWind, the project has already supplied contracts for 45 new wind turbines in Belgium. In August 2014, the business developed its BEInject arm, which focuses on the repair and stabilisation of cracks and defects within concrete structures and foundations. These types of projects enable Franki Foundations to expand its footprint across new industries and markets as it grows. Supporting its expanding operations is a continual focus on investment into new equipment and piling rigs.
Recent projects with great significance for Franki Foundations include a spate of turnkey projects for the Belgian market including Brussels' shopping centres Toison d'or and Dockx. Wim highlights: "We also worked on the huge Rive Gauche project in Charleroi where we acted as the general contractor for the developer. Franki designed and executed the secants piles, the anchors, micropiles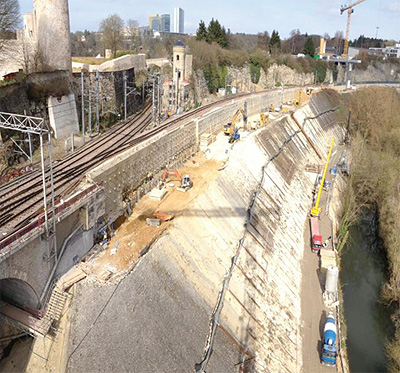 and the excavation works."
In 2006, Franki Foundations acquired UK based Able Piling in Southampton as part of an effort to enter into the UK market. By combining the two companies' expertise the company was not only able to offer its traditional minipiling and construction services to the UK market, but also had access to expertise in more specialist auger displacement piling systems. "Franki Foundations UK is the entrance ticket for Franki Foundations Group to introduce its different techniques to the UK market," emphasises Wim. "As part of the Besix Group, the parent company is also looking for opportunities within the UK that will lead to our UK operations moving into the major projects sector, which is more in line with the global Franki model."
Success, however, has not been absent in what is approaching a decade of UK operations. With a client list including the major names of Vinci, McCarthy and Stone, Network Rail, Taylor Wimpey, Morgan Sindall and Galliford Try, amongst others, Franki Foundations has developed a strong reputation in the UK. An increasing number of high value projects in London and the Home Counties have also prompted the company to accompany the existing office in Southampton with a new one in Dartford, which recently opened.
A drive for growth has very much manifested itself in Franki's UK operations with the company turning over £7 million in 2014, and the next goal set at £10 million. "Within the next year we are looking to build upon the solid foundation our UK director Craig Macklin has put in place, to support our key clients in higher value projects and invest in our UK plant and equipment," highlights Wim, adhering to its historic culture of innovation to encourage growth. "Over the next three to five years, we want to move our UK operations into the major projects sector to provide all products offered within the Franki Group to the UK market, and to continue supporting our key clients to be efficient and profitable as they look for success, offering them competitive advantages over their competitors." It is clear that when it comes to Franki Foundation's attitude and approach to its work, commitment to its clients is key. Its wealth of experience and knowledge within the industry allows it to add real value to its clients and partners, not only making itself competitive but also for those it works for. With over a century of success riding on this commitment, growth looks set to continue for the business as it looks to become successful on a global scale.
Franki Foundations
Services: Foundation construction