Frutiger will celebrate 50 years in business this year. Urs Frutiger tell us more
Still going strong
Frutiger will celebrate 50 years in business this year. Urs Frutiger tell us more
Founded in 1957, Frutiger is the worldwide market leader with its two main product lines of scrapedozers and wheel washing units. With a network that extends across Europe and overseas, Frutiger, together with committed distributors, is a competent partner no matter where in the world the customer might be.
Urs Frutiger, who along with his brother, Jurg, took over the leadership of the company in 1994, continues to spearhead the family business into its second generation. He tells Construction Today Europe more about Frutiger's past: "In 1957 my father Edwin Frutiger formed E. Frutiger & Co in Switzerland and this was the first company to belong to the Frutiger group. Right from the start, we have concentrated on the operation of special products. Problem-solving in the construction and environmental areas, importing of niche products together with development and production of our own product lines have all ensured continual company growth."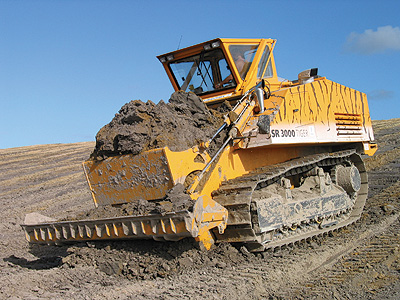 He continues: "From our head office in Winterthur, Switzerland, we have produced, sold and rented wheel washing systems for over 20 years, while behind the brand name MobyDick is a palette of over 20 various models. Frutiger is also active in the areas of scrapedozers and trading of construction products – so we are doing fairly well."
Frutiger's philosophy is to build a broad product portfolio of special products, solving construction-related problems by distributing niche products to customers around the globe. This portfolio is boosted considerably the MobyDick brand. Urs talks further about the significance of having such a large range: "Because we produce niche products, we have many potential customers, but the trouble is only a few of those potential customers will buy a system. Therefore, it is essential we have a broad portfolio and have spent the last 20 years or so building a portfolio we can be proud of.
"Our goal is to export our specialist products around the globe. To achieve this, we have a worldwide marketing strategy, a global sales network and attend world-renowned exhibitions; this enables us to access as many potential customers as we can. Indeed, just last year we attended a total of 20 exhibitions and have boosted our international sales network, adding the UK to the list of countries we have a presence in. All this means we now have access to a much wider audience."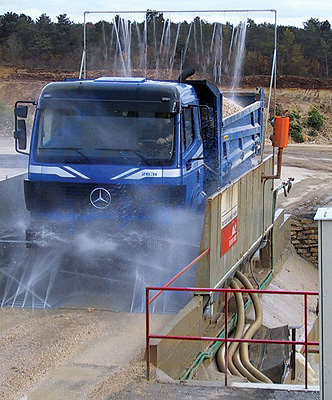 Talking of Frutiger's key strengths, Urs adds: "The fact our products are niche products is a major strength in our eyes. We are a market-leading player in two product lines – scrapedozers and wheel washing units. This, together with the strength of our portfolio, sets us apart from the competition. In fact, most competitors have a small portfolio, focusing on just a few or sometimes one model.  Our broad portfolio means that, if the customer comes to Frutiger, we can address their need, something the competition can't always do."
Urs believes that in both of Frutiger's product lines there are plenty of opportunities. He feels the wheel washing line has matured more than the scrapedozer, but, nevertheless, anticipates huge growth in both lines: "Our target market at present, particularly for wheel washing, is the US. We are able to target global markets for wheel washers because they have a strong presence in Germany, Austria and Switzerland – our major markets. We have similar ambitions for the scrapedozers, but need to consolidate our position in our major markets before we do this."
Since its foundation, Frutiger has enjoyed ongoing success. This year the company will pass a huge milestone – its 50th anniversary. 2007 not only marks this occasion, but alsorepresents huge opportunities for growth. "Our company has enjoyed lots of success in the past, positioning itself well, so that it could last as long as it has done. Obviously, the reasons for this longevity are numerous, but I believe without our staff, excellent products, determination, dedication and, of course, a bit of luck, none of this would have been possible. We look forward to marking our birthday in style later in the year and plan a huge celebration."
He continues: "We are excited about turning 50 and hope to lead Frutiger into its second generation. The market is currently positive, so we are delighted by, and enthusiastic about, the prospect of taking the company forward. However, in order to continue our success in the future we must continue to listen to customers, stay ahead of technological advances and work closely with suppliers, especially when it comes to product development."
Concluding, Urs reflects on Frutiger's exciting past and bright future. He says: "2007 is most certainly going to be an exciting year for Frutiger, but I would like to thank all our customers and our suppliers for helping us achieve success over the last 50 years. We look forward to continuing our relationships with them."