Sparking innovation
With a vast history behind it, FUGMANN continues to deliver complex, cutting-edge solutions in a market that is currently experiencing a technological revolution
Based in Copenhagen, FUGMANN was officially founded in 1961 by Vilhelm Fugmann, who began his career as an electrician in 1915. Now in its third-generation of ownership under Henrik Fugmann, the company has grown to become one of Copenhagen's leading and most innovative electrical installation companies. With over 100 highly trained and experienced employees, including 20 apprentices, FUGMANN has established a strong reputation in the national market for delivering high profile and complex projects, and this year is set to turn over close to 13 million euros.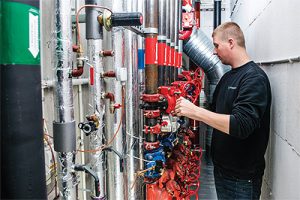 "We have been contractors on a number of large projects including new builds, renovations, hospitals, education facilities and infrastructure developments," begins Henrik. "At present our special focus is on building automation and intelligent solutions into sites, with the primary aim of reducing energy consumption, ensuring efficiency and improving the working conditions of our customers' projects." Where FUGMANN has excelled over the years is in its ability to listen carefully to its customers and understand the specific needs within the market. As such, the company has been able to develop the best solutions for the current demands.
"The main strength on top of this is the highly specialised workforce that we maintain here," says Henrik. "We operate a programme of continuous training and development to ensure that our staff are key to the continuity we deliver to the market in terms of increasingly complex systems. As a result of this many of our employees have stayed with us for many years, and likewise we have developed long-lasting relationships with our customers, some of whom we have worked with for many decades. The combination of these gives us a really good market position."
A look at the company's recent and ongoing projects gives a good sense of FUGMANN's ability to deliver highly technical and complex solutions to a range of sectors. Its major highlight of 2015 is completing the electrical and security installations for its first skyscraper project. Requiring complex intelligent installations and numerous automation systems, FUGMANN successfully delivered the work to the 21-storey Copenhagen Towers development, which was designed by world-renowned architect, Norman Foster. "We have worked on several very modern nursing homes," continues Henrik. "This is an important market for us as the buildings can be very technical – they are essentially a combination of home and hospital so a lot of electrical infrastructure has to be built in. In addition to this we have just started a project to renew the fibre and data cabling in the main part of the Copenhagen hospital sector, and will be installing security features such as protection and video surveillance in the city's new 15,000 capacity Royal Arena."
With the state of the construction and technology markets moving as they are, integrated technology and user interface systems are set to play a much more prominent role in the industry over the coming years. Indeed, Henrik points out that more and more these days, the value of a property is becoming more reliant on the technology that is within it. He sees this as being where significant value lays, and as such the company is readying itself to take advantage.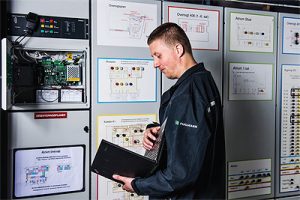 "We have invested into new intelligent solutions and increased the number of staff in this sector, because we see how significant it will become in the very near future," he says. "We have also invested into a sister company, called ProReact, in order to develop innovative solutions for user interface touch screens for a range of sectors and applications, such as healthcare, retail and education. For instance we are looking at a large pin board-type touch screen module, which could be used for a number of user interface applications."
Diversifying in this way is critical for FUGMANN to remain competitive in an economy that is starting to emerge from the European financial crisis, is now looking to invest heavily into its housing and infrastructure, and is attracting international competitors. "We have already established a lot of skills and a good reputation within the Danish market so I am quite confident about our position at the moment," explains Henrik. "However, it is important that we are seen to bring something different to the market in order to distinguish ourselves. For a long time our main offering has always been hidden behind a wall, but this is starting to change as intelligent solutions become integrated within public and private spaces."
With this in mind it is no surprise that FUGMANN's future will be defined by continuing to take on numerous complex challenges in both the public and private sectors. Major infrastructure investments into railway and metro systems will present significant opportunities to the company, as will the growing demand for cutting-edge technology. "The wider vision is to continue improving our skills in installing and delivering automation and intelligent solutions," concludes Henrik. "We will also continue bringing on and investing in our staff, who are very important to us. We take particular pride in educating the young people to be the future electricians and technicians, not just for FUGMANN, but for the industry as a whole."
FUGMANN AS
Services: Specialist in electrical installation