The sustainable concept behind Technal by Hydro (Hydro Building Systems UK Ltd) that could revolutionise construction
Hydro Building Systems UK Ltd is an aluminium systems company with a difference. Part of the Norsk Hydro group, which has been turning natural resources into valuable products since its inception in 1905, it has strong foundations built with expertise and competence in developing sustainable businesses.
Hydro Building Systems UK Ltd is better known in the building systems market by its brand name, Technal by Hydro.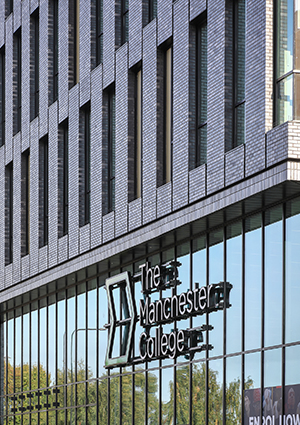 Technal was created over 60 years ago (over 30 in the UK alone) and is a pioneering international specialist in architectural aluminium façade systems. It has established an unrivalled reputation for delivering innovative, inspiring design solutions, driven by a dedicated focus on sustainability and circularity. This has allowed the business to build up a portfolio of impressive, award-winning projects that utilise sustainable innovative aluminium façade solutions.
Technal believes it has the responsibility and ability to tackle today's and tomorrow's most burning issue: climate change. Going beyond just materials, Technal provides clients with sustainable, innovative, high performance circular aluminium fenestration solutions that contribute to reducing carbon emissions. In line with its parent company's goals, Technal is also looking to reduce its own CO2 emissions by 50 percent in 2025.
The company recognises the demand for urbanisation and an ever-growing global population, and appreciates it is inevitable that certain societies and geographic regions will require more energy and materials, like aluminium, to build, and sustainable solutions must be found.
Technal, in conjunction with its parent company Norsk Hydro, has over 100 years of experience and expertise in turning natural resources into valuable products, as well as 30,000 employees at 140 locations across the globe. This places Technal in a unique position, leading the path to creating a world that 'imagines beyond limits'.
In the UK, Hydro boasts several locations, which offer fabrication and components, extrusion dies, surface treatment, thermal break, building systems, and many other products. Technal operates building systems out of its headquarters in Tewksbury, Gloucestershire. It collaborates with, and has a clear understanding of, the requirements of architects, contractors, developers, fabricators and clients to name a few within the UK construction market. This enables the business to develop a sustainable, high standard, innovative, technically advanced and flexible product portfolio.
To learn more about the business and its latest innovations, including products made from either 75 percent or 100 percent post-consumer recycled aluminium, we sit down with Allan Barr, Managing Director for Technal by Hydro UK, and Matt Hickman, UK Director of Logistics and Manufacturing.
Allan opens: "Technal is part of Norsk Hydro. We are committed to leading the way towards a more sustainable future, creating more viable societies by developing sustainable building fenestration solutions utilising Hydro CIRCAL 75R aluminium. This contributes to the development of a circular economy through the reuse of materials.
"Our UK business focuses on providing strong, light, durable, and climate efficient aluminium systems to the UK construction industry. We have multiple brands worldwide within building systems that allows us to share knowledge, ideas, and expertise, to bring to our clients the best possible solutions."
He continues: "As a UK and international specialist in architectural aluminium building, Technal brings an unmatched flair for innovative and inspirational design solutions to the business. We also utilise Hydro
CIRCAL within our product ranges, which pushes the boundaries for high-quality, low-carbon aluminium."
As part of a much larger organisation and despite being a large global business, Hydro's values and mission mirror those of a smaller, impactful business. "Although we are part of a larger group, we're partially owned by the Norwegian Government and our ability to provide quality, sustainable products is by far our number one USP," Allan elaborates. "Sustainability is at the core of everything we do, and it's driven across the entire group all the way through to the individual brands.
"We've been developing the process of recycling and reusing end-of-life, post-consumer scrap material for several years now. I emphasise that it's post-consumer material because when people think of recycling,
they don't tend to think of metal that's previously been used in a building for several years and then re used to create new low carbon products.
"Old systems are removed from existing buildings and repurposed, putting them back in our value chain," Allan tells us. "This is how we make our Hydro CIRCAL 75R, for instance, which plays a key role in creating our unique profiles and is made from melted scrap material."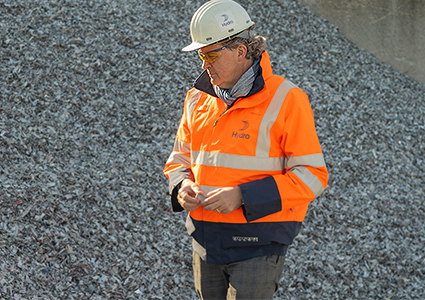 This concept of circularity has led to Hydro Building Systems becoming one of the first aluminium building system companies in the world to manufacture door, window, and curtain walling profiles from up to 100 per cent recycled aluminium. This not only means the business is in an ideal position to achieve its sustainability goals, but also places its innovations ahead of competitors.
"Hydro has taken this development further, by creating the Hydro CIRCAL 100R," Allan reveals. "This differs from the Hydro CIRCAL 75R, which is made from 75 per cent post-consumer scrap, as the 100R uses 100 per cent post-consumer scrap material. It's been a huge group investment, and this product, via our brands, is already making its way on to new construction projects as we speak."
On the topic of investment, Allan & Matt add: "We're constantly making small changes across the business to improve our processes, efficiencies, and sustainability efforts. We're currently working on upgrading our digital platform, focusing on our internal software and external marketing tools and websites to ensure these are all the best quality and match the group's overall strategy.
"We're also working closely with our commercial team to offer top-quality service with the shortest possible lead times for our customers," Matt goes on. "We're investing in the necessary areas across our Gloucestershire site to make that happen in the coming months."
One of the latest developments and overseas, Hydro's plant in Navarra, Spain, has recently produced the world's first batch of recycled aluminium using hydrogen fuelled production. Blending the two main areas of the business – hydroelectricity and aluminium – Hydro replaced natural gas with carbon-free hydrogen as the fuel for recycling aluminium, taking the industry one step further towards carbon-free aluminium.
It is evident that each of the company's operations is carefully considered in terms
of the wider environmental, social, and economic implications. But what about Hydro's internal operations?
"We have a goal throughout the entire business to have minimal impact on the environment from our products and services to the cars our sales team drive," says Matt. "We're driving energy savings at all our locations and have set goals to achieve a 30 per cent reduction of emissions by 2030 as part of our journey to achieve net zero by 2050."
However, despite the company's internal efforts, perhaps its biggest environmental impact will be through promoting and encouraging the use of post-consumer scrap aluminium. With this process consuming just five per cent of the energy used when producing raw aluminium in the first place, Technal concepts can offer a sustainable solution for construction companies worldwide.
"We've got ambitious goals," states Allan. "The construction industry at large needs to decarbonise, we must look at circularity, and recycle resources already in use within our current markets.
"We want to continuously update our circularity model to incorporate social as well as environmental sustainability. Part of this is strengthening our work with Environmental Product Declarations (EPDs) to further promote our model. We're continuously striving to achieve our ideal position, which would be to look at potential full circularity in the coming years.
"However," Allan concludes, "our primary aim remains the same as it always has been; to be market leaders. As sustainability takes on a deeper meaning across the globe, we want to lead from the front because we believe it's the way forward for the construction industry in every country."