G F Tomlinson is an experienced and sought-after contractor throughout Central England, whose core strengths are its multifunctional staff, strong supply-chain relationships and the ability to meet the exact requirements of its clients
Buildings to last
G F Tomlinson is an experienced and sought-after contractor throughout Central England, whose core strengths are its multifunctional staff, strong supply-chain relationships and the ability to meet the exact requirements of its clients
When we first discovered that G F Tomlinson possesses a construction and civil engineering competence that spans a wide variety of sectors from education, residential and commercial through to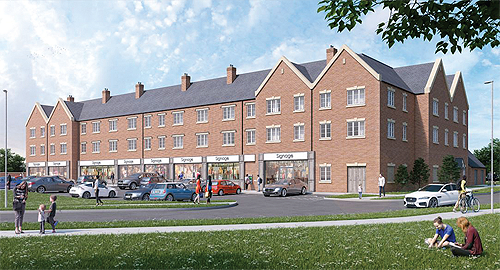 industrial, infrastructure and FM, we instantly came to the conclusion that the Derby-based company must be blessed with some remarkably talented and versatile staff. This sentiment was confirmed by Board Director, Chris Flint, who pointed out the flexibility of G F Tomlinson's workforce as one of the main reasons for the business' longevity.
"Our company has a great longevity, having provided construction and civil engineering services for over 125 years. Since its formation in 1892 by our founder George Frank Tomlinson, the company has continued to successfully deliver major infrastructure and building schemes throughout the Central England region. This ongoing success is largely due to the exceptionally talented people we have employed, who have skilfully addressed our clients most challenging requirements. Actually, the adaptability of our staff and supply chain goes hand-in-hand with us being able to listen carefully to our clients in order to deliver the best, client-focused solutions.
"Our collaborative approach ensures we understand our clients' end goals, because, to provide a long-term, efficient solution, we need to know what functions they want their building to have and what processes will be taking place inside," Chris explains.
Treasuring its staff is deeply embedded in G F Tomlinson's philosophy, which can be easily explained by the fact that the company is still a family owned business with traditional values based on integrity and a respect for people. Consequently, respect for its own people and for the clients is at the heart of its creed. "If you treat individuals right and make them feel part of the business, they will respond reciprocally by focusing their attention on going the extra mile for our clients," Chris maintains.
"The commitment of our staff has helped us to build an expertise in multiple markets, with the higher education, industrial, and niche residential segments being particularly buoyant at the moment," he continues. "Owing to the broad expertise we have, we can use an innovative solution we have developed for a project in one sector to drive benefits to a scheme in another, and this transfer of best practices between sectors enriches our offering and defines our approach based on flexibility and innovation. It is this flexibility and innovation, alongside our collaborative ethos that gives us a strong repeat client base which is at the heart of our success."
G F Tomlinson's project portfolio contains such a vast number of high-profile schemes that picking just one to demonstrate the full extent of the company's capabilities is an incredibly difficult task. Chris lends a helping hand, drawing our attention to an ongoing scheme, the participation in which fills G F Tomlinson with a deep sense of pride.
"About a year ago, we were appointed by Nottingham City Council, one of our longstanding clients, as the main construction contractor as part of their £32 million Nottingham Castle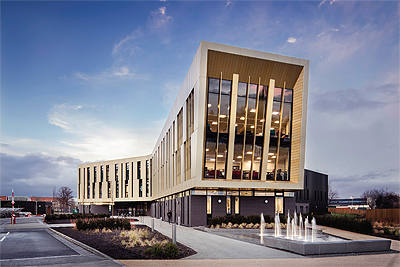 Transformation Project," he reveals. "It is a very significant project for the entire city, because the Castle is a world-renowned landmark and the Council's vision is to create a world-class visitor experience. Hence, the redeveloped site includes a new visitors centre, together with an extension to the Ducal Palace and the full refurbishment and restoration of the Castle and its cave system below. This is to provide a reinvigorated visitor attraction with fit-for-purpose display for the Castle's artefacts and artwork.
"What we find particularly rewarding about this project, is the fact that it requires a lot of traditional skills with regards to the refurbishment," Chris adds. "There will be extensive leadwork replacement and, of course, stonework restoration, including work on the slate roofs and the ornate covings and plaster repairs, for example.
"In stark contrast to the Nottingham Castle Transformation Project, we are simultaneously building a new conference centre for Lubrizol at their European Research & Development Centre near Derby that will be truly state-of-the-art. We are using fully-integrated BIM modelling and the facility will feature the latest audio-visual and 3D technologies enabling Lubrizol to showcase their latest developments and innovations to their clients. I believe that delivering these two projects at the same time clearly demonstrates the broad range of our expertise and capabilities which is possible because of the quality of our staff," he claims.
Significant investments
Embracing BIM and 3D modelling was part of G F Tomlinson's concerted effort to introduce cutting-edge technology to its operations and drive more benefits for customers. Chris clarifies: "Not only have we delivered a number of projects in the BIM environment, but we have also adapted certain BIM elements to smaller schemes that would not necessarily have had the opportunity to make use of these otherwise. Similarly, we have engaged in extensive 3D modelling, so that we can produce walk-throughs and design models to enhance the experience for our clients helping them visualise what their building will look like, both externally and internally."
As of late, the company has also made important investments to better manage its supply chain. G F Tomlinson played a central role in the development of a software called Local Supply Chain (LSC), which allows the business to display its pipeline for suppliers to view and plan their actions accordingly. "Utilising this system saves us a lot of time and gives the supply chain the opportunity to understand what their future workload will be well in advance," Chris comments.
Optimistic outlook
Being a company that openly takes pride in its Midlands origins, G F Tomlinson also makes sure it engages local suppliers whenever possible, thus giving a boost to the local economy. "We are very focused on leaving a positive and lasting legacy within Central England and this includes not just delivering projects, but also supporting the local communities and having a wider social impact across the region," Chris says. "Alongside partnering with local suppliers, we are also regularly creating initiatives that aim to bridge the skills gap. Notably, these extend beyond just taking on young apprentices, albeit this is key in our strategy going forward, but also providing work experience to people who have been out of employment for some time."
Resulting from G F Tomlinson's collaboration with Nottingham Jobs, two long-term unemployed individuals gained permanent roles following their work experience at the construction company. Meanwhile, the business is currently providing training to 22 apprentices (accounting for 11 per cent of their workforce), both at trade and technical level, with a view to take on another five youngsters by the end of 2019.
The positive first half of the year is a source of great optimism for Chris who envisages strong performance from G F Tomlinson in the coming months and years. He outlines the company's expectations for the future: "Our broad sector capabilities across both the Public and Private sectors, with work secured from long term partnering, negotiated and tendered opportunities, ensures a robust business model giving us confidence that should there be a downturn in one area, we can balance it out across other workstreams. We have a strong pipeline of work in all our targeted sectors and in particular we are expanding our portfolio in the niche residential and accommodation sectors i.e. student accommodation, retirement living, housing and PRS apartments."
There will also be a strong focus on the buoyant West Midlands region, where the company has always had long established ties with clients and consultants across both the public and private sectors.
"We are also seeing an increased demand for our long-established Facility Management (FM) services. We plan to expand our involvement within this sector, building on our existing success with high profile clients such as Walgreens Boots Alliance, Severn Trent Water, Sports Direct and many of the major power generation companies. Last but not least, we are keen to capitalise on our experience in delivering framework and partnering projects, as this is another area where we have a wealth of experience. Our ambition is to be the contractor of choice throughout Central England and, given the emerging opportunities, we know we can get into this position for even more clients over the next five years," he concludes.
G F Tomlinson
Services: New build, refurbishment, alterations/extensions, renovations