With close to 25 years of experience in serving both the residential and commercial building markets with low maintenance PVC-U building products, GAP Ltd continues to enjoy impressive year-on-year growth through its strong national network of depots
Supplier of choice
With close to 25 years of experience in serving both the residential and commercial building markets with low maintenance PVC-U building products, GAP Ltd continues to enjoy impressive year-on-year growth through its strong national network of depots
Since five friends created the company in 1993, GAP Ltd has established a formidable market presence, and 23 years later many of the original founders are still working in the business in key roles, bringing experience and a reliable longevity to both clients and the industry.
As Charles Greensmith, GAP's joint managing director explained, the acronym 'GAP' stands for General All-Purposes Plastics, and the company was originally set up as a distributor of plastic products for the construction sector – fascias, soffits and gutters for example. "That has always been the foundation of the business but over the years we added to it," he said. After just three short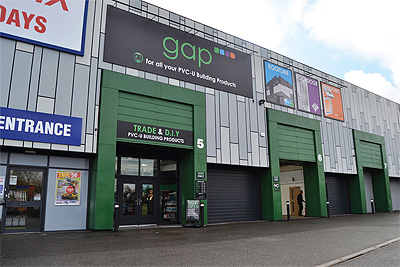 years as a distributor, in 1996 GAP also became a manufacturer, with the launch of the Rockdoor brand of quality composite doors. The term 'composite door' is a phrase that is widely used when describing an entrance door that must protect buildings and occupants from the elements while preserving energy. Referring to a door that is comprised of a mixture of high quality materials, Rockdoor has been a key driving force within the composite door market for several years, providing the widest range of A++ energy rated doors available. This has made the company the obvious choice for clients looking to combine thermal efficiency, style and security. Thanks to its dedication to continuous improvement the company has established itself as the composite door manufacturer of choice for more than one million clients, with its products available exclusively through GAP Ltd.
Innovation is key to GAP's success in the door market, and the Rockdoor range includes front doors, back doors, French doors and stable doors in a range of different styles and 13 colours. The range is often expanded and in 2016 Rockdoor's brand was refreshed and two new exciting styles were added – alongside style and security, Indiana and Dakota have the industry's lowest U-value of 0.83W/m2K. Included in the company's corporate refresh initiative was the development of a clever new interactive website that enables homeowners to gain a clear sense of the available features and benefits of the Rockdoor range of products. The 'View on your Home' function is exclusively available at Rockdoor.com, and it allows homeowners to design a Rockdoor and upload it on to a photo of their home, allowing them to completely visualise how their new Rockdoor would look this is also a great sales tool for installers.
Commenting on the company's on-going success, Paul Sowerby, Group Marketing & Sales Director for GAP said: "Although we work tirelessly towards making sure we can legitimately lay claim to manufacturing the most secure composite door in the industry, we know how important it is to be able to also offer unrivalled thermal efficiency and such a vast range of styles. There's so much we can say about Rockdoor, but increasingly often these days we just let the door speak for itself!"
Since its foundation Rockdoor has been a shining example of GAP's success, and in 2008 another milestone was reached, when it acquired a business that was going into administration called Everwhite. "Everwhite was a manufacturer of fascia, soffits and cladding and so on. Previously we used to buy these products in from somewhere else, so we saw this as an opportunity to create our own brand. We called this division Homeline Building Products, and today this divsion produces top quality BBA and BSI approved PVC-U rooflines and claddings," notes Charles. Indeed, GAP is particularly proud of its engineers and technicians within Homeline for developing the UK's first and only range of BBA approved recycled rooflines with the company's 'Core' line. The Core range is manufactured using a recycled inner core and a hundred per cent virgin outer skin, meaning that the outer aesthetics of the product is identical to its 'standard' range of white fascia, soffits and claddings. Furthermore, the GAP range of roofline products is also joined by an impressive line of guttering solutions, which are designed and manufactured by Floplast in Sittingbourne, Kent. These are available in over seven colours and with various profiles including half-round, high-capacity, square and ogee, making the range the ideal low-maintenance alternative to cast iron or wooden guttering with that offers a fantastic choice of configurations.
GAP also manufactures a wide range of door panels, casement windows and patio doors under the Homeframe brand, using the latest state-of-the-art machinery.
Thanks to a continual but controlled evolution, through a combination of in-house manufacturing and third party distribution, GAP today supplies an extensive range of rigid polyvinyl chloride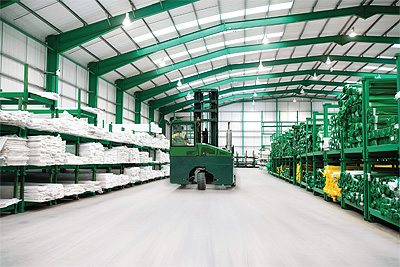 (PVC-U) building products as well as several additional lines such as Desmapol liquid roofing, Firestone rubber covering and Tapco roof slates.
These products are sold through a comprehensive network of trade counters across the UK that serve thousands of customers on a daily basis. The company strives to maintain a marketleading level of service, which encompasses both convenient next-day delivery and an express 'click and collect' service from any of its fitterfriendly trade counters. GAP works to ensure that it has the right service stock and competitive trade prices that set the business apart in the market and it is proud of its ability to meet the needs of clients operating from 'Aberdeen to Aberdare and Winsford to Watford.'
The depot network is one of the many strengths of GAP and as Charles noted, the company is currently strong in the North West and the organisation plans to extend this coverage going forward: "The North West is where our roots are – we are a Lancashire business that has expanded in its heartland," he said. "So with the depots we are opening now, we are looking to plug gaps where we can, and clustering in key areas in order to improve our service further. Our ambition is to eventually grow from our current 45 to 100 depots, and we are currently opening approximately one per month to achieve that goal."
What also sets GAP apart in its quest for 100 depots is that rather than deciding on location by simply assessing a map, the company takes into account the strong characters it has within its ranks and utilises their skills and experience as the foundation of a new site. "Where we have rising stars in depots looking for an opportunity to move on and become the next manager, we are keen to recruit them into the new depots," confirmed Charles. "They know the business, the culture, and the product, and so to have that already established rather than putting a pin in the map and having to recruit from scratch in that area is a major benefit."
The opening of new GAP branches is supported by the company's recent investment in the makeover of some of its established locations to ensure that the business remains at the forefront of the market in terms of both stocking and service. During August 2016 for example, the company announced that its GAP Stoke and GAP West Bromwich depots had undergone eye-catching internal and external makeovers. Both depots now feature the company's new 'fitterfriendly' trade counter format, which enables the business to offer its clients the same top-level quality experience at all of its 40- plus branches.
But there are two elements to the growth strategy at GAP, as Charles highlighted. "Alongside the depot expansion, plans are also afoot to expand the rate of window and door manufacturing, so that we can not only service the current depots but also be equipped to rapidly expand across the UK," he stated. GAP already manufactures almost 65 per cent of the products that it sells, operating over 500,000 sq ft of high tech production facilities that feature stateof- the-art equipment and are regarded as amongst the most efficient in Europe. "To achieve our targets we will soon see the construction commence of a new 100,000 sq ft high tech window and door factory on land adjacent to our current site in Blackburn, which will help us increase capacity of all UPVC windows and Rockdoor composite doors. This will make it one of the largest facilities of its kind in Europe. It will also create approximately 100 jobs," added Charles.
The past five months have already seen GAP's expansion strategy being put into action, with four new depot openings announced in October 2016 and the opening of a new Cardiff depot following just a month later in November 2016. This was promptly succeeded by the official opening of the company's 44th depot in Huddersfield, within one of the town's iconic former textile spinning mills in January 2017. After Huddersfield, it plans to expand its reach with a further 12 depots by the end of 2017.
Charles appreciates this is an impressive target to reach but believes the construction sector is robust, despite recent political events: "I think over the last 12 months the market has remained strong notwithstanding everything that has happened with Brexit. As a business I think that challenging times also often present opportunities, which we are always looking out for, and while its tough out there for a lot of our customers, we need to work harder to look after them and help them succeed."
He concluded: "I would say that placing the customer at the front of everything we do has never been more important. It could even go back to our early days, as we started as a stockist but in looking for ways to go the extra mile for the customer we ended up a manufacturer, as that meant we could deliver the right quality. So if customers are asking us open more depots we will listen. We need to act as a big company in terms of how we operate, but we also want to maintain the personal touch of a small company and support our customers at the local level in our depots. By doing that we raise not only our own standards but also help to improve the industry as a whole."
GAP Ltd
Services: Manufacturer and distributor of plastic products for the construction industry