By strengthening its services through strategic acquisitions and investment, Garriock Bros Ltd has achieved more than four decades of steady growth
Branching out
By strengthening its services through strategic acquisitions and investment, Garriock Bros Ltd has achieved more than four decades of steady growth
Originally a small, family-owned joinery firm based in Westerwick in the Shetland Isles, Garriock Bros Ltd has since grown, diversified and matured into one of the biggest privately owned firms in Shetland. Elaborating on the major milestones in the company's history is George Garriock, Managing Director of Garriock Bros Ltd: "Our company became Limited in 1975 and two years later my brother left the company, however, I continued with the business and began buying plant in 1979. We then purchased the Hewden plant hire depot in Shetland in 1994 before acquiring another depot in Edinburgh in 2002, followed by the Coventry depot in 2010 and then the Inverness depot in 2015, which is doing very well and has recently hired out machines to Germany. Garriock Bros. Ltd then bought over local firm (T & N Joinery) to create the 'GB Building Centre' that supplies and fits bespoke kitchens and bathrooms and other joinery related works. The 'Window Centre' and 'Glass Centre' are also located at these same premises now and offer quality windows/ doors and glass products, all made locally. These strategic acquisitions have certainly helped the significant growth that we have achieved since I first began working with my brother as a joinery firm in 1972."
Moving into plant hire in the early 1990s, the company developed the Hewden plant hire depot in Shetland into the biggest plant and equipment hirer in the islands. Adding depots in Lerwick and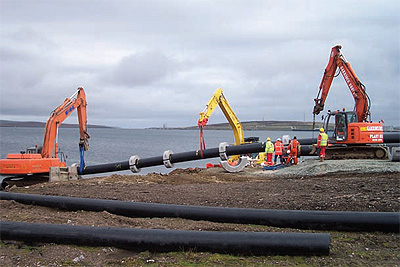 Brae to its portfolio, the company boasts a wide range of machinery that is readily available to commercial and domestic markets. Additionally, Garriock Bros operates a large retail facility in Lerwick that supplies over 10,000 product lines to complement its hire equipment.
No stranger to expanding into new markets, the company moved into the highly competitive mainland market in 2002 and took over a heavy plant and crushing operation in Midlothian and became the official Scottish distributor of Metso Minerals' mobile quarrying and recycling equipment in 2005. It is at the Edinburgh branch that the company focuses on the aggregate and heavy plant industry. "Metso has always been a big part of our business and we have a positive working relationship," says George. "We began using their machines in 2001 and following the success of this, we were appointed official distributors for England and Wales in 2011. We sell Metso machines all over the world to locations such as New Zealand, the US, Greenland and Africa."
With numerous other acquisitions taking place during the last three decades, Garriock Bros Ltd today operates ten different divisions through five branches in Shetland, Orkney, Edinburgh, Inverness and Coventry; these branches are comprised of civil & building contracting, plant & tool hire, the Window Centre, the Glass Centre, GB Building Centre, Brae Depot, Orkney Motors, Drive Orkney, Contract Crushing, Coventry, Inverness and Quarries. Each division boasts a significant market share, which is thanks to the company developing strong, trusting and long-lasting associations with satisfied customers.
At the Shetland branch, the company's services include civil & building contracting, which is delivered through the subdivisions general and civil engineering works, and house building. The Orkney branch focuses on the automotive industry, where the company trades as vehicle MOT and servicing garage Orkney Motors and car and van hire firm Drive Orkney, while the most recent branch in Inverness focuses on plant hire and sales to customers in the North East of Scotland.
"Our turnover averages between £21 million to £24 million per year," highlights George. "Our success stems from sheer determination and perseverance. We also believe that everyone makes mistakes but if you learn from them and alter your way of working you can benefit from them. Looking at the range of businesses we have within our portfolio, we have been very busy in the Shetland Islands as a new gas plant is being built, however this is now slowing down. Nevertheless, we see that the depots are very active at the moment, with Inverness involved in a lot of plant hire. The market doesn't stay the same so it is matter of continually changing and looking out for new opportunities."
In line with this ethos, the company has recently launched a number of new pieces of machinery, such as two of each Volvo EC18D, Volvo ECR 25D and Volvo ECR50D, with one of each model going to its Lerwick and Brae depots. Added to the hire fleets in May 2017, these machines come complete with full cab, hammer pipework, variable under carriage (EC18D), work lights at the front of the cab, a rotating beacon, hitch and three buckets. Available for short or long-term hire, these Volvo's will enable the company to meet the requirements of local customers.
Keen to stay ahead of market trends and the competition, the well-reputed and diverse Garriock Bros Ltd anticipates further growth and opportunities despite potential issues surrounding Brexit. "We want to expand more and hire more machines to customers who are seeking a more cost-effective solution and competitive rates. This is what we will be focusing on over the coming years," concludes George.
Garriock Bros Ltd
Services: Civil engineering, house building, plant hire, quarry operations, contract crushing, machine sales and window manufacturing services