Operating as one of the UK's largest air terminals, Gatwick Airport continues to develop through framework agreements, construction and engineering projects within a five-year investment programme
A framework for expansion
Operating as one of the UK's largest air terminals, Gatwick Airport continues to develop through framework agreements, construction and engineering projects within a five-year investment programme
London's busy Gatwick Airport represents the UK's second largest airport and the busiest and most efficient single-runway airport in the world. The terminal serves more than 220 destinations across 80 countries, including more than 50 direct long-haul flights to major destinations. Gatwick flies in excess of 41 million passengers each year on short and long haul services and the airport is also a major economic driver for the South East region, generating around 21,000 on-site jobs and a further 10,000 jobs through related activities. Throughout its history Gatwick Airport has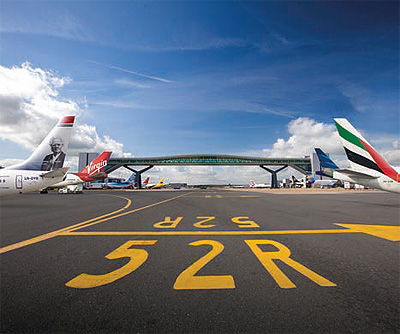 continued to expand and develop to ensure that it remains an effective transport hub for the South East region, as well as the wider UK and discussions regarding a second runway are ongoing. "It is important that Gatwick is ready to start work should the Government grant approval for a second runway to deliver the increased capacity Britain desperately needs. By opening discussions with architects, engineers and contractors means we will be well placed to take forward our plans for a second runway, on time and on budget. Gatwick remains the cheaper, faster, and more sustainable scheme. Legally, politically and environmentally, we are the only deliverable option that can actually deliver the jobs, growth and additional capacity that airport expansion would bring," says Gatwick Airport Development Director, Raymond Melee.
"Gatwick has already invested £1.3 billion since becoming independent from BAA ownership, transforming the way we operate to deliver a world-class experience for our passengers. Over the next five years we will be investing a further £1.2 billion to meet accelerated passenger growth and bringing forward crucial infrastructure projects," Raymond continues. "The South Terminal has seen the completion of a completely new Pier 1 with five new gate-rooms and aircraft stands, alongside a completely new baggage system with Gatwick's first 'Early Bag Store' facility – allowing passengers to check-in up to 18 hours before their flight. In the North Terminal a new departure level now houses the world's largest self-service bag drop zone and a re-configured second floor provides a new security zone with ten lanes of security processing, halving the time it takes for passengers to be screened. Pier 5 has also seen a re-configuration of its aircraft stands and an upgrade of gate-rooms, ensuring an improved passenger experience before boarding their flight. Our focus has been to improve the level of service to our passengers and work with our airline partners to ensure sustainable and efficient growth."
During September 2015, Gatwick Airport invited firms to apply for low and medium complexity frameworks totalling £750 million to deliver construction projects as part of a new Capital Investment Programme (CIP) for the next five years. "The new frameworks include a total of six supply chain categories of building, mechanical and electrical, and civil engineering projects. A key aspect of the new frameworks is a change in procurement strategy which create options for Gatwick to shape its own supply chain and get closer to the performance of its contractors thereby allowing a more collaborative approach to project delivery. Low complexity projects typically involve contracts of up to £1.5 million, while medium complexity projects for contracts between £1 million to £10 million," Raymond explains. "Of the 127 companies that submitted pre-qualification information a final shortlist of 17 preferred contractors has now been chosen, including both local and national, mid and larger sized firms, which align with Gatwick's policy of sustainable procurement. Each contractor was selected based on their competency and cost effectiveness and they include a range of different business models to give Gatwick maximum flexibility when approaching the programmes of work ahead. We expect local businesses to play a key role in the next phase of our investment programme, boosting jobs and growth throughout the region."
The construction frameworks will support proposed projects within the Gatwick CIP, which relate to enhancement and replacement elements of the airport's infrastructure including expansion of the North Terminal International Departure Lounge; South Terminal International Departures Lounge capacity extension; North Terminal Early Bag Store Facility; expansion of the South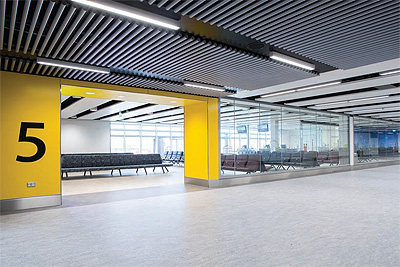 Terminal Immigration Hall; additional aircraft parking stands across the airfield; optimisation of taxiways; increased car parking capacity for short stay, long stay and staff across the airport; surface access improvements; and road network improvements. "Gatwick is growing fast with more than 41 million passengers a year travelling through the airport, which is a decade ahead of industry predictions and the Airports Commission forecasts. Gatwick could not have achieved this rapid and record growth without huge investments into its infrastructure, systems, and the overall passenger experience," Raymond says. "To be able to accommodate this continued growth in passenger numbers, Gatwick is investing in technology that will help speed passengers through the airport, while also improving their experience by reducing queues and putting passengers in charge of their time at the airport."
Works have now begun at the airport to expand the North Terminal International Departures Lounge, which includes a complete re-design and creation of additional retail units. Gatwick is also currently in the process of tendering for new architecture and engineering and professional services frameworks. When combined with its new construction frameworks these forthcoming frameworks will position Gatwick for the near and mid-term future to develop the airport's ambition to be London's airport of choice. During the coming years Gatwick will continue to focus on the delivery of its CIP to ensure that the airport is well place to meet the growing demands of its passengers.
"To accommodate our rapid growth, we need to have our biggest airlines positioned in the right terminals so they can continue to grow, but more importantly we want our passengers to have the best possible experience when they fly from Gatwick. In January 2017 British Airways, Virgin Atlantic, and easyJet will be moving terminals as part of Gatwick's transformation programme. This will provide fantastic new spaces for passengers to enjoy, while also allowing Gatwick to look after growing numbers of passengers. The moves in January are dependent on 42 separate construction projects involving nearly more than 80 different tasks. Most of these will not be seen by our passengers, however, as they are part of the behind the scenes operation in areas like new crew reporting, engineering and forward operating bases," Raymond concludes. "Gatwick is on a fast-paced journey of transformation. We are striving to eliminate queues and put passengers in charge of their time at the airport to provide them with the best possible experience and levels of service."
Gatwick Airport
Services: UK's second largest airport