Comprising six companies, GB Steel Group is making a name for itself in the Dutch building industry
United in steel
Comprising six companies, GB Steel Group is making a name for itself in the Dutch building industry. The steel construction business has already completed numerous high-profile projects, which were secured courtesy of its incessant efforts to apply the synergy between its individual units
Slowly but surely, GB Steel Group has extended its footprint in the Dutch steel construction industry. Founded in 1980 by Henry van der Kamp with the establishment of Kampstaal, the business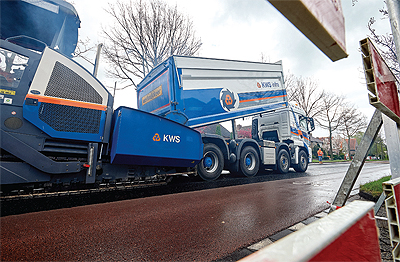 is a classic example of a small company growing into a bigger group. Indeed, in the space of 15 years between 1994 and 2009, Kampstaal acquired five more entities – Nauta Heeg, Beijer, Kamplacon, Vossebelt, and Hordal, which now all form GB Steel Group.
"We operate both onshore and offshore, and the majority of our work is related to the construction sector. Kampstaal and Kamplacon supply steel structures, including staircases, landings, and sustainable roof and wall cladding for commercial and industrial buildings like data centres, parkings and factories. One of our companies – Nauta Heeg, is also a specialist in the production of large steel structures for offshore and infra projects," GB Steel Group's Managing Director, Bob Soetekouw explains. "Nauta supplies for instance slackening structures, equipment and heavy structures, such as bridges, pontoons, pile heads and more for harbours and inland waterways." Vossebelt, in turn, deals with the construction of tippers, containers, loading beds, and belt unloaders for the transport sector, and Hordal specialises in engineering, machining, and machine building for the food, paper, medical, agricultural, and industrial sectors.
Since Bob became managing director in 2015, he has directed his attention to improving the collaboration between the separate units that form GB Steel Group. "I am convinced that we can benefit from the fact that we are six companies with different competences, so I am definitely trying to put more emphasis on creating synergies between the entities. After all, we all process steel, so we can share ideas of how to better organise our business and production processes. And we all deliver tailored solutions with one goal in mind: no matter what the challenge is that we take, we always make it work, without a doubt," Bob refers to the company's mission called 'We Make Steel Work'. "Our loyal customers know that by now."
Continuous improvement
The last couple of years have represented a slight shift of direction for GB Steel Group, as the company has shown aspirations to improve in a number of areas. "For instance, we would like to develop our production engineering capabilities and this is going to be a big focus for us in the coming years. We want to industrialise our production processes and digitalise our office procedures," Bob claims. "We are committed to perfecting our QHSE processes, too. As we are working with quite large structures, safety is always a number one priority. Similarly, we want to reduce our environmental impact and one of the measures we have taken to tackle this, was the installation of substantial solar roofs on our factories. It was a significant investment for us, but it was a necessary step towards the overall optimisation of our QHSE practices," he insists.
Parallel with streamlining internal operations, GB Steel Group has also set out to develop its manpower. "We have always been a social company, but now, we are even more willing to raise the
competences of our people. We embrace the skills they already have and develop the ones when there is opportunity for improvement, and then we devise a development plan for them," Bob reveals.
Benefits of synergy
By improving its capabilities, GB Steel Group has also been able to attract bigger companies that now grant it contracts for more substantial projects. "Our customer base has inevitably changed. We now serve companies who have more stringent requirements and who want to see that we have the capacity to deliver the work for them. This means that we are expected to first develop ourselves, and only then, we could be selected by a client," Bob maintains. "Previously, we used to serve smaller builders from our own geographic area, who would build, say, sheds for farmers. Today, while still supporting local projects, we have increasingly been sought-after by larger international companies who have started building in The Netherlands."
He refers to a project in which three of GB Steel Group's companies – Kampstaal, Nauta Heeg, and Kamplacon, joined forces, as a case study of the group's construction capabilities. "In 2016, we built a data centre in the north of The Netherlands, where we prefabricated the cladding elements, building them in-house and bringing them onsite after that. This allowed our customer to build much faster, once these elements were prefabricated. Safety at the site is also improved, since the assembly of the façade elements has taken place separately from the building site." The venture also presented a solid proof of the benefits of synergy between the separate companies that are part of GB Steel Group. In this particular case, Kampstaal provided the steel construction, Nauta Heeg took care of the assembly space and project supervision, and the engineering and assembly was done by Kamplacon.
One sector of growth for GB Steel Group that merits mentioning, is the transportation industry. "During the economic crisis, most of the companies continued to use older vehicles, but in the last two years, they have started ordering newer equipment," Bob observes, adding that the belt unloader Vossebelt has developed in 2017, is gaining in popularity among customers. "It is ideal for the road construction industry, because it allows the unloading of asphalt, sand, gravel, or rubble, when there is no space for a traditional tipper," he clarifies. "This safer unloading in tunnels and under bridges or matrix signs could be a burgeoning market for us, I believe."
Strong order book
Despite having been quite modest about its expectations for 2017, GB Steel Group managed to level the turnover it had the year before. Furthermore, the company received recognition from The Netherlands' largest business magazine – MT (which stands for Management Team) when it was ranked number 65 on the top 100 Dutch manufacturing companies list. "Hopefully, we will rise in the table in the long-run. We are planning to achieve this by continuing to develop in the smart industry, digitalisation, and production engineering domains. We can only do that by investing and the money for that will come from winning new contracts. Therefore, first of all, we have to stay as attractive to our potential customers as possible. We started 2018 with a strong order book, so we are on track at the moment," Bob shares his optimism for the future. "While extending the P3 parking at Amsterdam airport in 2018, at least we will be attracting attention from international customers," Bob jokes.
GB Steel Group
Services:Onshore and offshore steel construction