GCL can provide the construction industry with a wide range of services including concrete frames, groundworks and demolition services
Growing strong
GCL can provide the construction industry with a wide range of services including concrete frames, groundworks and demolition services
Founded as Ground Construction Limited in 1997 by Trevor Diviney and Paddy Shanahan, GCL has rapidly established itself as a leading multi-disciplined organisation offering clients a service, which includes demolition, bulk excavation, underpinning groundworks, drainage services, concrete frames, external works and tower cranes.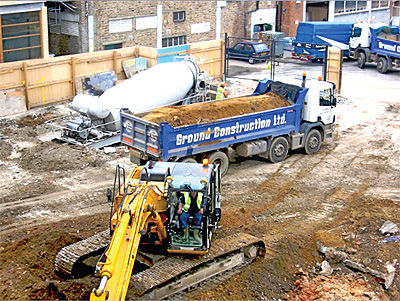 The London company won its first £1 million contract in 1999, and the following year secured a project worth more than £2 million. Having celebrated its ten-year anniversary last year, GCL has now completed over 250 projects for a prestigious client base that includes a number of the country's leading developers and contractors. Over this period project values have ranged from £1 million to £15 million, and GCL has gained a reputation for providing a quality service on time and with a non-confrontational attitude, leading to a number of repeat contracts.
Predominantly working within London and the Home Counties, the business has expanded quickly over recent years and today boasts a strong order book and a turnover ofover £50 million. Evidence of GCL's impressive growth came when the company was recognised in the Sunday Times Fast Track 100 listing. This list ranks Britain's hundred fastest-growing private companies across all sectors by sales growth.In the 2003 listing GCL came an impressive 62nd, following a period that saw the business raise its sales by more than 76 per cent a year from £1.4 million in 1999 to £7.5 million in 2002.
The success of the business and its continued growth has also led the company to change its name. In October 2005 the management team at Ground Construction decided that due to its growth into the concrete frame market the company's original name, did not reflect the full extent of the activities now carried out and to a degree was stifling tendering opportunities. As a result of this decision, the business began trading as GCL.
To support the company's growth, GCL has gained a range of accreditations and become a member of some of the sector's most influential organisations. For example, the company's focus on quality and environmental issues means it has been awarded the ISO9001-2000 and ISO 14001-2002 accreditations.
As a further recognition of the company's belief in professionalism, GCL has obtained Corporate Member status with the Guild of Master Craftsmen, the Road Haulage Association, NHBC, and SpeCC.
Having successfully entered the insitu concrete frame market a number of years ago, GCL also decided that it was time to open the company up to external audit and compare itself to the market leading competitors. It was felt the best way to achieve this was to apply to CONSTRUCT for membership. CONSTRUCT is an association of member companies dedicated to the task of improving the efficiency of building in-situ concrete frames and associated structures. GCL has subsequently been accepted as an associate member of CONSTRUCT, and is now seeing the benefits of this link-up.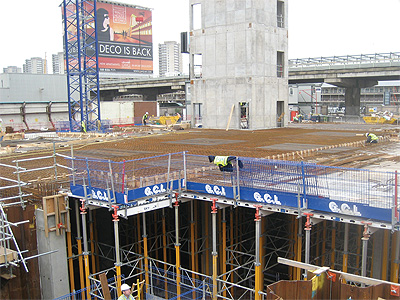 Taking a closer look at some of GCL's services, the company is a onestop- shop for all its customers' groundworks and concrete frame activities whether they are for a greenfield site or an inner city brownfield development. The scope of its services offered includes bulk excavation, temporary work schemes, basement construction, drainage, piling, pile attendance and enabling works, in-situ concrete structures, waterproofing, roads, and external works.
Groundworks schemes undertaken by GCL cover a number of sectors in the market including social and private housing, schools and hospitals, commercial offices, industrial, hotels and leisure facilities.
The in-situ concrete frame section of the GCL business now accounts for over 50 per cent of the company's turnover. With the benefit of its quality groundworks division, the company is able to offer clients one point of contact for the groundworks and frame elements leading to a faster, less problematical and more economical solution. By using its in-house experience, GCL has also been able to assist clients at the design stage to produce the optimum building.
Demolition activities offered by GCL meanwhile cover site clearance, soft strip-out, low-rise demolition, asbestos removal, concrete slab removal, concrete crushing, traditional demolition and long reach demolition.
GCL's involvement in a large number of high profile building projects provides evidence of its capability in these various service areas. An ideal example is the work it completed on Audi's head office in Brentford, where the company undertook complete construction of a two-storey basement including sheet piling and structural concrete toppings. The complete value of this package of works was an impressive £6 million.
GCL currently boasts a strong order book, which has benefitted from the company's non-confrontational attitude towards clients, leading to a high percentage of repeat work.